The COVID-19 pandemic has presented one of the most formidable challenges to humankind in recent history. With the advent of coronavirus, a new historical divide has been created — the world Before Corona (BC) and the world After Corona (AC). The BC era has gone and we are accelerating into a new world that is re-thinking to find a balance between what worked before and what needs to happen now. Strong leaders are projecting optimism and looking for new possibilities and opportunities in the new era.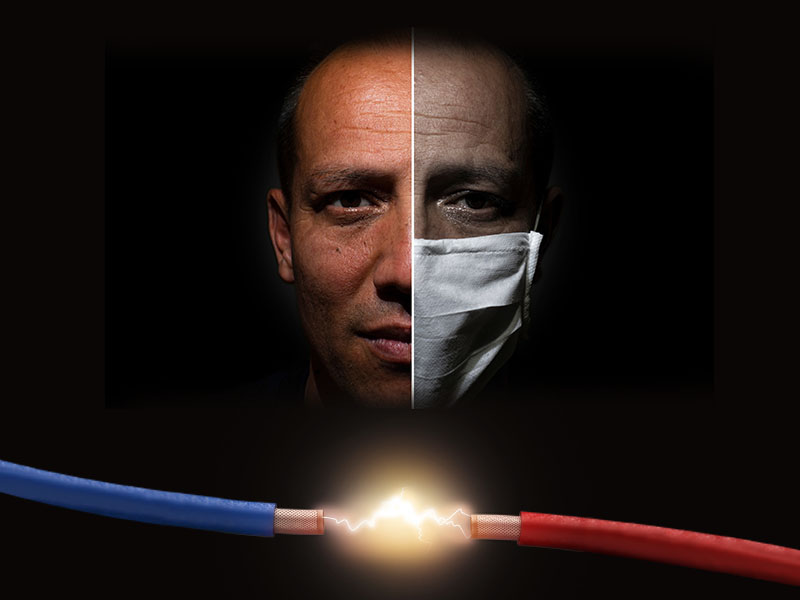 COVID-19 is unleashing a new era of change and bringing long-term actions in the way businesses function. The organisations are coming out of it stronger and demonstrating resilience, pushing India to take baby steps towards economic recovery. According to the latest data by the Ministry of Statistics and Programme Implementation (MoSPI), "GDP at constant prices (2011-12) in Q1 of 2021-22 is estimated at INR 32.38 lakh crore, as against INR 26.95 lakh crore in Q1 of 2020-21, showing a growth of 20.1 percent as compared to a contraction of 24.4 percent in Q1 2020-21."

Fulfilling the Demand for Greater Internet Bandwidth

Due to the closing of schools, universities, and offices during the lockdown, the implementation of teleconferencing platforms has skyrocketed. It has eliminated in-person meetings, enabling businesses to operate remotely. Everything, from education to healthcare, relied on data connectivity and the internet became the quintessential commodity. In the near future, 5G promises to revolutionise the communications industry and fibre optic cables are essential to achieve a true revolution.

Talking about the recovering wire and cable market, Mr. R. Sridharan, Chief Executive Officer, Birla Cable Ltd. said, "After September 2020, the requirements started coming in and the market was getting stabilised in terms of reasonable offtake of volumes. Some of the cable types were directly related to FTTH (Fibre-To-The-Home) segment and its offtake was huge as the work-from-home culture was predominant during the lockdown period and all service providers were giving connections in a big way using these speciality cables to the users. After the initial hick-ups in the lockdown period, both domestic and overseas customers/users started coming up with regular volumes offtake, thereby ensuring that manufacturing plants are picking up in terms of capacity utilisation."

According to the data released by the telecom ministry last year, India's internet consumption witnessed a surge of 13 percent when the nationwide lockdown was put in place as people consumed 308 petabytes of data daily. The growing reliance on the internet brings the importance of last-mile connections supported by a quality optical fibre network. According to a report by MarketsandMarkets, "The global fibre optics market size is estimated to be USD 4.3 billion in 2019 and is projected to reach USD 6.9 billion by 2024, at a CAGR of 10 percent between 2019 and 2024."

Uninterrupted Power Supply for Essential Services

A reliable wiring system and an uninterrupted power supply are necessary for every sector including the essential services. Discoms, wire companies, and electrical solution companies came together to ensure that no one suffers without power during the pandemic.

Talking about the reliable power supply, Mr. Subrata Das, Chief-Operations, Safety, Business Excellence (BE) & TQM, Tata Power-DDL, said, "Amid the pandemic when essential services, especially healthcare, laboratories, food & manufacturing, etc., were the most critical sectors, the company provided a non-stop power supply to keep powering the fight against Corona."

"During lockdowns, we did our best to support the utilities to avoid power outages and failures and our teams were working relentlessly during these critical periods to support in terms of providing for the required products, installing and supporting online so that the power remains ON," said Mr. Gagan Chawla, Senior Marketing Manager, Electrical Markets Division, 3M India Ltd.

Future Scenario

According to ResearchAndMarkets, "Amid the COVID-19 crisis, the global market for insulated wires and cables estimated at USD 158.6 billion in the year 2020 is projected to reach a revised size of USD 231.9 billion by 2027, growing at a CAGR of 5.6 percent over the analysis period 2020-2027. Meanwhile, India Ratings and Research (Ind-Ra) opines the revenue growth at about 11 percent CAGR witnessed over FY11-FY20 in the cables and wires industry could continue even during the next decade.

"As the situation all over in domestic as well as overseas is coming back to normal, the outlook seems very bright. During these difficult times, the industry has worked to ramp up efficiency and productivity, multi-skilling the workforce, more ownership of employees due to a sense of insecurity, and more exploration of export opportunities," said Mr. Vijay Kumar Bajaj, Chief Operating Officer, Apar Industries Ltd.

Real estate players are gearing up for developing projects with the dipping home loan rates; this will pave way for the wire and cable industry too. "Construction and manufacturing activities have mostly remained exempted from lockdown measures and will not have a multiplier effect on economic growth given its linkages to various industries like in the year 2020," said Mr. Abhishek Gupta, Joint Managing Director, Gupta Power Infrastructure Ltd., adding, "The electric wire and cable market in India is expected to grow by USD 1.65 billion, at a CAGR of almost 4 percent during 2021-2025. So these are positive signs to look forward to."

The impact of the virus was felt by all businesses around the world and the wire & cable industry has not been an exception. It went through a lot and had its ups and downs but managed to keep the spark alive!