The Indian steel wire industry can never forget the indelible contribution of Late Shri. Raj Kumar Tyagi Ji, be it as a manufacturer of prototype machines or a mentor to entrepreneurs. Born into a farming family on 19 November 1943 at Ravali in Ghaziabad, Late Shri. R.K.Tyagi Ji pursued engineering and founded Assomac. With his hard work, dedication and vision, the Assomac Group soon became one of India's leading names in the field of wire drawing machines, wire cutting machinery, and wire making machinery. Today, the company is known worldwide for its promise of quality products that stay ahead of time.
After his first foreign trip to Germany in 1985, Late Shri. R.K. Tyagi Ji not only brought high-end technology to India but also made it affordable. He became the first Indian to be a member of the Board of Directors of Wire Association International Inc. USA for 5 years – from 2005 to 2010. He was also the charter president of WAI-India Chapter and an ordinary member of the organisation since 1992.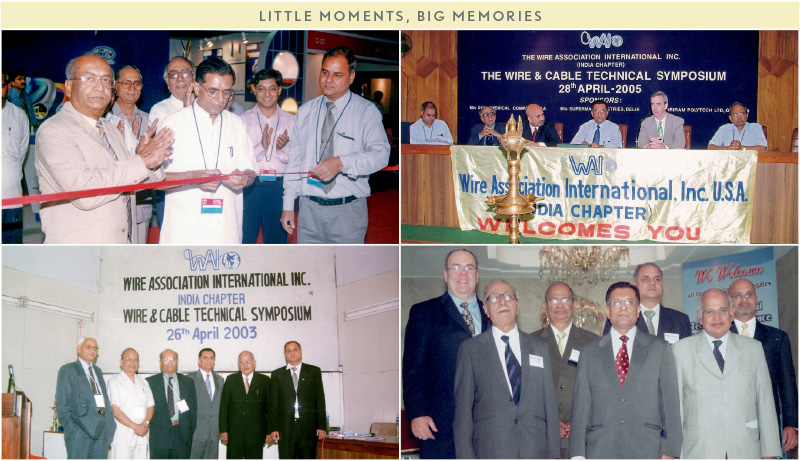 He took a keen interest by participating as a panel member of various wire manufacturing units in the country, involving himself from the inception stage up to the completion, and helping in establishing and organising the units with his vast experience in the field. He developed various prototype machines which are performing efficiently at various establishments of the government. Besides machines for drawing ferrous and non-ferrous wires, he also developed CO2 wire drawing plant indigenously for the first time in India. He also bags the credit of carrying developmental work in the machinery building for drawing PC wires, CO2 wire, resistance wire, stainless wire, high carbon wire, and other categories of non-ferrous wire with very fine gauge.

Late Shri. R.K. Tyagi Ji dedicated his life to making the Indian steel wire sector strong, prosperous and capable, and will always remain a source of inspiration for the people across the industry. He has earned the respect, and admiration of people across the spectrum for his simplicity and generosity.

The industry has lost a great guide to the pandemic on 1 May 2021 but his footsteps will forever be followed. On his 78th birth anniversary, Wire & Cable India remembers the visionary and pays tribute to his pioneering work.

A Tribute to the Pioneer of Steel Wire Industry
A Firm Nationalist who Believed that the Indian Wire Industry must Grow
The life and legacy of Shri. R.K. Tyagi Ji, Founder and Chairman, Assomac Machines Ltd. is a lesson and an inspiration in itself that deserves to be etched in public memory. Through the turbulent times post-independence when India's growth appetite was heavily dependent on imports and reliance on some few industries, it took a visionary like Shri. R.K. Tyagi Ji to break the mould. He took manufacturing at a different scale with in-house designing of the equipment and brought out gearboxes which proved highly instrumental in providing quality equipment to the steel wire industry in India.

In addition to this, I would also draw people's attention to the fact that till the 1970's, India was heavily dependent on Europe for good machines or Kolkata/Howrah for crudely copied machines and he played a stellar role in manufacturing cost-competitive quality steel wire machines. I have the privilege of sharing memories with him across the world on steel shows which culminated in late-night chats. He was certainly ahead of his time when it came to using technology to its potential. At a personal level, he was a firm nationalist who believed that the Indian wire industry must grow to its full potential. He was an avid learner and a person who believed in sharing his expertise and knowledge with the rest. The Indian steel wire industry, whether big or small, has lost a dear friend but I am sure his legacy will continue to survive and grow through his able son, Ashish, who has taken the reins of the organisation. We will continue to fondly remember him for the foundation he built, upon which several of us stand today.
The Extraordinary Life that was Well-Lived
Death has taken away a genuinely warm individual, depriving so many others including us all of a good friend. When we heard that Shri. R.K. Tyagi Ji, Founder Chairman of Assomac Group is no more, we were shocked and saddened. On behalf of the Bansal family, I send our deepest condolences to Shri. Tyagi Ji's family and the people of Assomac Group at this difficult time. While we mourn the loss of a colleague, we pay tribute and celebrate the extraordinary life that was well-lived. A life committed to the cause of driving growth in the wire industry, introducing such innovative ideas and technology enabling the industry to realise its true potential.

There are only a few people who have had such a profound impact on the future direction of our industry. Shri. Tyagi Ji was elegant in every way, the way he spoke with a soft inflection, his immense courtesy and concern for others.

Not many leave behind the legacy of such dedication and accomplishment. Paying homage to a great personality.
Bhishma Pitamaha of Wire Industry in India
The first thought which comes to my mind when I think about Shri. R.K. Tyagi Ji is that he was 'Bhishma Pitamaha of Wire Industry in India'. He was futuristic in his thought and action as regards bringing new technology into the wire industry of India by way of machinery and processes.

By heart, he was open and ever-ready to help and advice. He had a charismatic personality – where ever he entered, he used to charge up the atmosphere. He had a bright aura around him. A yogic by lifestyle and mentor to many entrepreneurs like me in the wire industry. He has left a strong legacy behind and a solid team to carry it forward. He has mentored a capable leader in Ashish Tyagi to carry forward the legacy and culture of Assomac which he cultivated during his time.

I, on behalf of my company Bedmutha Industries Ltd. and my whole Bedmutha family, wish and pray God to rest his soul in peace. Our wholehearted support to Assomac team and Ashish Tyagi!
A Passionate Soul with Unparalleled Enthusiasm and Undying Spirit
Shri.Tyagi Ji's association with Systematic dates over two decades as a personal friend and as a strong supporter all through our journey. A passionate soul with unparalleled enthusiasm and undying spirit that inspired many just with his presence. We have many cherished memories of Shri.Tyagi Ji as a person who spread happiness where ever he went. There was never a dull moment around him. A self-made man with strong business ethics, but his human side was his real strength, always willing to extend a helping hand not only to colleagues but anyone in need. His absence is a personal loss to us and to the entire wire industry.
A Guiding Light for Steel Wire Industry
Shri. Tyagi Ji was a guiding light for the steel wire industry. His untimely demise came as a bolt from the blue for all his friends and associates. His insight guidance and knowledge will be sorely missed by the entire steel wire industry.