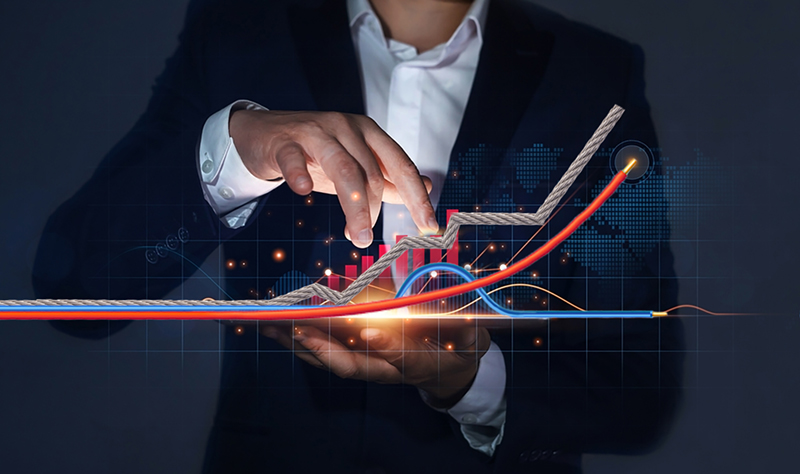 Another year is coming to end, and that makes it a perfect time for the companies to take note of the things that worked and things that didn't from the previous year. It's important for leaders to constantly evaluate the effectiveness of strategies, product launches, expansion projects, marketing campaigns, and more, and a year-end review is a perfect approach for this.
We all hoped that by this time, the pandemic would be over. While that is not the case, the industry is showing signs of recovery with the pick-up in demand. In view of concrete plans set out in the 2021 Budget, India is investing in world-class infrastructure projects; and this paves way for the wire and cable industry.
"With the country's increased focus on various sectors such as infrastructure, healthcare and affordable housing, the demand for wires and cables has increased significantly. The wire and cable industry in India witnessed a significant growth of 10 percent in last year," said Mr. Shreegopal Kabra, Managing Director & Group President, RR Global while mentioning the sector's performance in 2021.
The government has unveiled INR 100 lakh crore Gati Shakti master plan to speed up projects in various sectors such as railways, shipping, aviation, telecom, and power. Meanwhile, despite the pandemic, the Indian Railways logged in the electrification of sections covering 6,015 Route Kilometre (RKM) during 2020-2021, which happens to be the highest-ever figures. The story doesn't end here, as the government has not only expedited metro rail projects in various states but also announced its plans to kick off bullet train projects in 2022-23.
Talking about the government's investment in the infrastructure sector as a key trend driving the growth, Mr. Vijay Kumar Bajaj, Chief Operating Officer, Apar Industries Ltd. said, "The increased investment in infrastructure, railways (including metro railway), defence, renewables, power distribution are the key drivers of business growth in the domestic market and we are well poised to take advantage of the situation."
The wire and cable market is expected to be driven by various other factors such as rural electrification, and the up-gradation of power transmission & distribution systems. Ramping up its fight against climate change and global warming, India has set an ambitious target of installing 175 GW of renewable energy capacity by 2022, including 100 GW from solar, 60 GW from wind, 10 GW from bio-power, and 5 GW from small hydro-power which has increased the requirement of specialised cables.
Emphasising the strength of renewable projects, Mr. Manish Agarwal, CEO, Infra & Solutions Business, Sterlite Power said, "India has commitment COP 26 was hailed worldwide when Prime Minister Modi talked about a net Zero emission's target by 2070. A significant step towards this is the commitment towards adopting 500GW of RE capacities by 2030. With this strong thrust on RE, all associate sectors and especially transmission will see substantial investments. RE is going to be the game-changer."
Meanwhile, the 'Atmanirbhar Bharat' policy is playing the role of a catalyst by generating more demand due to restricted imports. While discussing the increased demand for solar cable, Mr. Arvind Agrawal, Vice President, Havells India Ltd. mentioned, "Our solar cable category has witnessed encouraging demand from consumers, especially in the commercial segment. It offers prominent features such as environmental sustainability and increases energy efficiency. The transmission mode of solar energy power generation is cheap, clean and reliable. This increases the bankability of solar projects and has therefore emerged as an important component for such initiatives."
Prime Minister Modi has urged people to go 'Vocal for Local' — for making India 'Atmanirbhar' or self-reliant due to which many mobile and electrical appliance companies are looking to make India a manufacturing hub. The electric vehicle industry is picking pace which calls for new manufacturing facilities and improved charging infrastructure amid 'Digital India' and 'Smart Cities' initiatives.
In 2021, the offtake of the Fibre-to-the-Home segment was huge due to lockdown. With the offices still working from home and schools holding online classes, the internet is now regarded as a critical tool. The rollout of 5G, 6G technology seems to be a significant growth driver for the Optical Fibre Cable market.
"The 5G spectrum auction which is scheduled during mid of 2022, is expected to initiate the new standalone network creation which should augur well for the industry in terms of increase in demand for optical fibre cables (OFC)," said Mr. R. Sridharan, Chief Executive Officer, Birla Cable Ltd.
Meanwhile, Mr. Pramod Srivastava, CEO, Orient Cables India Pvt. Ltd. also expressed his hope that the year 2022 will see a surge in demand in OFC and copper cable products.
Real estate players are gearing up for developing projects with the dipping home loan rates, and this has opened a new door of opportunities for electrical wires. "The electric wire and cable market in India is expected to grow by USD 1.65 billion, at a CAGR of almost 4 percent during 2021-2025," said Mr. Abhishek Gupta, Joint Managing Director, Gupta Power Infrastructure Ltd.
The wire & cable industry has, therefore, witnessed a resurgence in demand driven by growth in various sectors. While bidding farewell to 2021, Wire & Cable India magazine interviewed key industry players on how 2021 was a year of resilience and how 2022 can be the year of innovation and renewal.