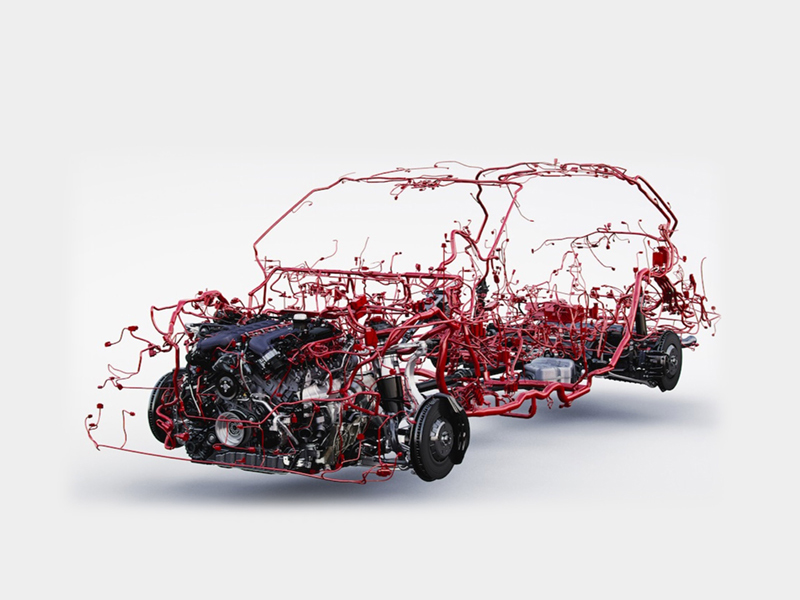 The electronic content in cars has exponentially expanded, leading to more than 150 pounds of wiring in a single vehicle. As vehicles increase in complexity, a new wiring paradigm is needed.
Wires are not just wires anymore. They have become incredibly sophisticated, since automobiles began to resemble computers on wheels. The 1950s and 1960s are no longer relevant. Power steering, electric windows, and the occasional air conditioner were the pinnacle of luxury motoring back then. A luxury car's metal covering now conceals a plethora of sensors, actuators, control units, high-performance processors, infotainment systems, and other components, and additional features and components are being added at breakneck speed: vehicles had 25 percent fewer circuits five years ago than today's cars. In five years, that number will have increased by another 30 percent.
The automotive wiring industry is undergoing a transformation. The way firms design, create, manufacture, and supply car wiring harnesses has changed dramatically, thanks to the increasing growth of electronic content in vehicles and the coming of electrification and autonomous systems. The automotive business is moving at a dizzying speed, and automakers have had to make some significant portfolio modifications to keep up with shifting electronics demands. What does this entail for this market's electronics designers?
New electrical architectures are being considered by automotive OEMs in order to simplify harness designs and reduce wiring complexity and expense. The automotive wire industry now is essentially the same as it was 80 years ago. Automobile wire harnesses are still made by hand, with thousands of components attached one by one. The design architecture has a significant impact on OEM business models. Wiring harnesses are a labor-intensive product for Tier One OEMs, thus they use the lowest-cost labor available around the world. Each vehicle's wire harness contains thousands of part numbers, and the finished result weighs 150 pounds or more. As a result, they must organize all of the items' materials and components and ship them all over the world. This results in a long, complex supply chain with hundreds of design modifications along the way, each of which must be monitored, implemented, and validated separately.
Simplified automobile wire harness designs will enable for more automated assembly and delivery procedures, as well as enabling OEMs to make modifications more quickly, lowering costs across the board. In addition to the raw materials needed to construct wiring harnesses, such as connectors, terminals, wire, tape, and other components, OEMs must keep a specific amount of inventory on hand to avoid supply disruptions. There are numerous hidden costs associated with the existing working model. OEMs stand to gain a lot of money if they can automate a portion of their manufacturing by inventing innovative wire harness architecture.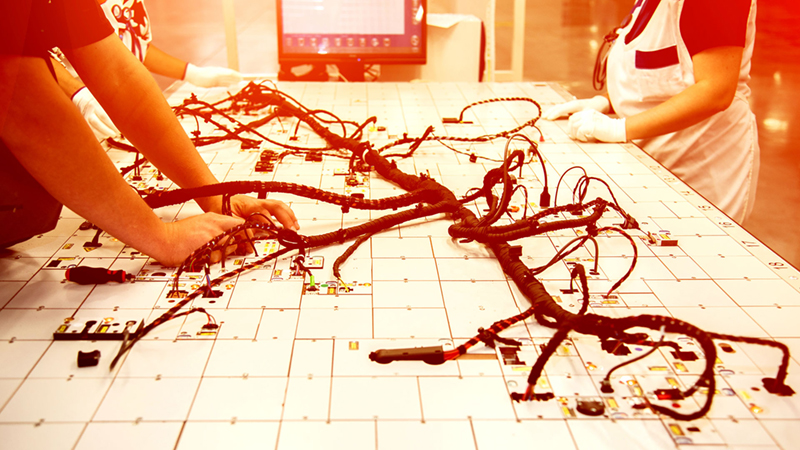 Connectivity Is Essential
The wire harness is the spider's web in the middle of it all, and it's required for almost every component of a modern car. As a result, building the wire harness of a cutting-edge automobile, bus, or truck necessitates both a broad grasp of car components such as sensors, actuators, batteries, and motors, as well as a mastery of the nuts and bolts of electrical system design.
To build a wire harness that is clever and cost-effective, as well as easy to assemble and service, you must know everything about wires and connectors and have a thorough understanding of the car as a whole.
The Next Generation of Wire Harness
The next-generation wire harness will allow more powerful electrical systems to operate vehicles, because the latest electrical connectivity allows ever more signals from on-board sensors, other vehicles, road-based infrastructure, and satellites to be streamed into a high-performance computer. The computer will then send signals to the brakes, steering, and other control systems via the wire harness.
All of this is progressively growing into a technical infrastructure for electrification and autonomous driving – an attractive vision, to be sure, but one fraught with difficulties.
More Wiring, Less Room
To begin with, as previously stated, there is the cross-pressure issue: when more sensors and other devices are added to the vehicle, more wires are required to connect them to the vehicle's system. Vehicles, on the other hand, aim to get smaller, thinner, and lighter. So, where do you store the fresh wire spaghetti when you're short on space? It's difficult to get rid of anything because all of the standard vehicle components are still required for it to function effectively.
Wire harness designers are in a furious battle with the rest of the development teams for a new vehicle. They all require a piece of the dwindling space for their specialized usage; therefore everyone must compromise in order to make it work.
Future of Wire Harness
Wire harnesses, without a doubt, are rapidly developing to address the problems offered by electrification and autonomous driving.
Also Read: Japanese Firm Yazaki Proposes to Set up Wire Harnessing Manufacturing Plant in Manipur.
Wire harness design of the future, according to experts, will most likely be completely different from what it is now. Wires are used now because they are flexible and easy to route, however, wires may not be used in the future. The majority of the signals could be transmitted wirelessly if satisfactory solutions are developed to bypass all of the cyber security challenges that will surely arise.
By: Paroma Bhattacharya, Reports and Data