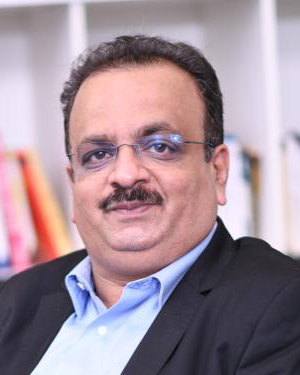 2021: The year that was
The year 2021 was a challenging year for all corporations and this was the first time that India Inc. had to confront such a crisis. We shifted our focus on employee well-being and engagement as that was our priority. During the crisis, our emphasis was on complying with the government guidelines while running all business activities. Demand was also fluctuating due to commodity price volatility and partial lockdowns in a few states. However, both our Q1 and Q2 performance was consistent with substantial growth. This was possible due to very close coordination and efforts from the factory team, SCM team and sales & marketing team. We are expecting a higher growth rate for Q3 as well.
Panasonic Life Solutions India is a leading player when it comes to the manufacturing of electrical construction material (ECM). Our aim is to provide products that prioritise safety and are of the highest quality. This year as well, our aim was to provide superior quality products and services despite the difficult situation that our markets have gone through.
We are constantly innovating products in the building wires and cables space for both residential and commercial buildings. Our range of wires and cables includes the advanced flame retardant, extra-flexible flame retardant, FireGuard FRLSH, and two core unsheathed cables. On the industrial front, the multicore series of cables include both flat and round variants. For communication cables, we offer telephone and switchboard cable, UTP 4 Pair 6 LAN cable, coaxial cable and CCTV cable. Our latest launch in this category is the higher size in building wire and three-core flat submersible cable.
2022: The year that will be
Despite the global crisis, our performance for this financial year in terms of growth value has been consistently growing. We are focusing on our quantity growth to gain a larger market share.
During these difficult times, we have worked to increase efficiency and productivity by encouraging a milt-skilled workforce, increasing ownership of employees, and driving our production capacity with the 100 percent pull production system and Kaizen as a part of continual improvement.
Notwithstanding the unfavourable market climate, our manufacturing facilities have received the prestigious Golden Peacock Award 2021. This is our second consecutive Golden Peacock Award. Our Daman manufacturing unit won the Golden Peacock Award in 2020 for Environment Management and our Kutch manufacturing unit won the Golden Peacock Award in 2021 for Energy Efficiency. We are the 1st in the wires and cables industry who won the Golden Peacock Award in both categories. This further highlights our commitment to the environment and energy conservation.
At Panasonic Life Solutions India, we aim to accelerate our reach and expansion in the tier-II and sub-tier-II markets for the coming 2022. We are planning to invest heavily in retail and distribution segments to expand our network in these markets and set up franchise-operated models. These exclusive brand outlets will act as experience centers for customers and will also allow people to associate and grow with our brand while assuring customers of superior quality and high-tech products. With the rise of digitisation, new digital communication channels are being developed, to maintain our link with stakeholders and the community at large.
Also Read: Panasonic – Gradual economic recovery has brought back the demand for wire and cable products.
We are also focusing on our exports of electrical wires, communication wire and PVC tapes. Navigating and expanding into new markets in Asia will further increase our scope for new business opportunities.
Key Trends Driving the Growth
Electricity is one of the most important utilities for a growing nation. There has been a growing demand for electricity in India especially with the increase in urbanisation. Our aim is to reach every household even in the untouched regions and ensure an uninterrupted electricity supply. With the global pandemic, the world is now more aware of the need for connectivity. Following the 'Saubhagya' scheme introduced by the government for rural electrification, we are moving towards a more connected nation. This is a positive growth driver for the industry as a whole. As an industry leader in the wire and cable segment of India, we have great opportunities to bring effective change in rural areas. This will further impact demand and create newer markets.