Mikrotek Center of Excellence (MCX) is a unique initiative that is first-of-its-kind in the wire and cable industry. MCX aims to impart theoretical and practical training in die maintenance activities to technicians working in wire drawing departments.
March 21, 2022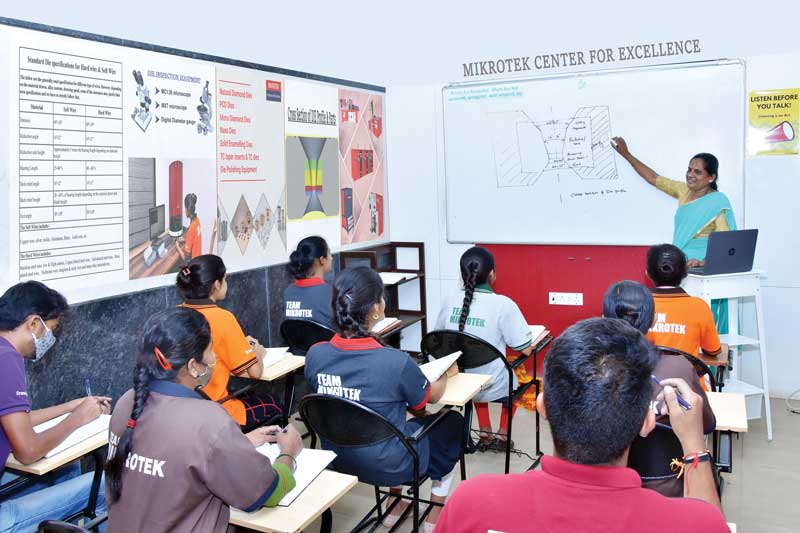 Most cable companies are expanding and upgrading their old machines with the latest technology. With the arrival of high-speed multi-wire drawing machines, it is a challenge to run them efficiently at rated speeds and with no or fewer wire breaks, which is the objective of every plant manager. Having the best drawing machines, good quality lubricants, and good quality copper, the focus then shifts to providing 'good quality' drawing dies. To support their wire drawing operations, most cable companies also have their own 'in-house' die shops, hence it becomes all the more important to have skilled and trained die shop technicians who can maintain die inventory efficiently as per specifications.
Mikrotek has realised that there is considerable scope for upskilling 'die shop' technicians. Hence, it has come up with a 'revolutionary' idea and created MCX with an objective to impart training to die shop technicians across the globe. Under MCX, Mikrotek has set up a state-of-the-art workshop and training center with modern teaching tools near Bangalore, India. It is headed by a full-time coordinator supported by two supervisors. Additionally, experts from the industry visit MCX to conduct special classes or present case studies.
Watch: Wire & Cable Industry Year Review
MCX offers two certified programs – the Foundation course, and the Refresher course. The Foundation course is targeted at fresh technicians who are interested and keen to work and make a career in die maintenance workshops. As the name suggests, this course is conducted over three weeks and focusses on the fundamentals of dies, die making, and die maintenance. At the end of the course, technicians are required to take tests, following which a certificate is awarded. The Refresher course is for technicians who already have experience in die maintenance and are engaged in die maintenance activities. At the end of this course, the technicians would have refreshed their knowledge, improved their skills, and would have been trained in the latest tools and techniques. The duration of this course is for one week and the technicians are required to take tests, following which a certificate is awarded.
The course curriculum mainly includes an introduction to PCD, ND, SSCD, and Tungsten carbide drawing dies, extrusion tools, enameling dies, bunching, stranding and compacting dies, die profile and its importance, die visual and dimensional inspection, die wear pattern, die re-polishing schedule, effective usage of die working machines, die re-polishing and resizing, die inventory control, diamond selection chart, important formulae, matched elongation sets, and introduction to lean and 5S.
Also Read: Mikrotek adds Special Mikrotek Tungsten Carbide Dies to its Portfolio
Both courses are offered for a nominal fee with sharing accommodation near the MCX center. Successful technicians are industry-ready and will be able to inspect and decide if the dies need to be repolished or resized and will ensure quality dies are strung up in the drawing machines. Trained die shop techniques include drawing machines operating at rated speeds, good wire surface, and least number of wire breaks, longer die life, and less metal dust.