A global leader in wire & cable and optical fibre production technologies – Rosendahl Nextrom – has quality, customisation, and product know-how as its core values. The expertise of the company ranges from extrusion to corrugation and SZ-stranding. Besides designing, manufacturing, and assembling its solutions, the company provides software systems, installation and commissioning. It works very closely with its partners and has a wide range of high-tech wire and cable manufacturing systems.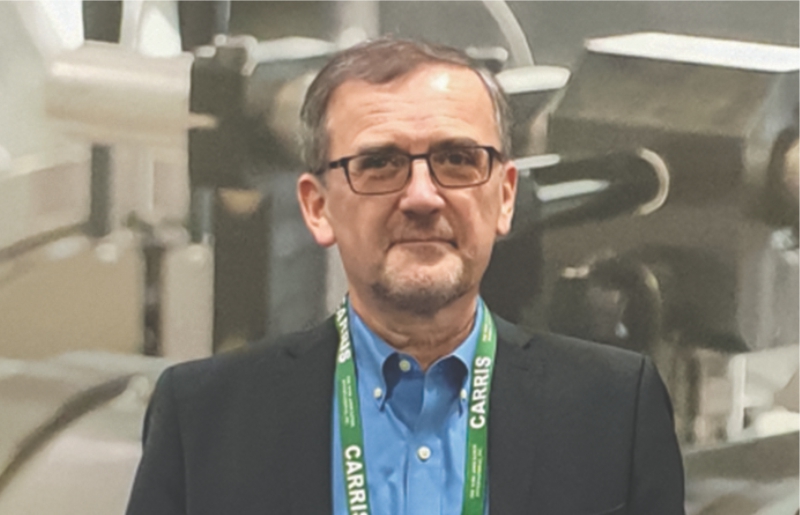 In an interview with Wire & Cable India, Mr. Johann Jäkel, Business Unit Director & Sales Director, Rosendahl Nextrom GmbH presents a brief rundown of the company, new technologies and Industry 4.0, initiatives taken by the company.
"The impact of Industry 4.0 is tremendous. Higher production speeds and lower scrap rates are achievable. Data analysis provides useful insights into how to improve product quality."
Wire & Cable India: Rosendahl Nextrom is known for its continuous investments in R&D and comprehensive customer service. What are the new developments at the company with regards to products, technologies and R&D efforts?
Johann Jäkel: We have recently introduced RoSET – Rosendahl Superior Extrusion Technology. It is a full manufacturing concept for the production of medium-voltage cables that uses polypropylene instead of polyethylene for insulation. That leads to significantly reduced energy consumption during production, as well as shorter line layouts and shorter lead times for cables.
In the high-voltage sector, we have developed a metal-tape forming and welding line that can process various materials on one line. It also provides the technology to eliminate lead from subsea cables.
Furthermore, we are putting the final touches on our new customer portal, which will provide users with an overview of all their production lines and machines. We have integrated a digital spare parts catalogue that will make it possible to easily identify the correct spare parts for a machine and order them with just a few clicks. Having this tool available will make the process faster for both customers and our service team.
WCI: Tell us about some of the energy-efficient technologies of Rosendahl Nextrom.
JJ: The extruder is the biggest power consumer within an extrusion line. Every optimisation in this area, therefore, has a high impact on the overall energy consumption of the extrusion line. With the development of the ROEX extruder series, we have been able to make significant optimisations and achieve considerable energy savings. For the same output, ROEX extruders consume roughly a quarter less energy compared to conventional extruders.
At the same time, we have further developed RIO, our smart and powerful line control, to optimise every step of the production process. By using smart add-ons and measuring devices, clients can keep track of their exact energy consumption and CO2 emissions. This will help them to increase energy efficiency even more.
Watch: Cable & Wire Fair Show Reel
WCI: Please elaborate on being 'tailor-made in Europe'. How does Rosendahl Nextrom aim to stand out among its peers & competitors in the market?
JJ: No two of our production lines are alike; all of them are tailor-made exactly according to our customer's requirements. Unlike our competitors, we manufacture all our machines ourselves at our production facilities in Austria, Finland and Romania. That makes us largely independent of third parties and gives us full control over the production process. For our customers, that means they get everything from a single source.
WCI: Please shed some light on the latest trends in the wire and cable industry.
JJ: The trend towards smaller cable diameters is ongoing. In the automotive sector, in particular, increasingly complex harnesses are being used. Space and weight savings make a big difference here. What we are also noticing is that the topic of energy efficiency is becoming more and more important, not least due to rising energy prices worldwide.
WCI: Could you please talk about the market reach of the company and your expansion plans?
JJ: Our Company acts globally, with sales and service units at several locations. They play an important part in providing sales and service support on a local basis. Consequently, we have increased our teams in various locations worldwide lately, in order to be 'here for you'.
WCI: What are your views on the Indian industry in terms of challenges and opportunities?
JJ: The Indian market is very important to us and one of our key markets. Therefore, we have set up our own sales and service unit in India to take care of our partners in India and the surrounding areas. Our presence in India dates back to the late 1980s and we have steadily strengthened our position in the country.
WCI: What is the technology and business roadmap of Rosendahl for the coming times?
JJ: We are focusing on technology for mobility, digitalisation, and energy transition. These areas offer enormous growth potential, both – globally and for the Indian market.
Also Read: Rosendahl Nextrom: Trailblazer in the Wire & Cable Manufacturing Systems
WCI: Kindly elaborate on some of the industry 4.0 initiatives taken by Rosendahl. How do you think the fourth industrial revolution has impacted the wire & cable industry in innovation and achieving efficiency?
JJ: When it comes to Industry 4.0, we rely on our powerful RIO line control system. It allows us to completely monitor the entire production process. That opens vast opportunities for the continuous improvement of both machines and processes.
The impact of Industry 4.0 is tremendous. Higher production speeds and lower scrap rates are achievable. Data analysis provides useful insights into how to improve product quality. Predictive and preventive maintenance and the enhanced possibilities of remote support are real game-changers for customer service. All of that leads to an increase in efficiency & product quality, and saves time, money and resources.