The SAMP Group supplies precision machines, spare parts, and services to leading wire and cable manufacturers around the globe from locations in Italy, China, Brazil, and the United States. In line with its heritage of Italian craftsmanship, the company designs and manufactures innovative and high-performance machinery.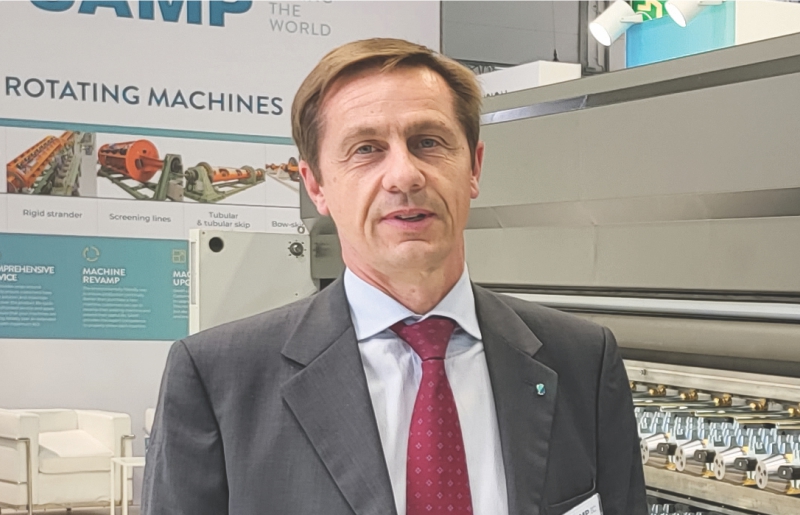 Founded in 1936, SAMP's beginning was marked with the start of a small workshop for the production of wire machinery. In 2021, SAMP Group along with its assets was acquired by Switzerland-based HVD Partners. Wire & Cable India interviewed Mr. Federico Bussola, Product Director, SAMP Group, to know about the new developments at the company, the market presence, and the future outlook.
"The SAMP Group is certainly on-track to achieve growth in the market. The company has been consistently investing not only in the domestic market but also internationally… We hope to move forward to achieve further growth and capabilities!"
Wire & Cable India: To start with, please tell us about the new developments at your end.
Federico Bussola: At the SAMP Group, there are a lot of new developments including the development with regard to the ownership of the company. There has been a transition in ownership. Switzerland-based HVD Partners now holds the ownership of the company, with effect from October 13, 2021. With the acquisition, HVD Partners took over our subsidiaries in the USA, Brazil, China (where we have a production site), Japan (where we have a Service office), and our headquarters in Bologna, Italy. Thus, HVD Partners acquired all the assets of Sampsistemi (SAMP) and Sampsistemi Extrusion as part of a scheme of arrangement administered by the Court of Bologna.
Presently, we are majorly focussing upon our portfolio of multi-wire and rod-breakdown machines, which we have recently upgraded in view of the customers' requirements. What's more, we have been testing the machinery with wires at our factory before dispatching the machines to our customers. We strive to provide better services regarding the easy installation of our machines, and more.
WCI: What kind of further developments can we expect to see at SAMP?
FB: Essentially, we have been working in the reorganization of the company in terms of providing efficient customer services and spare parts. Thus, providing life-cycle management, technical support, and spare parts to our clients on an efficient and timely basis – remain the cornerstone of our philosophy. We wish to move with this forward-looking approach, as we have always been, to ensure customer satisfaction.
Further, we have a dedicated distinction at our organization so as to provide efficient customer services. We are looking forward to expanding our workforce. Additionally, we have onboarded a new Division Manager and a new Service Manager, who have been looking after the services and spare parts division, since January, 2022.
Watch: Cable & Wire Fair Show Reel
WCI: What are your plans for the Indian market?
FB: We have been regularly visiting India for business meetings and to convert the potential leads into our customers. However, our manufacturing base is going to be in Italy as before. At present, we don't have any local subsidiary for manufacturing in the country. We have a Service Engineer who is taking care of the local customers' requirements. Thus, we have been serving our customers with a range of distinct machinery and spare parts, which we have to import from Italy.
WCI: What kind of trends are you foreseeing in the sector?
FB: In my opinion, there have been two major trends in the industry. Firstly, there has been a sharp growth in the automotive segment, and the rise in Electric Vehicles (EVs) has also driven the growth in demand of some special-shaped and flat cables. Secondly, there has been massive growth in the power cables segment. Generally speaking, there has been an increasing demand in sophisticated power cables, especially in Europe, the USA, Africa, and a few other markets. This is driven by the rising investments in the development of the power sector infrastructure around the world.
WCI: What is your review for wire 2022?
FB: We are quite happy and we have received a good outcome from our participation at the exhibition. While it was not as crowded as the previous edition of wire which was held in 2018, there were a lot of good meetings, and quality customers. Thus, we were able to get some inquiries which we expect to bring to fruition in the near future.
Also Read: Sustainability A Much-Debated Topic in wire 2022
WCI: Anything else that you would like to add to the interaction?
FB: I would like to assert that the SAMP Group is certainly on-track to achieve growth in the market. The company has been consistently investing not only in the domestic market but also internationally. Thus, we are expanding our presence mainly in the USA market, and we have been growing our services and technical team. This expansion is driven by the kind of growth opportunities which are there in the market as well as our willingness to expand our presence. We established our presence in the USA with SAMP USA in 1976 which we expect to expand. Overall, we hope to move forward to achieve further growth and capabilities!