Headquartered in Bremen, Germany, SIKORA AG is a well-known developer and supplier of measuring and control technologies, inspection, sorting, and analysis systems.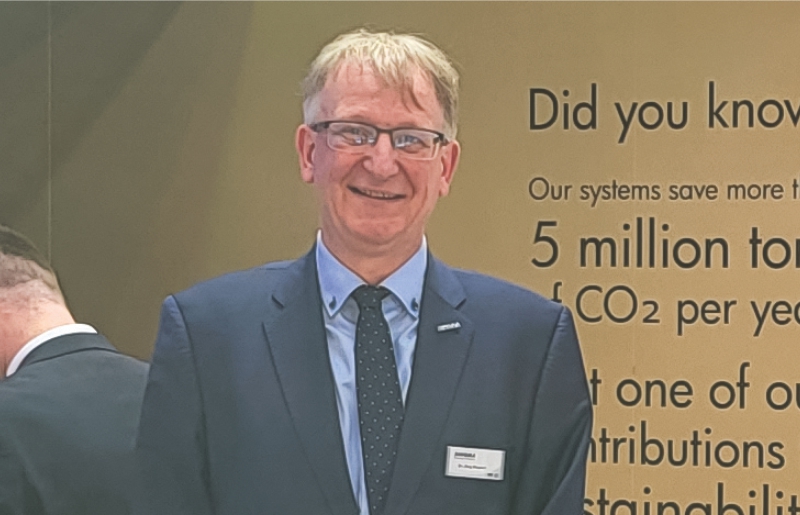 Started with developing measuring devices to be used during cable production; presently, SIKORA has a diverse range of measuring and control technologies in three distinct units– wire & cable, hose & tube, and plastics. In a conversation with Wire & Cable India magazine, Dr. Jörg Wissdorf, Member of the Executive Board, SIKORA AG, talks about the new developments with respect to products and technologies, the company's plans regarding the Indian market, the rising importance of artificial intelligence, views on sustainability, and the future outlook.
"The general purpose of SIKORA measuring and control devices is to ensure optimum quality control during extrusion for high-quality products. Our systems help to save material and costs and contribute to sustainability."
Wire & Cable India: To start with, please tell us about the new developments at SIKORA.
Jörg Wissdorf: At SIKORA, there are several new developments. Firstly, I would like to talk a bit about the issues which include the challenges regarding the delivery of the machines' parts, due to the COVID-19 pandemic as well as the Russia-Ukraine war. Thus, we try to change our processes to still be able to serve our customers. Earlier, we had a just-in-time concept. However, now, we are going to stock more and more of the parts so that we are still able to deliver on a timely basis. Therefore, we have just rented a new warehouse to be able to stock up our machinery's parts, as well as to even partially produce, and then, to deliver the systems to our customers.
Secondly, we look at an increase of our services globally by hiring more people in our service team. And the third important part of our development is that we have established a new structure in sales. Before, our salespeople supported majorly all of our business units. Now, they are focused in particular areas, such as plastics, hose & tubes, and wires & cables. This gives us much more focus and more specific know-how in the different markets. Having this new business unit structure, we also hire additional salespeople in the world to support the growth. In general, we see great potential in our markets. There are many investment programs, which are ongoing in the United States, China, Egypt, and so on. These mentioned proposed expansions and investments will further drive the request for solutions in the wires & cables or tubes markets, which will also lead to a higher demand for systems for quality control.
WCI: Since IIoT and artificial intelligence is gaining a lot more prominence than before, what kind of efforts is SIKORA making on that front? What kind of solutions are you able to offer to the industry?
JW: Artificial intelligence is a very important aspect for us. In fact, we have a distinct department in the research & development, which is particularly focused on artificial intelligence. Among others, we will be using artificial intelligence for preventive maintenance. For instance, to be able to predict from the behavior of machinery if something needs to be maintained.
Regarding the production of pipes, we use artificial intelligence to calculate the cold measuring values at the end of the line, while measuring at the beginning of the extrusion process the hot values. Thereby, we take into account the shrinkage of the pipe and are able to predict already at the beginning how the final product will look like. This is important for our customers to produce high-quality products right from the start and to save material and costs. Of course, we could also measure at the cold end; however, it could take up roughly around eight hours for the pipe to cool down. In this way, if the production is not done correctly, you would produce eight hours' worth of scrap. Thus, by using artificial intelligence, we predict the final measuring values already at the very beginning of the process. This is helpful for all customers in terms of providing solutions that are reliable and time-efficient.
Watch: Cable & Wire Fair Show Reel
WCI: Since you mentioned the importance of R&D, shed some light on the overall efforts and the strategies of Sikora with respect to R&D.
JW: First of all, it is noteworthy that 18 percent of our employees work in the R&D department, which corresponds to more than 60 people. Thus, we are very heavily investing in R&D. With respect to the strategy, we have three business units, as I had mentioned and our strategy is to increase our focus in each of the segments. Regarding the wire and cable segment, the technological improvement and further development of our existing devices as well as the use of new technology are of significant importance.
WCI: As Wire & Cable India is based out of India, it is very important for us to understand your viewpoint and strategy for the Indian market – kindly talk about your outlook and plans for India.
JW: India has a great potential, and we are also thinking about increasing our presence in the country. India is definitely a very important market where we see a growing demand for measuring and control equipment and where we want to further establish our systems and services.
The Indian market has been a cornerstone of our business over the last years. Thus, we have invested into setting up our subsidiary in India and we have increased our team working in India. It has been about 20 years since we entered the Indian market. At first, with a representative office and since 2007, we have been represented with an own subsidiary. In addition, we cover the Indian market by offering two office locations, one in Delhi and one in Mumbai to be close to the customers.
WCI: Have you introduced any new technology or machinery at Sikora?
JW: We have introduced a new device for quality control of optical fibers in the drawing tower for tension measurement. In general, with our FIBER Series 6000, we provide innovative devices for diameter measurement of optical fibers, the detection of airlines, measurement of the fiber temperature, the determination of the concentricity of the coating, and the detection of the smallest lumps and neckdowns. The new gauge head, the FIBER TENSION 6003, measures the tension during the drawing process to avoid any quality interruptions that might happen while you are producing your fiber. This is a new technology and is faster than ever.
Interestingly, after the very high peak in the optical fiber market, the growth had slowed down a little bit, specifically in China. However, in the beginning of this year, there had been a significant expansion in the optical fiber business, and we have received a lot of requests for the FIBER Series.
WCI: What kind of steps does Sikora takes with regard to sustainability? Also, since you are a technology supplier, how do you help your customers to become more sustainable?
JW: Sustainability is very important to us. And our approach to sustainability can be defined in two ways. Firstly, the quality of products, which we produce in Germany, leads to a long life-cycle and reliability of the devices, which has a high value for customers not only in India, but all over the world. As a result, we achieve high sustainability because the devices, such as our diameter gauges have a nearly unlimited lifetime and even after years of operation, they measure as precisely as on the first day. Secondly, our measuring technology helps to increase the quality of our customer's products and simultaneously to save material as they can control, for example, the wall thickness to the minimum value. Lower consumption of plastics, which is used for the insulation, not only increases the profitability of the manufacturers. It also protects the environment and thus contributes to a sustainable production. By using SIKORA, measuring devices up to 5 million tons of carbon dioxide can be saved annually.
There are about 40,000 SIKORA devices which are installed and in operation worldwide. Since our equipment enables the customers to reduce waste to a great extent, we are enabling our customers to achieve sustainability in their production.
WCI: Generally, a customer is majorly concerned about factors like the ROI and the actual cost of ownership of equipment. Would you like to comment on that?
JW: For all our products, the return on investment or the breakeven point is reached earlier than two years, while we also have certain cases where the ROI can be achieved even within three months. With the SIKORA equipment, our customers can save raw materials on an immediate basis. Moreover, with inflation, the ongoing Russia-Ukraine war, and the COVID-19 pandemic, the prices for different raw materials are increasing. Thus, it becomes all the more important to have proper measurement systems for process optimisation. As I said, the thickness of insulation, to measure if you are producing the wires and cables with the specified parameters – all these considerations are fulfilled with a very early return on investment with our machinery.
Also Read: SIKORA Receives 'Germany's Innovation Leader 2022' Award
WCI: Anything else you would like to add to the interview?
JW: Over the last two years, we have witnessed a phenomenon which is called a "Black Swan" in theory, which happens not very often, but we have had two of these unprecedented cases – the COVID-19 pandemic and the ongoing war. Thus, there have been a lot of disruptive events. However, I look very positively into the future of the wire and cable industry, which is going to be driven by electrification, renewable energy, growth in residential complexes, infrastructure, and so on. All these trends will contribute to the growing demand for wires and cables. Hence, we are quite optimistic regarding the future.