The revenue of the cable solutions at APAR grew 79 percent YoY in Q2FY23.
November 3, 2022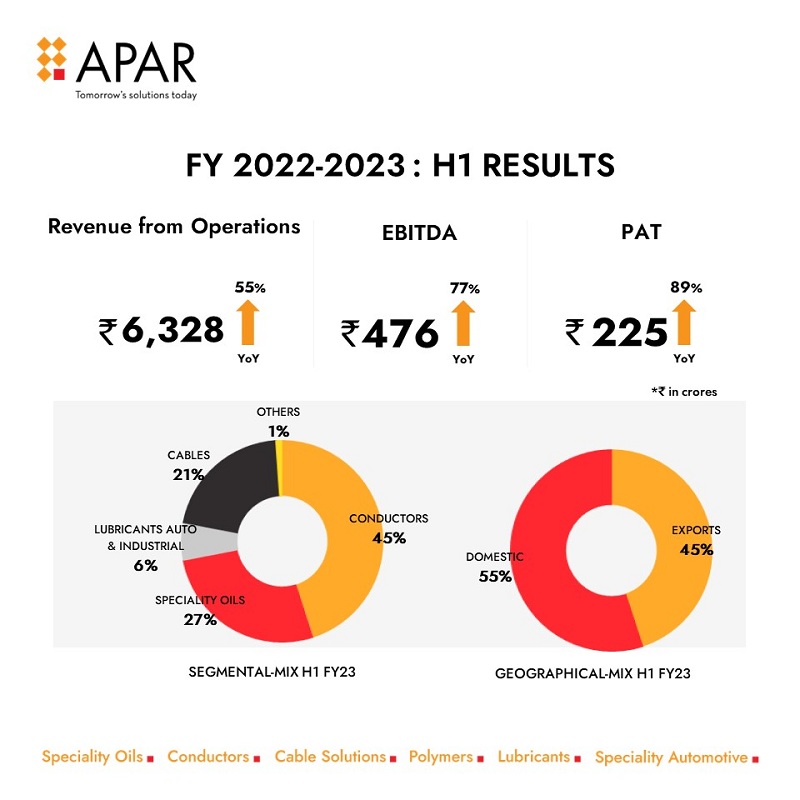 APAR Industries Ltd. has announced its consolidated results for the second quarter and a half year that ended September 30, 2022. For cable solutions, Q2 revenue grew 79 percent YoY, led by strong growth in exports and elastomeric products. The exports contributed 50 percent of sales and EBIDTA post forex adjustment improved to 9.2 percent in Q2FY23.
Watch: RR Kabel: Shreegopal Kabra
The revenue of the conductor segment reported a growth of 33 percent YoY with volumes growing 4 percent YoY during Q2. EBIDTA for the quarter came in at INR 123 Cr. (up 143 percent YoY).
Key Financial Highlights:
H1FY23
Revenue at INR 6,328 cr; up 55 percent YoY
EBIDTA at INR 476 cr; up 77 percent YoY
PAT at INR 225 cr; up 89 percent YoY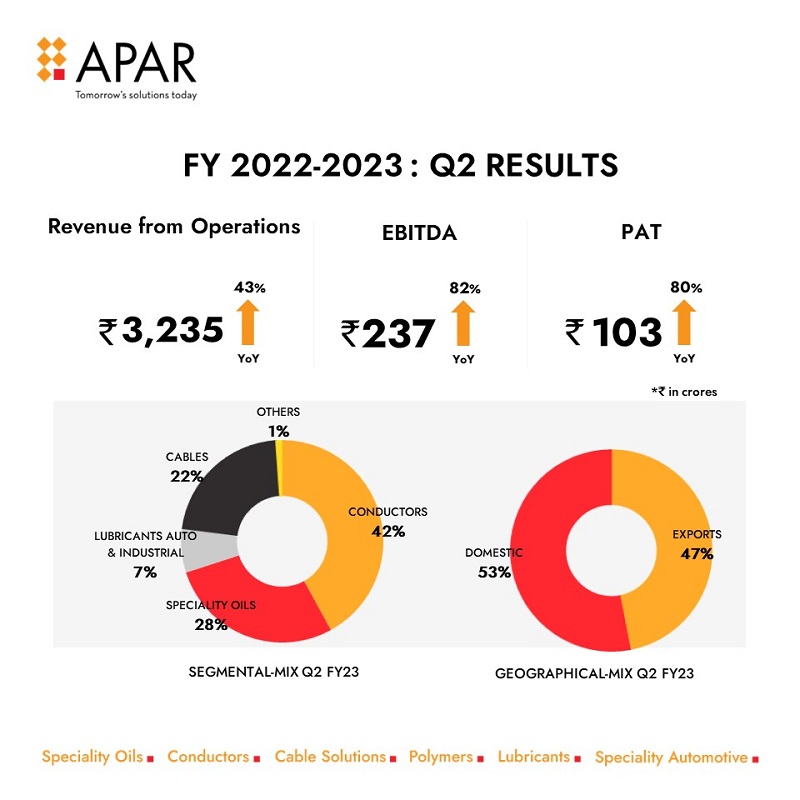 Q2FY23
Revenue at INR 3,235 cr; up 43 percent YoY
EBIDTA at INR 237 cr; up 82 percent YoY
PAT at INR 103 cr; up 80 percent YoY Segmental Updates
Also Read: APAR Industries' latest TVC campaign "The APAR Magic of Sonu Sood"
Mr. Kushal N Desai, Chairman & MD of APAR Industries, said, "We witnessed a strong quarterly and half-yearly performance both on the top line as well as on the bottom line. We achieved historic high half-yearly revenue and PAT with all three divisions contributing to the growth. The current geopolitical, macro environment and the level of infrastructure spends are providing a better platform for us. In addition, there is a strong push towards renewable energy across the globe. We remain optimistic to tap the opportunities coming our way. For the company, the growth drivers remain strong."