"In the new backward integrated plant, we have all kinds of wire drawing units, best-of-class extruders and the latest equipment in place…We can process almost 8-10 tonnes of copper into fine wire every day."
Allied Engineering Works Pvt. Ltd. (AEW) is one of the leading manufacturers and suppliers of cables & wires, energy meters and smart grid solutions. The company is said to have a robust infrastructure with state-of-the-art fully-equipped manufacturing and testing facilities. With a pan-India presence, Allied Engineering Works supplies goods to a wide spectrum of industries and organizations ensuring quality and quantity. In an interaction with Wire & Cable India, Mr. Ashutosh Goel, Director, Allied Engineering Works Pvt. Ltd. shares journey, product portfolio, and business roadmap of the company.
Wire & Cable India: Could you present a brief overview of Allied Engineering Works Pvt. Ltd. (AEW) along with its key milestones?
Ashutosh Goel: Established in 1988 by Mr. RP Goel, Allied Engineering Works has been manufacturing cables and meters since 2006 and 2001 respectively. Today, we have three plants in Delhi. The new plant, where the cable business has just been shifted, is a greenfield plant that started in 2020. We are producing a complete range of LT power & control cables, signaling cables, welding cables, solar cables and other wires & cables. We have all the requisite BIS certifications available. Our lab is NABL certified. We also have IATF certification for automotive cables. Currently, we are supplying pan-India to all the major distribution utilities, transmission and generation utilities. Apart from that, we are RDSO-approved bulk suppliers of signaling cables. We supply our automotive wires and wiring harness to major automotive OEMs like Minda Industries and Motherson Sumi Systems.
WCI: Please shed some light on your product portfolio specifically for the wire & cable sector, USPs, market footprint and clientele.
AG: We manufacture wide range of LT cables like Power & Control, AB Cables, Specialty Cables etc. Our niche remains within the mobility sector wherein we supply to railways and automotive and are working very closely with avionic sector where we are working with Defence Research and Development Organisation (DRDO) and Hindustan Aeronautics Limited (HAL). We are manufacturing high performance battery cables, wiring harness and wire assemblies, specialty cables like sensor cables, anti-capillary wires, and actuator assemblies. We are producing a lot of innovative high reliability products for import substitution. We have in-house DSIR-recognized R&D center for product development for bringing innovative solutions to meet and exceed our client's requirements.
Within Power Sector, we are working with all the major government utilities and PSUs like NTPC, Powergrid, EESL, MECON etc and lot of prestigious EPC players like L&T, Bajaj, Techno, GMR, Jakson to name a few.
WCI: Describe the infrastructure and machinery installed at your facility. How do you go the extra mile to ensure the quality in your products?
AG: We have a completely backward integrated plant having all the state-of-the-art equipment. We have rod breakdown, 16 wires multi-wire drawing machine and bunchers from Niehoff, Germany. We also have best-of-class extruders from Supermac and other equipment like anti-torsion laying etc. We have the latest equipment in place so we can process almost 8-10 tonnes of copper into fine wire every day. We have a very solid infrastructure to cater to any product mix and volume mix.
Product quality is a virtue of three major elements – man, machine and material. The machines which we have put are the best-of-class so we can achieve any kind of accuracies and any kind of product specification which is critical. The manpower available with us is experienced from IIT Kharagpur and IIT Delhi. We employ almost 600 people and a hundred engineers in our company. There is an adequate depth in the manpower in terms of experience and exposure. As far as materials are concerned, we are buying them from a very reputable pool of vendors. We purchase polymers from reputed manufacturers like Shriram, KLJ and Kkalpana Industries (India) Ltd. (presently known as Ddev Plastiks Industries). We buy copper and aluminium from Hindalco, Nalco and follow the standard QAP. This is how we have been able to deliver the right product quality.
Cable is a very competitive product. One has to walk a tightrope for the right product quality and pricing. We have been able to achieve it for almost 15 years now. And, we are very particular about making perfect product in the market.
WCI: What have you been doing to foster innovation and R&D at your workplace? Is there any new product you are going to introduce in near future?
AG: With R&D, we are introducing newer processes into manufacturing and combining them with the conventional processes by which we are able to deliver a unique product. We have added vertical molding along with our conventional extrusion processes. Thereby, we are able to deliver certain assemblies using ultrasonic welding, which were previously done through the soldering process or crimping process. We are using innovative processes by which product performance and longevity have enhanced significantly. We have also mixed a lot of materials and tried new materials and applications by which we are able to provide a large application to the same product whereby we are able to deliver into more sectors and more utilities.
There are a few focus sectors like electric vehicle and mobility. We are manufacturing a lot of products that caters to either the safety part of the EV such as sensor cables and anti-capillary wires or performance like charging cables etc. There is a big shift in automotive sector and we want to lead that change with innovation and efficiency. As we go along, we will try to stay ahead of market requirements and keep developing products accordingly.
WCI: A few years ago, AEW set up an advanced facility with collaborative funding from the Ministry of Heavy Industry. Tell us more about the project.
AG: The project with the Ministry of Heavy Industries was targeted for engineering the latest technologies in cable manufacturing. It was done with the objective of import substitution for specialty cables. We have been able to achieve success in developing such products for automotive and power sector. Our initiatives are targeted for development of high-performance high reliability products.
WCI: Kindly elaborate on some of the industry 4.0 initiatives taken by your company.
AG: The types of equipment we have are fully automatic PLC driven. We have initiated an automated MIS system having comprehensive dashboard on production land scape of the factory. We can monitor our inventory, production, equipment health and energy using our advanced MIS system. We ensure that the energy consumed per unit of the cable is constantly reduced by which we can achieve both price reduction and delivery of energy efficiency in the manufacturing process. By installing new equipment and integrating it on a common platform using automation, we have been able to achieve that.
Also Read: Wire & Cable India Emagazine Nov-Dec Issue 2022
WCI: Moving ahead, what is your business roadmap?
AG: We are always pursuing quality over quantity and so we target only with sustainable approach. In the last year, we have not seen any growth because of the COVID-19 pandemic and the market situation, but this year due to various government schemes like RDSS and our intervention into new sector and innovative products, we project about 50% growth in our revenue in the cable segment. Further we shall be able to 25-30% year-on-year growth because of our current initiatives.
WCI: Share your outlook on the wire & cable sector. What kind of market trends do you expect in the coming year?
AG: We definitely believe that there is a major shift in the client's perspective towards the wire & cable segment. Today, there is an increased requirement for quality and performance. I believe that the wire & cable industry would have to address that and, gear up to achieve the ever-increasing aspirations of the customers in those terms. While I believe that sectors like solar, EV and battery storage are going to completely change the landscape of energy generation and consumption and the wire & cable industry has a huge opportunity, it depends on us how we make the most of it by delivering quality products.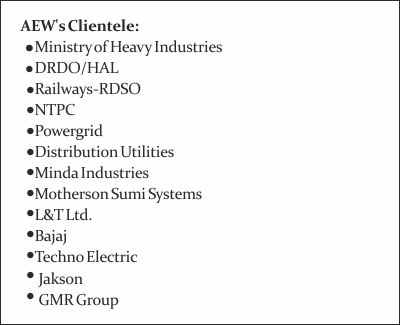 There would always be challenges pertaining to market conditions and policy framework. In India, we have a well-defined product specification and a fairly diversified vendor or equipment ecosystem available. We all have to ensure that we are able to collectively reach out to the market to deliver high quality standards with international benchmark. At Allied Engineering Works, we strive to carve our niche with our spirit of delivering quality and performance.
WCI: Anything else that you wish to add to the interaction?
AG: We would like to touch upon the associated product, which is our smart metering domain. We believe that by the advent of smart metering in the market, the whole power distribution sector would see a complete makeover. With smart metering, the whole power sector would undergo huge transformation and thereby even the wire & cable sector would see a lot of requirements for new types of products. There is no better time to make our best contribution to create world class infrastructure for India.