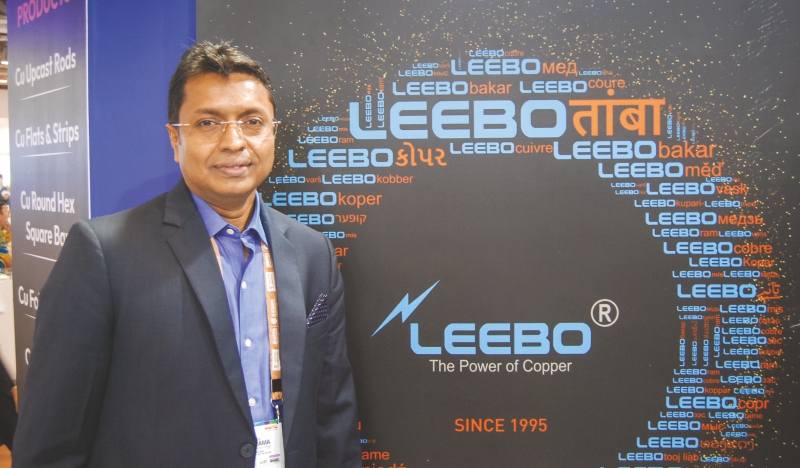 A strong foundation is needed to harness the best of opportunities and to do so consistent and deliberate efforts need to be made, such as self-education, market analysis, and supporting the demand graph through innovative solutions. These practices are the 'way of being' for Mr. Rajesh S Agarwal, Managing Director of Leebo Group, who shared with Wire & Cable India, the company's deliberate efforts to follow the right processes, practices, and ethos to develop excellence for manufacturing copper and copper-fabricated solutions. Our conversation with him regarding Leebo Group's history, future plans, and strategic steps to achieve those plans leads us to believe that the industry's copper-based demands can easily find a resolution with Leebo Group.
Wire & Cable India: Please introduce us to your company and its major milestones.
Rajesh S Agarwal: Leebo Group's history dates back to 1987 when Omega Rolling Mills Private Limited was set up in Tarapur, Maharashtra. Thereafter, in 1995, we incorporated Leebo Metals Private Limited Company in Taloja near Mumbai, and in 1999 a manufacturing plant in Daman was set up. Today, together, the plants have a production capacity of 24,000 metric TPA. Our dedicated scientific researches and innovations make us a pioneer in copper-based products. We supply copper-based products and OFC products to both domestic and international markets, especially in the Middle East.
Our motto is 'Make locally, Serve globally'.
Watch: RR Kabel | Solar Cables | Solar Plant | Renewable Energy
WCI: Please elaborate on your company's product portfolio and your USP.
RSA: We offer a cross-sectionally diversified product portfolio in both OFC and ETP grades. Our OFC-grade products contain 99.95 percent and up copper content and less than 10 ppm of oxygen presence, while ETP-grade products contain 99.90 percent and up copper and less than 50 ppm of oxygen. We offer solutions like copper upcast rods sizes, such as 12.5, 16, 20, 25 &30 mm., copper flats and strips, copper foils, and copper wire rods in these variations. We also offer EC-grade copper wire, copper sections and profiles, electrolytic-grade copper tubes and pipes, and copper conductors and PICC. We can resolve all copper-based problems of our customers as it is our area of specialization.
Our USP is in the types of solutions we provide and the way we provide them. It is my personal belief that specialization triumphs over market volatility. Hence, we have built a range of products that could be applied in accordance with customers' requirements, such as electrical conductivity, heat transfer, and other metal properties that affect the end result.
"Leebo has a combined manufacturing capacity of 30,000 MTPA at its Tarapur, Daman & Bangalore facilities."
WCI: Please tell us about your major clientele and market footprint.
RSA: We have a wide customer base in both B2B and B2C verticals, and our most reputed customers include Hindalco, Legrand, Suzlon, and ABB. We supply pure copper and copper-based products to various industries, naming a few, switchgear, transformers, power generation, telecommunications, infrastructure, transmission and distribution, electrical, railway, and automobiles.
Leebo Group has managed to gain repeatability in its customer base, which is sourced in our company-wide practices. We believe in mutual support which leads to comprehensive growth for us and our customers. It is why they return to us seeking quality, excellence, and bonafide support. A significant share of our customers belongs to the MSME segment, which is a matter of pride to us as they form the backbone of the Indian economy and its future growth.
WCI: Does your company invest in R&D, if yes, please share some features of your development process.
RSA: We have an in-house testing laboratory at our Tarapur and Daman facilities. Leebo Group is committed to providing qualitative products at competitive prices to our customers. This requires excellence at our end, which we achieve with the support of our lab's testing facilities.
We engage in the product as well as process testing because process obsolescence takes a long time to reflect in the product, and all the while the market keeps growing and advancing. Hence, we put our processes to the test as well at regular intervals to compare the input and output, their qualitative performance, scope of reengineering and innovation, short and long-term effects, and feasibility.
We have derived our quality and testing standards on the basis of our customers' feedback. Hence, we are able to cater to the market with focus.
Also Read: 3R Polymers Expands Plant to Achieve 36000 TPA Capacity by FY2025
WCI: How do you see the market developing in the future?
RSA: The major player in the global economy today is information, which is perpetually available due to the internet. It has consequently pushed global as well as domestic industries to shift their focus on quality, services, and healthy market competition. This is true for every industry including wires and cables. Hence, at Leebo Group, our priority remains to learn about new developments, target them and become major players in those areas, and we carry out this process in a cyclic manner. Learning from competitors is an important part of the growth that we follow.
It is on the basis of these observations that we have put ourselves up for ambitious targets increasing output to 40,000 metric TPA by 2025.
WCI: Please share your company's short and long-term future plans & CSR initiatives.
RSA: We have major plans for the upcoming period. Over the years Leebo Group has raced ahead of its competitors in the Indian market in terms of quality and standards. It is one of the major reasons behind our easy acceptance into the international market. We plan a more dedicated and focused foray into the international market going forward. Nearer home, there are various large-scale government projects being launched, and we look forward to contributing to them. It is an obvious inference that infrastructural growth is awaited, but at the same time, sustainability remains a concern and focus, especially for Leebo Group. We are invested in ensuring that our products are durable and lead to zero defects and zero failures for our customers so that the natural resources are optimized appropriately and without wastage. We believe in adding value while ensuring recyclable power sources for an energy-driven India.
Apart from sustainable and conscious manufacturing practices, we also have our CSR initiative called UMMEED, the organization works toward "child health", wherein we help kids who are disabled or challenged to discover their talents and reach their full potential. Leebo Group has also contributed to DNDH Justice Fund (Juvenile) Daman, and Gaushala at Daman.