In little over two decades, India-based Viraj Profiles Ltd. has grown to become one of the world's most eminent producers of stainless steel long products, with a market reach extending to over 90 countries.Wire & Cable India talks jointly to the firm's Chairman and Managing Director, Mr. Neeraj Raja Kochhar and Mrs. Renu Kochhar, Managing Director (also Head-Sales & Marketing) about how the dynamic company has not stood still since last speaking with our magazine back in 2016.
Without a doubt, stainless steel is one of the most important industries in India, and according to India Brand Equity Foundation (IBEF), the country's stainless steel demand has outpaced supply over the last five years. Moreover, driven by rising infrastructure development and growing demand for automotive, Indian stainless steel demand is expected to report solid growth in 2017-2018 backed by consumption-boosting reforms and infrastructure investment. In the wider emerging world (excluding China), stainless steel demand is expected to expand by around 4.0 per cent in 2017. Even looking at the global situation, things are looking up, with the world's stainless steel production returning to growth (albeit a modest 0.5 per cent) this year.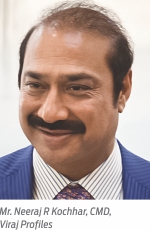 Such figures will be welcome news to Indian heavyweight Viraj Profiles, who manufactures stainless steel and plenty of it, with a portfolio spanning a wide range of products using austenitic, ferritic, martensitic and duplex stainless steel grades besides wires, wire rods, welding wires, fasteners, flanges and bright bars in various grades of stainless steel. Boasting over 50,000 SKUs across different product levels, the variety is positively mind-boggling. What remains a constant, however, is the quality, advises Chairman and Managing Director, Mr Neeraj Kochhar – and it is this unerring emphasis on high standards combined with a vast portfolio that has clearly stood the company in excellent stead on the international stage throughout what has undeniably been a sluggish recent period for the sector worldwide. Indeed, with the global economic scenario now recovering, the company is confident of increasing its sales.
Wide range of Applications
"Our products have many applications in industries including petrochemicals, oil and gas, ship building, structural designs, high-tensile cables and springs, boilers, pressure vessels, liquid storage terminals, liquid cargos ships, and automobiles, to name but a few," informs Mr. Kochhar, who tells us Viraj Profiles is today one of the world's largest manufacturers of flanges.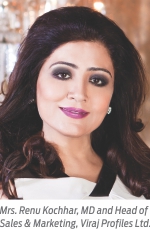 The company also recently launched its range of stainless steel welding wire, which finds application in fabrication work, the chemical industry, food processing equipment, pressure vessels, the automotive sector, and various other industries. The wires manufactured in various grades and compliant with global standards are produced as per customer requirements for specific applications. "The MIG wires come with various packaging options in plastic or metal spool options. The TIG wires, which are used in gas tungsten arc welding and whose surface is cleaned for hassle free welding, have marking or embossing done on each rod. The TIG wires are packed in plastic and paper tubes, allowing for convenient and safe transportation. The company also produces SAW wires – used in submerged-arc welding," adds Mrs. Renu Kochhar, Managing Director and Head of Sales & Marketing.
The company is now in the process of setting up new facilities for manufacturing special steels and super alloys used for critical applications in aerospace, defense and power projects. With this new unit, the company can supply critical grades of alloys in various forms and sizes, which can be used in steam turbines, pressurised heavy water reactors (PHWRs), alongside finding application in the defense sector. The steel alloys can be used in making flow-formed tubes for special projects of the Defense Research Development Laboratory, which works on design, development and flight evaluation of various types of missile systems.
"Currently we are producing over 30 grades of stainless steels to global standards, and are supplying to more than 90 countries worldwide," Mr. Kochhar informs. "We have an established and approved quality system ISO 9001:2008 in place and we have over 90 certificates of approvals for supplying stainless steel flanges to our global customers."
Technological Upgradation
The Chairman advises that the company has developed high-strength 'super duplex stainless steel' – a new product used inthe oil & gas industry, and in marine applications, as well as in construction where high load-bearing capacity is desired. Its corrosion resistance level is much higher than any other grade of stainless steel.
Besides developing martensitic gradesteel, on the value-addition and quality improvement front, Viraj Profiles has also developed precision shaft quality bright bars with the size range of 10 mm to 100 mm. "In addition to this, we have also started producing bright bars with H8 tolerance in the size range of 10 mm to 100 mm. We have also developed special coating wires, which are used for springs and nails. This leaves a very light lubricant film on the wire and as a result, guides are not jammed, tool life is increased and epoxy coating on nails is improved during processing at the customer end," he says.
Mrs. Renu Kochhar further adds, "We have also installed Material Tracking System, one of its kind in India, which gives an accurate data about the movement of raw material and finished goods on real time basis.On the packaging front, Viraj has added new options such as Spool SH460 and SH390 for spring wire and also developed larger coil weight for spring wire. As value addition to our packaging solutions, we have developed plastic strapping instead of metal strapping upto 1MT coils for easy handling and also to avoid damages,".
In the past few years the company has also acquired a new ring-rolling machine, 2,000 tonnes forging press and a 10-tonnes pneumatic hammer to enhance its production capacity, alongside having installed 15 new CNC machines and big diameter machine for flanges. And, the company is already in the process of installing few more drawing machines and high efficiency grinding machines too. With such equipment in place, the company aims to meet the increasing demand of quality stainless steel flanges.
With much investment in its operations over the years, Viraj Profiles today boasts six manufacturing plants – each facility producing stainless steel (SS) wire rods, SS bright bars, SS fasteners, SS profiles, SS wires, SS welding wires and SS flanges. The six plants boast a combined production capacity of 528,000 TPA, while the company also benefits from 180,000 tpa section rolling mill.
Domestic Market Expansion Plans
While the company is resolutely international in its outlook – with exports to 1,300 customers across more than 90 countries accounting for around 90 percent of its production –the manifold rise in domestic SS consumption in recent years raises new opportunities in the domestic space. Such growth has come off the back of a spurt in infrastructure projects, new and upgraded airports, metro railways and bus shelters, as well as stainless steel wall cladding, household applications like stainless steel modular kitchens, furniture, outdoor application, and transportation among others."What is heartening is that government institutions have realised the long-term benefits of using stainless steel and its potential growth in India is huge, given that the per capita consumption is 1.9 kg compared with global average of 4.85 kg," he points out.
Mr. Kochhar also mentions about the new office, which the company has established in the northern part of India "Our decision to open an office in the capital city is in recognition of the size and opportunity of the market in this part of the country, whilst also acknowledging the growing demand of stainless steel products across various sectors like architecture and construction, process industry, etc. It is a very important place for us to be and we aim to increase our market penetration across all the regions in India especially northern states."
In terms of steel production, India's healthy ramp-up of outputin recent years has earned it the ranking of fourth largest producer worldwide today (after China, Europe and Japan). This growth, however, has its limitations, and in order to fully expand its capacity, India should take care of issues like resistance to the use of stainless steel due to high initial cost, endemic power shortages, and high price volatility of nickel, alongside clamping down on the unrecognised sector producing cheap quality products, and also the issue of a shortage of scrap in the country.
Quality is paramount
Viraj Profiles has navigated such challenges admirably and have notched up many a success in the last two decades since the company's inception. Mr. Kochhar attributes such achievements to the company's organisational values, commitment towards quality, and zest for technological upgradation. "We have always endeavoured to keep ourselves at par with global market standards, offering the best quality products. As a result, our products enjoy a leadership position in several product categories across the globe," he says, adding that another success factor has been the company's ability to react quickly to market changes and customer requirements, which, in turn, has helped it stay ahead of competitors.
"Our integrated manufacturing system, having all the processes in-house, makes us less dependent on external factors. Finally, quality is what characterises our products and today I can proudly say that Viraj has carved a niche for itself based solely on quality," he adds, adding that all the firm's plants are ISO-certified and in all, the company has thus far attained more than 90 accreditations for meeting various specific requirements and applications. "Those approvals and certifications enable our customers to supply our SS flanges and other products to major end-users across a variety of industries including pipeline engineering, oil & gas, mechanical and plant engineering, marine, wastewater processing, chemicals and petrochemicals, power sector, aerospace, and food processing," he explains. As part of its commitment to ensuring the flawless quality, the company is in the process of installing two more eddy current testing machines to cater to size range of 5 mm to 12 mm in addition to its existing facility of handling the size range of 14 mm to 130 mm.
Going Green
Its emphasis on operational excellence necessarily means the company has always striven to save energy throughout its facilities and uses eco-friendly, recyclable materials as part of its waste management strategy – both to conserve natural resources and reduce its carbon footprint. Such measures include installing imported induction furnaces to ensure zero discharge of fumes; utilising furnaces on a rotational basis to ensure optimum performance levels; and installing automatic temperature control systemsto prevent overheating, thus directly reducing the energy requirement per cycle. Mr. Kochhar adds, "We have recently installed a new soft annealing furnace batch type which is going to further increase our capacity by around 800 MT per month. We have also installed two gas fired solution annealing furnaces and 5 more furnaces are in the process of installation. As part of our ethos of green and safe environment, we have converted all the furnaces from liquid fuel to CNG."
"In our shot-blasting process in the profiles division, we collect all dust particles generated during the process. The heavy particles with heavy iron content remain at the bottom and are removed manually. These are then charged again into the furnace to save cost and reduce wastage," Mr. Kochhar tells us, adding that even water used in the annealing and pickling process is conserved – it is recycled with the help of a scrubber and absorber system for treating it with acid, as required for neutralization. Once the solid impurities are removed, the same water is re-used to conserve the much-needed natural resource.
In recent developments, a gas conversion plant was installed in association with the Gas Authority of India Ltd (GAIL), and this has further assisted in reducing the carbon footprint of Viraj Profiles. "The environment-friendly plant helps in achieving combustion efficiency and increases the life of the furnace. It also reduces the level of harmful gases released into the environment due to burning of furnace oil," the Chairman adds.
Giving back to the society, the company has targeted numerous CSR activities in areas where it feels it can make a difference to the local community – areas such as education, health, women empowerment and infrastructure developments. Such initiatives are seen by the Chairman as a drive to provide a better future to the next generation. "As society is one of our stakeholders, we value CSR as it provides social, economic and environmental benefits to the communities where we operate. It is in reciprocation of their support that we willingly share our success with them and believe that these activities benefit society as well as enhance corporate value," he enthuses.
One such initiative – The Viraj Shri Ram Centennial School, which was opened to provide education of international standards on the company's premises at Kurgaon in Maharashtra – has been named by the 'Times of India' newspaper as one of the top emerging schools in the Mumbai region for the past two years. Mrs. Renu Kochhar, who is Chairperson the school, says the institution's prime motto lies in providing wholesome education to students and in providing a platform from which hidden talent can thrive. In addition to this, the company also provides e-learning content and has appointed full-time teachers in several Govt. schools in the vicinity and also takes care of all the infrastructure related requirements of these schools. Other initiatives include providing clean drinking water to students and donating computers, arranging guest lecturers for the students etc.
Meanwhile, Viraj Profiles' women-focused development initiatives help empower females' role in society-building and entrepreneurialism. "Self Help Groups (SHG) have been formed with women as members and they are provided with vocational training, alongside financial help in starting a new business and marketing their products. In addition to providing free of cost vocational training, we also help these women in securing a well-paying job in the textile and garment manufacturing companies in the nearby areas. Many of these ladies are today working with some of the leading textile companies and are leading a happy and satisfied life," Mrs. Renu Kochhar says.
What does the future hold?
Returning to speak about the company's own products and prospective areas, Mr. Kochhar expects the building and construction sector to witness the fastest growth in the future. Elsewhere, with the developed world focused on light weighting automobiles to reduce global warming and emissions, the demand for stainless steel is expected to accelerate over the next couple of years, with its excellent formability behaviour combined with high strength leading many to tout SS as a suitable light weight material for auto components. "We have already been exporting our fasteners and bright bars to some leading global automobile companies and are currently discussing development of new products for other companies," the Chairman reveals. "Our range of welding wire products, new to our stable, has been received well so far in the Indian market and we are very hopeful to carve a niche for ourselves with such solutions in the international domain too," he advises.
"The household sector is also expected to witness good demand, while expanding and emerging applications in renewable energy, construction, healthcare and cryogenic industries will likewise provide good opportunities, and we are fully geared to respond to those market trends," he adds.
As for the future, with a tremendous range of around 50,000 SKUs across various product categories, Viraj Profiles will not be looking for horizontal growth, but will rather be focusing on vertical growth, reveals the Chairman. "This is being done keeping in mind the requirement of our customers and the strategy is being developed in constant consultation with them," he informs in closing, adding that Viraj Profiles has nonetheless not ruled out new product development. With myriad markets and an ever-expanding range of applications, stainless steel is well known for being incredibly versatile – over a quarter of a century down the line, few could argue that Viraj Profiles Ltd shares that valuable characteristic.