Mixer S.p.A. combines the quality of Italian excellence, where each single detail matters, with the passion for innovation.
Closely collaborating with its customers, Mixer S.p.A. uses its acquired know-how and expertise to offer state-of-the-art technology and performance of compounds. Its product brand, EKOPREN® includes a wide variety of solutions for insulation, sheathing and bedding for the cable industry. The extent of the offer is clearly shown by the numerous applications including automotive, offshore, photovoltaic and mining, low and medium voltage. In particular, medium voltage cables provide an optimized and long-lasting service life in varying circumstances, resisting environmental exposure to water, oils, flame, ozone or UV, while maintaining the highest levels of electrical performance.
Watch: RR Kabel: Shreegopal Kabra on Fire Safety
In this perspective, the maximized cleanliness and high quality of the insulation compounds are essential as well as a good match with the semi-conductive layer to grant electrical integrity. Mixer S.p.A. has a consolidated experience in providing these materials to the cable industry since the company has been producing blends based on EPDM and EPDM/PE for this purpose since 1996, and today has become one of the world's leading compounders for medium voltage insulation, with a dedicated line for these products.
Development of Lead-Free Products
More than ten years ago, Mixer's pioneering vision led it to conceive and promote fully lead-free products for medium voltage insulation, with an environmental-friendly approach, which allows achieving optimum insulating performances in compliance with the lead-free directive, – RoHS regulation – necessary to access the European market.
Today, Mixer's range of products for this market segment is comprehensive. The company's product offering includes hard or flexible products covering an operating voltage from 6 to 95 kV for single-core or multicore cables, with lead and lead-free versions. Mixer's EKOPREN® Medium Voltage grades are suitable for operating temperatures of 90°C and 105°C, in addition to being compliant with the international standards, UL 1072 and ICEA S-94-649-2013.
Rubber-Based, Medium-Voltage Compounds
In addition to the standard medium voltage insulation compounds, Mixer S.p.A. has developed a series of compounds, driven by customers' needs, up to 65 kV, which can be processed in standard XLPE lines. This exceptional result allows all the companies manufacturing XLPE cables to produce rubber-based, medium-voltage cables, without refitting their machinery. Moreover, constant investment in its research and development has enabled Mixer S.p.A. to offer compounds for special applications such as downhole well pumps.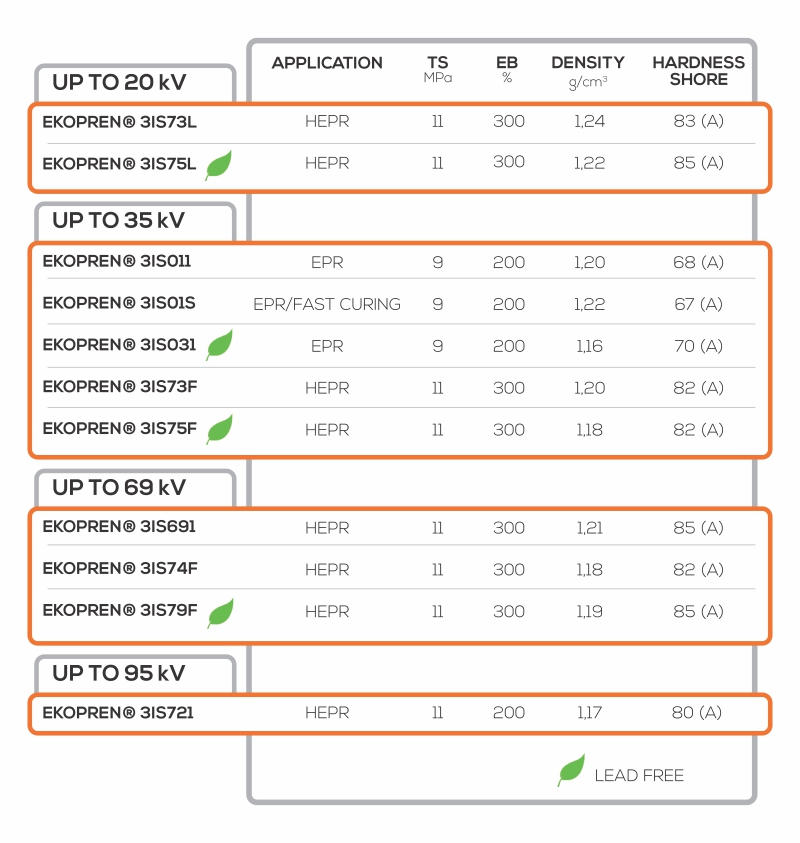 To provide a complete package for medium voltage applications, Mixer S.p.A. can also suggest a proper match with the semi-conductive shields, since the company has tested the compatibility and peelability of semi-conductive shields with EKOPREN® products.
TPV Technology for Medium-Voltage Insulation
The study & development of thermoplastic insulation based on TPV technology for medium voltage insulation epitomizes the mindset of continuous growth and innovation. In 2016, Mixer S.p.A. presented a paper introducing this technology by A. Galanti, S. Dossi, A. Magri and C. Cardelli, titled, TPV based insulation for medium voltage applications, at IWCS 2016. The research on this new material continued exploring the relationship between the ultimate properties of the compounds and the microscopic structure. The results of this investigation are reported in the latest paper published by F. Ciardelli, S. Dossi, A. Galanti, A. Magri and S. Riolo, titled, Molecular evolution during dynamic vulcanization of polyolefin mixtures for lead-free thermoplastic vulcanized, at Polym Adv Technol. 2020.
Also Read: FUHR Wire Rolling Mills – Specialist in Pay-Offs and Take-Ups
Conclusion
Mixer S.p.A. contributes to the growth of the cable industry through cutting-edge and cost-efficient compounds. The company's technology, developed completely in-house, is focused on efficient and competitive solutions, which are the key elements of the company's portfolio.