Eurolls S.p.A., founded in 1987, is recognized for the design and production of steel rolls and accessories for tungsten carbide rolls, wire cassettes and a large range of machinery for the wire industry. Its 4 plants are located in Italy with subsidiaries and branches spread across the USA, Brazil, Mexico and China.
Eurolls has produced and sold more than 10,000 cassettes all over the world. The company has also carried out new developments in this sector which consists of an implementation of the quality of rolls surface utilizing special coatings leading to improved life span. Moreover, looking at the growth potential, Eurolls considers Indian as an interesting and very receptive market — specifically for construction wires.

The company offers the following product range for different applications:
CONSTRUCTION WIRE

Rolling Cassettes Type CA and CB:
The CA and CB rolling cassettes (CL25CB33 and CL30CA33) offered by the company are mostly used to process low carbon wire for the construction industry. These cassettes are normally mounted on one or more drafts machines, where the wire is reduced and/or deformed, used as a base for lattice girders, mesh, or generally reinforced concrete application. Each model can cover different ranges on entry and exit wires according to several parameters which will be evaluated from time to time.

Rolls for Construction Wire:
These rolls are provided with new surface coatings that increase their life and improve the quality of the final product. The sizing, forming and reducing rolls made of either tungsten carbide or steel are used to produce smooth or ribbed wire for use in the construction sector. Profiling rolls are tungsten carbide rolls that are demanded for wire ribbing or indenting, and roll holders are made of steel and hold the sizing, forming, reducing, and profiling rolls.
INDUSTRIAL WIRE

Microcassettes
With constant research and development — the company has developed a deep knowledge of the cold rolling process, and with the use of 'rolling cassettes', the cold rolling wires has replaced the traditional die drawing method in many applications.

Eurolls' Microcassette type-C (CL20C133, CL25C133 and CL30C133) are suitable for achieving tight tolerances when processing different materials. It easily replaces traditional die boxes on multi-pass lines due to its compact dimensions. The advantages of this technology are many, starting from having a longer roll working life compared to that of traditional dies, time-saving in tooling changes, less machine downtimes, the possibility of working at higher speeds, reduction of absorbed power, lower lubricant consumption and consequently increased productivity. These cassettes are water-cooled and have lubrication points. The company has also launched a new model — CL20C133, which comes with a reduced dimension in order to allow it to be used on compact machines.
Modular Cassettes
Modular cassettes type-D (CL20D20, CL25D20 and CL30D20) are specifically designed to process special wires such as flux-cored, titanium, stainless steel and other delicate materials. These cassettes are water-cooled and have lubrication points. Due to their compact size, they can easily replace die-box modularity: by connecting the modules in series, staggered on a 90°, multi-stage units can be formed. The advantage of this solution lies in the fact that large section reductions are distributed over several modules obtaining less variation on the final product.

Eurolls has recently introduced a new modular cassette — CL20R20, which finds application in the final drafts of a rolling line that produces welding wire having a diameter size that is less than 2mm. The reduction in its overall dimension permits this cassette unit to be installed in compact wire drawing lines.

Rolls for Microcassettes & Modular Cassettes
These rolls are mounted as 3+3 for the microcassettes and 2+2 for the modular units, and are supplied pre-assembled on their roll holders with a perfect size calibration for a dedicated profile.
Smart Cassette 4.0 CL25C133
This cassette is equipped with sensors connected either to the machine PLC or internal LAN for remote control access. These sensors can detect production parameters and therefore predict anomalies that could occur in the process. Eurolls has designed three standard packages — temperature package, productivity package and preventive maintenance package.
High Carbon Cassettes

The company has also extended the use of cold rolling cassettes into sectors such as reduction of high carbon wire, and compaction of high carbon and stainless steel strands. Products range includes:

EHC95: This cassette has been specifically designed to produce High Tensile Strength wires, like those used to produce P.C. strand.

Model CL-8-123HC: Used to replace the entry die in the high carbon wire process.

Model CC-8-91: Special model designed for rope compacting.

Special Cassettes

The company has developed special cassettes to meet the most varied market demands such as square profiles or others. It offers:

CR 170 4: Twisted square wire obtainable with Eurolls' rotating cassette CR 170 4. This model mounts 4 rolls, where the wire enters round and the cassette gives the final twisted shape.

CL50AS33: Steel cord compacting
ROLLS FOR DIFFERENT WIRE PROCESSING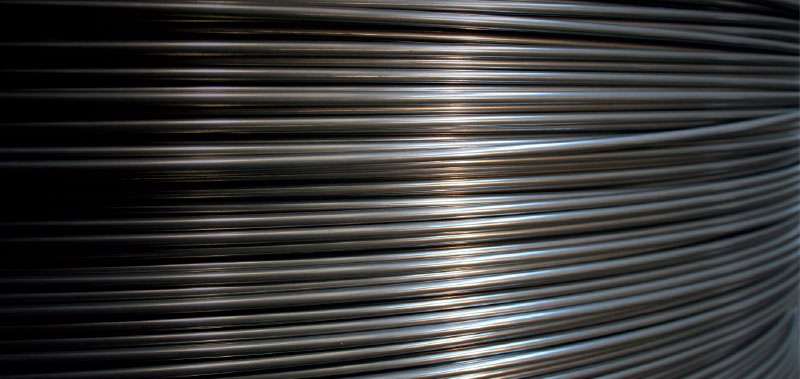 Rolls for different wire processing applications:
Descaling rolls made of either tungsten carbide or steel used for the mechanical descaling of entry rod in reduction mills.

Integral tungsten carbide inserts for the mechanical descaling of the entry rod into the wire production line.

Stress relieving rolls made of tungsten carbide to improve the mechanical characteristics of the cold-rolled wire.

Tungsten carbide rolls for strips, to be used in the first roughing stands which use wire rod.

Flattening rolls made of tungsten carbide and are used for metal strips for electrical contacts.

Roughing rolls made of tungsten carbide.

Motorized rolls for wire pulling.

Eurolls also produces rolls for special applications:

Rolls for hot rolling are made of steel or with tungsten carbide insert for the hot rolling of copper or aluminum wire rod.

Straightening rolls and cylinders are used on straightening machines to produce Z, L, T and hot-rolled angles. These rolls are made of special high yielding steel, forged and treated in various phases.