Tirupati Plastomatics Pvt. Ltd.: Solar & HV Cables to Become Part of Already Wide Cable Range
With versatility already reflecting in its product range, Tirpuati Plastomatics is going to add solar and high voltage cables to its existing cable portfolio, making it easier for the consumers to get all types of cables and conductors under a single roof. Besides, the company has made a substantial growth plan with INR 300-325 Cr turnover by the year 2020.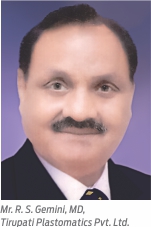 Tirupati Plastomatics Pvt. Ltd. is a flagship company of Gemini Group of industries Jaipur, India and a leading manufacturer of HT & LT PVC/XLPE insulated and sheathed cables, and conductors used by Indian railways, utility service providers and private turnkey project executors. In addition to serving Indian railways and electricity boards, Tirupati has also entered into overseas markets in last 18 years have executed orders of power cables (including aerial bunched cables, LV underground cables, AAA conductors, and ACSR conductors) to EDM in Mozambique, Mazare-E- Sharif power projects in overseas markets.
WCI recently had an opportunity to have a brief interview with Mr. R. S. Gemini, MD, Tirupati Plastomatics Pvt. Ltd. Excerpts:
Wire & Cable India: Please tell us something about Tirupati Plastomatic group.
R.S. Gemini: We started cable manufacturing with railway signaling cable from the year 1998 and later stepped into making instrumentation cables, control cables, and HT & LT power cables for different PSUs and corporate houses. We also export our cables to merchants and EPC contractors in few countries. Our range is now including almost all types of cables and conductors, i.e. ACSR, AAC, AAAC or ACSR. We make HT power cable up to 33 KV.
WCI: Please share some numbers related to the capacity and production of your company?
RSG: Our turnover is INR 175 Cr per annum; since our products are of ­­different sizes, their capacity cannot be categorized independently.
WCI: You mentioned that you are expanding your product range, getting into higher voltage and solar cables. Please share some details.
RSG: We have already taken approval from TUV for our solar cable project. We have expansion plans for our existing plant and machinery base. Besides, we keep a check on our product control and ensure regular equipment testing, which is a well-regulated process of ours. Also, we keep in view the market scenario and work on our production capacity and quality in accordance with demand.
WCI: Where do you see Tirupati Plastomatics ten years from now? And, tell us about the current vision you keep for your company.
RSG: Tirupati Plastomatics have got good reputation when it comes to quality or well-timed delivery of the product. Considering the changes taking place on the day-to-day basis, we are sure that inspecting authorities would be adopting some new testing provisions, adherence to which becomes necessary for cable manufacturing companies like us. I hope our working in an ethical manner will pay us one day, establishing us as leading Indian brand, both in India and overseas. The way our Govt. is working and looking at things with a vision of development, I personally believe it will work in our favor after a year or two.
WCI: Tell us about the philosophy you adopted for your company.
RSG: We hardly commit errors when it comes to delivering the right product. Following a procedure, where getting an order and delivering it is not enough; the product should be sustainable as well. You never know when a small order would turn into a bigger one if the product durability is achieved. The brand value will always pay, not only to me but to any supplier in today's corporate world. The bottom-line says that we focus on the quality and timely delivery of the product, which creates a satisfaction to the customer.
WCI: Tell us about your views on the current scenario of the cable industry and the trends you are seeing in it.
RSG: Because of the Government's policy, lot of work is going in electrification like DDUGJY (Deen Dayal Upadhyaya Gram Jyoti Yojana) and IPDS (Integrated Power Develop-ment Scheme) schemes, which are the recent electricity related programs adopted by many states. The Central Government is investing huge funds in infrastructure, smart grids, rural and urban electrification with the primary objective of providing good roads and 24×7 electricity throughout the country. The Govt. is also working on undergrounding cabling system in villages, just like any town or city has. Such initiatives have become a stage for development for the Indian cable industry and will continue for another 5-7 years.
WCI: You have good focus on making quality products and service to your customers. What kind of strategy or processes do you adopt in your manufacturing setup to make sure that your are able to deliver standard products?
RSG: Firstly, we prefer to procure our metals only from reputed approved suppliers. Secondly, all the raw materials are tested before use as per the required IS (Indian Standards), IEC (International Electrotechnical Commission) or BS standards. Thereafter, it goes in the process like every other company; we have in-process card at every stage of operation to ensure the traceability, designed speeds are being properly followed and monitored by the working team, etc. They have been given job cards and they strictly follow it. If you ensure the traceability through the process card, you can always go back in the process to know the journey of the product, right from the raw material stage to the final product, thereby spotting errors if any.
WCI: Lastly, tell us about the views on the correct usage of technology.
RSG: The upgradation of plants, machinery and testing equipments from time-to-time plays a crucial role for any product. We need to update our products, machineries, testing equipments timely in order to survive in the challenging market scenario marked by stiff completion in both the capacity and quality.