Reels Made at Nashik Competes with the Best European Reels
With the frontline technology installed at its Nashik facility and carefully trained operators by Slovakian experts, GMP India has been able to match the absolute European quality of reel and take-apart reels.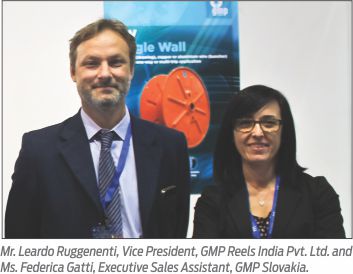 GMP Slovakia, a worldwide leader in the production of reels, take-apart reels, handling equipment for reels and coils, has over 40 years of experience in the range of products it makes for the wire and cable industry. GMP designs and manufactures reels both for process and for transport. The company does not only supply standard items, but also customized products for special applications, including all the necessary equipment to handle reels and coils by way of lifters and tilters for horizontal and vertical handling and dolly bases or skid rolls.
In 2014, GMP set up a production facility in India at Nashik in Maharashtra. The 3,000 sqm production facility has been installed with state-of-the-art machinery to manufacture high-quality products and the Indian operators have been trained by the Slovakian staff in order to offer the same level of quality as the parent company. Having been appreciated for its constant, superior quality, GMP also desires to export its drums and reels from India to other countries. On the margins of wire show in Mumbai, WCI interacted with Mr. Leardo Ruggenenti, Vice President, GMP Reels India Pvt. Ltd. and Ms. Federica Gatti, Executive Sales Assistant, GMP Slovakia to know about their Indian experience. Excerpts:
Wire & Cable India: Tell us in brief about your company GMP and the major milestones achieved?
Leardo Ruggenenti: GMP is a family owned company and my father Bruno Ruggenenti started this business many years ago. The company passed through many phases since foundation and has grown much in the last years to become one amongst the global top brands manufacturing unique set of reels, metal spools, and equipment. We are always looking forward to meet new customers and give them the best quality products as they too wish to deliver good quality. GMP Slovakia is certified in ISO 9001, ISO 14001 and ISO 18001.
WCI: Can you tell in detail about the products, i.e. the drums and the spools that you produce?
Federica Gatti: We have a wide range of products and we do reels and drums for every type of cable and coil. GMP also produces customized reels besides the standard ones. We have many competitors here in India and in China; however, the fundamental difference between us and them is our 40 years long market presence with much bigger experience in this kind of products. GMP's main strength is its acute product focus and quality which make it stand out from the rest. If our clients face some problems, then we have after-sales service where clients can call us for solutions.
WCI: How is your Indian business doing?
FG: At the moment, we consider ourselves new in the Indian market as we are here just for two years. Initially, it was not at all easy for us as we have difficulty understanding our customers and their needs so as to provide them with the best products in their situations. However, things improved a lot after we collaborated with an Indian agent who helped us communicate to customers. As a result, we have many clients coming as they find our product quality superior and consistent.
Moreover, the next thing on our mind is exporting our products from India to neighboring countries and other parts of the world. For the purpose, we want to manufacture some products here and import the remaining in order to export to the rest of the world. In other words, we wish to develop India as one of the GMP's important business centers. GMP reels and drums are exported to countries like Brazil, Indonesia and many European countries. For us, it is very important to sell outside India even if the Indian market is doing exceptionally well. GMP wants to export from India because price of raw material here is same as that in Europe, but cost of operation is really low helping you keep your prices low and margins better. We can now give good quality products to customers outside India at very good price.
WCI: Are the drums and spools you offer completely manufactured in India?
LR: Yes, absolutely! For two years, we had a specialist from Slovakia looking after production and training the Indian workers in order to reach the same quality that we have in Europe. Now, we are manufacturing in Nashik and you can't identify which product is done in India and which one is from Slovakia. Of course, we can do more reels as we have specialized workers and bigger machines in Europe, but we can do the basic part of the catalog here in Nashik with really satisfactory quality.
WCI: Are all the raw materials procured from India for the Nashik facility? How much are producing at this facility? Any thought about expanding the present facility?
LR: Yes, all the raw material is sourced from India; we procure it from TATA, JSW and others. There are no big issues as we can work very well with these materials. Rest everything in Nashik, including all the workers, suppliers, raw material, etc., is Indian.
As for how much we produce at Nashik, in terms of money, the turnover is around INR 6 million per month as of now and we have a long way to go. As for expansion, we don't intend any, not right now at least. Currently, our focus is to fill up the space that we already have.
WCI: Are you satisfied with the response you have from the Indian market in terms of your products being fully absorbed? Any target in terms of customers?
FG: Yes, it is satisfactory. The production capacity has stabilized along with workers and machines. As far as demand is concerned, it is not showing any remarkable growth; but it's not deteriorating either and has been constant for a while as the market in India and elsewhere is a bit a down. Ten years ago, when I started working with GMP, the market was full of opportunities and there was work for everyone. However, still there is enough demand and we have customers like BWR, Bedmutha, Polycab, Leoni, Lapp, Sbee, Miracle Cables and others. We are preferred by our clients for our superior quality reels and spools which add value to their products.
GMP has been lauded for its equitable treatment to all customers, howsoever big or small, as they all matter to our growing client portfolio. With this trust, we intend to add more new names in our clients list, which we may serve by expanding our capacity in future. Also, our current target is to be associated with big names and make new clients.
WCI: What are the challenges and opportunities for you in the market?
FG: As I told you earlier also, Indian markets are a bit difficult for us as customers here want very low price and considering that we have to convince customers that they have to pay for the quality because our reel works for 10 years and not just for 2-3 months. The biggest challenge is to convince customers to pay for the quality.
LR: People need to understand that good quality will repay you in long run. Quality is something like you invests Rs. 100 and you are able to recover that amount in six months time.
WCI: Apart from price part, what else did experience in the Indian wire and cable market?
FG: I think it is quite similar to the rest of the world and not different at all. Also, working with Indian customer may not be easy as you know you are working with people of different mentality, but once they trust you, things are easy enough as you sail on same boat now.
LR: I teach a lot to people in Nashik, but I have been able to learn so much by teaching them. So, there should always be an exchange of knowledge and that is basic professional requirement of the future and must therefore be fulfilled. Spending time on understanding is important rather than spoiling the product.
WCI: Anything that you want to add?
LR: The group is now composed of 3 companies, one is in Italy for special machine and equipment, one is in Slovakia for every kind of metallic reels and one is in Nashik where we do drums and spools. Hence, with these three companies working in sync, we have the most comprehensive product portfolio in terms of reels, spools, and drums to serve the global market.