Sterlite Tech's fully integrated optical fiber plants at Waluj, Aurangabad becomes India's first unit to win Frost & Sullivan Gold Award in process sector for optical fiber.
December 16, 2016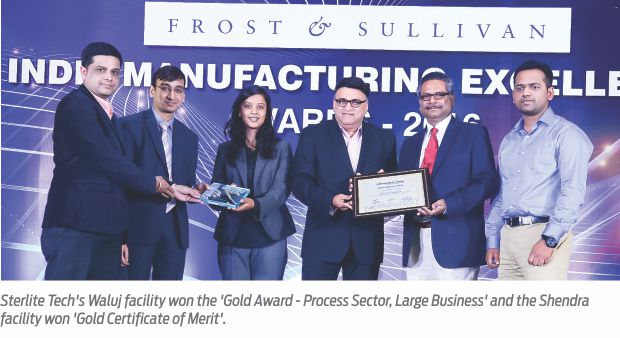 With a strong portfolio of over 125 patents, Sterlite Tech is home to India's only Centre of Excellence for broadband research. Recently, Sterlite Tech's fully integrated optical fiber (OF) manufacturing units at Waluj and Shendra, Aurangabad bagged two Frost & Sullivan India Manufacturing Excellence Awards (IMEA) 2016. The Waluj facility won the 'Gold Award – Process Sector, Large Business' and the Shendra facility won 'Gold Certificate of Merit'. With this, the Waluj Unit has become India's first to win the recognition in the Process Sector for OF.
Additionally, Sterlite Tech's Lean Six Project on "Reduction of scrap due to bubble defect" was also recognized as Second Runner-Up in 'Process Innovation' category under F&S Project Evaluation & Recognition program (PERP) 2016. This project was appreciated for the methodology used and systematic approach towards problem-solving.
The team of experts from Frost & Sullivan IMEA 2016 assessed the units' consonance of strategic goals towards business growth, their derivative organizational objectives towards enhanced competitiveness, and the facility's operational performance towards manufacturing effectiveness.
Further, highlighting the recognition, Mr. K. S. Rao, Managing Director & COO, Sterlite Technologies, said, "The double recognitions this year are a testimony of our commitment to excellence in optical communication products. These awards are strong endorsements for our high-quality manufacturing, R&D capabilities and innovative smarter network solutions that are enabling broadband infrastructure creation for the global telecom industry."