Dynamic Cables Pvt. Ltd.: Continuously Dynamic in Product and Capacity Growth
From Rs. 5 Cr in 2001 turnover to Rs. 331 Cr in 2016, the company has not only been able to clock a sterling topline, but has also expanded its product range to include one of the most comprehensive baskets of cables and conductors. With an increasing overseas footprint and a new plant in offing, the company is targeting Rs. 1500-2000 Cr topline in ten years with an objective to keep pace with changing technology, manufacturing process and quality controls.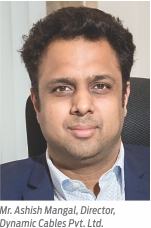 Dynamic Cables has become a global player in supply of cables and overhead conductors. The company has continuously been expanding its capacity, capability and product range by improving and expanding existing facilities and also setting up new facilities from time to time. Dynamic Cables is now in advance stage of setting up a new plant for HT cable up to 66 KV at Shree Khatushyamji Industrial Area, Reengus (Rajasthan). The same plant will be later expanded to include manufacturing of railways signaling cables and OFC.
WCI recently held an interview with Mr. Ashish Mangal, Director, Dynamic Cables Pvt. Ltd. to know more about the rapid growth of the company and its new plant. Excerpts:
Wire & Cable India: To begin with, our readers would like to know the brief introduction of Dynamic Cable and its evolution as it stands today.
Ashish Mangal: The Company was born in 1986 as Dynamic Engineers in the form of a partnership company and was initially manufacturing super enameled and DPC wires for use in the transformer industry. We continued manufacturing these wires and also started manufacturing conductors around 1995-95, which we essentially supplied to majority of state electricity boards in India including Rajasthan.
The year 2003 was a crucial year in the history of the company as we planned a major diversification-cum-expansion project by deciding to enter into cable segment, especially the aerial bunched cable. The cable unit was established successfully in 2006.
In 2007, we planned for our second expansion; this was a pure expansion plan. This third unit in Vishwakarma Industrial Area (Jaipur) is spread over an area of about 100,000 sq ft to manufacture LT and HT cables up to 33 KV. In this unit, we started making cables based on Sioplas Technology. Over a course of time, we came to a point where expanding in the form of fourth unit became imperative and we started setting up a 200,000 sq ft facility in 2016 at Shree Khatushyamji Industrial Area, Reengus. The overall capex to create this facility is to the tune of Rs. 35 Cr. This new plant is expected to come into operation by December 2017. This will include a CCV line with the latest dry curing technology to manufacture XLPE cables with online curing. We are an ISO -9001:2008 company and are in the process of Implementing OHSAS and ISO 14001 compliance.
WCI: Kindly tell us about Dynamic's current portfolio and its market size?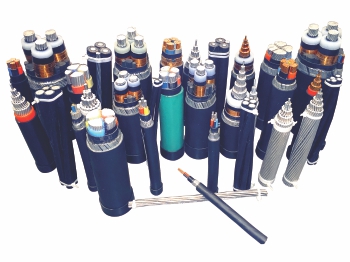 AM: Now, the cable itself has become a great and comprehensive range that we make and there is potential to extend this range further. Right now, the range includes LT power cables, LT aerial bunched cables, communication cables, ACSR conductors, alloy conductors. We also make AL 59, which is a very recent development in the conductors industry. We have started manufacturing AL 59 and have supplied to few customers.
In Reengus, we are coming up with 66 KV cable plant. This will be another category added to our product range. We have another space left out for railway signaling cables for RDSO (Research Designs & Standards Organization) and railways. Besides, we are coming up with optical fiber plant, which is still three years down the line.
If I talk about the markets, we entered in exports in 2006. Before that, we were doing electricity boards within India. We never touched EPC contractors, which is and was a big potential. But post-2006, we started exporting and had our marketing teams posted in various places. Our portfolio of countries where we export to grew over time and right now we are supplying in almost 26-27 countries, adding on 3-4 more countries every year. We are supplying to each and every electricity board in India. Besides, our EPC customer portfolio is now remarkable including India, Africa, and the Middle East. African countries constitute the most of our export (around 90 percent) followed by Afghanistan, Nepal, Iraq, Jordan, and Mauritius. We are in the process of introducing another vertical which would exclusively handle turnkey projects.
WCI: Can you please tell us your share of domestic and overseas markets?
AM: With an eye on stability and consistency, our exports have been majorly ranging between 15-20 percent of the whole turnover since 2010. It has been consistent since last 6-7 years. Broadly, we have divided our ranges into cables and conductors; this is how we work. This year we have done Rs. 331 Cr of turnover, out of which almost 40 percent is conductors and 60 percent is cables.
WCI: Will you please elaborate us on this ongoing Reengus facility, the technology you are investing in, and the planned next phase involving the OFC facility?
AM: The Reengus facility is around 8 Acre plot and is in the RIICO industrial area, which is fully-equipped with the crucial infrastructure and other requirements an upcoming industry needs. Dynamic Cables will now gain entry into an elite group of manufacturers with manufacturing range up to 66 KV cables; but this will be done with CCV technology, which is latest right now. Our CCV extrusion line, which is from Supermac Industries, utilizes a single- point- triple-extrusion method which can take care of long continuous production schedules, frictional heat and pressure to deliver a uniform production cycle. The most critical part, i.e. the CV tube for this extrusion line has been procured from Scholz Machinenbau, Germany. Other machineries are coming from China and India.
Rs. 35 Cr is the immediate investment in land, building and plant machinery. We are planning the second phase for railways and OFC, which is around 10-15 Cr and will be done in three years down the line and we have already demarcated the space for that. The first phase of 66 KV plant can be expected to start from this year-end.
WCI: What kind of contribution are you expecting from this expansion to your turnover, probably in the next financial year?
AM: See, contribution can't be expected or estimated immediately after the start-up or for the next financial year to say. The gestation period is itself 2-3 years for units like us which are going to make new product on a new line. Trial runs, self-testing, various approvals and licensing for the product and the unit, etc. consume bulk of the time. After which, I am confident that we can aim to triple our current turnover and production capacity. Moreover this new expansion will also bring Dynamic Cables the recognition as one of the handful companies in India, who can boast of a line up so expansive. It will also give us access to cater to a whole new segment of the cable industry in India as well as overseas. All of which contributes to increase in the overall turnover.
WCI: Since your company has been continuously doing the expansions, will you please tell us the kind of growth you have witnessed in your turnover over a period of time?
AM: In 2001, we hardly achieved a sales turnover of Rs. 5 Cr. The turnover figures were roughly around Rs. 12.7 Cr in 2005 and Rs. 59.7 Cr in 2007 respectively. From the last 3 years, we are in the range of Rs. 250 Cr to Rs. 331 Cr. This growth has been consistent and steady and gave us a lot of experience, strength and confidence in the tasks we are about to embark upon. I would also like to add that we have been successful in retaining and managing dedicated teams of managerial staff, workers, technicians and engineers with us who are motivated towards a common goal of growth and development.
WCI: Doing 66 KV cables involves more technicalities unlike things you have been doing earlier. So, tell us about how you struck upon this idea and ultimate execution.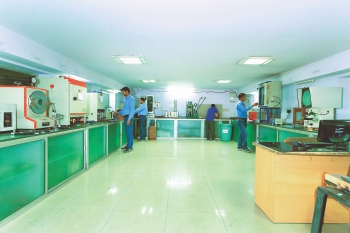 AM: During the set up of the previous plant, lots of things were analyzed; our experience, feedback from our customers, clients, market requirements, our technical, commercial and financial capacity, capability, strength of our teams working in production, marketing, logistics, procurement etc.
We arrived at a big milestone in 2007 when we did the expansion and started making HT cables, which required a considerable technological know-how and high-tech equipments. The plant was a success and, to an extent, that was a great learning for us and we were confident that we can take one more step ahead.
In our existing third unit, we use the Sioplas Technology, which as time progresses, is becoming a dated technology. With the constant evolution of cable technology and clients' demand for CCV technology, we decided to install a CCV line in our new plant. Through research and experience, what I have learned from my previous set-ups is that we should wisely choose our machinery at the time of finalization. We need to have a perfect balance of infrastructure, plant and machinery, gauge the industry/client requirement and technological advancement in the market along with a keen eye on budget. We reviewed on all such aspects and decided the technology, vendors, land, and our fund requirements accordingly. Till now, we are a private limited company and hence the sources of funds are banking institutions and our own capital.
WCI: Tell us about the strength of Dynamic Cables. What is its USP?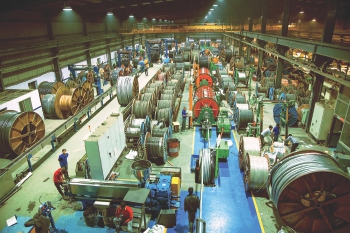 AM: USP or strength can't be expressed in few words. It is a combination of many things. We contribute our success to three major points. Firstly, we have a very strong vendor base and we treat them as our partners. We ensure whenever they are in need, we are there for them. Also, we make sure that our supplies are regular and a quality product is supplied backed by on time delivery and efficient after sales service. Now vendors supplying to the top cable manufacturing companies of India, consider Dynamic Cables at par with them as we have proven ourselves to be a reliable supplier. We have a kind of vendor-based reputation, which is one of the components of our USP.
Second USP is our style of working with EPC contractors or the electricity boards. We have our regional offices in Delhi, Mumbai, Kolkata and Hyderabad. The costing is controlled by our head office (Jaipur), which is done by us primarily and has to be approved by the top management. We work on viability. If it is viable, we do it and if it is not, we don't. Another thing is if we take any order then there is no backing out, even if we are at loss. There may be some exceptions, but we are on time 99 percent. Our whole technical team is there who is supporting our EPC contractors in terms of any issues that come up while installing cables.
Third and equally important is our Dynamic team. Any venture or endeavor relies on the shoulders of a dedicated and motivated team of employees which make any objective attainable. I understand that unless we all work as a cohesive unit with a common goal in mind, our planning and operations cannot come to fruition. Hence, I am extremely lucky to have a great mix of technical, managerial and operational team who have stuck by us through thick and thin and have enabled us to reach this far and pave the path for further growth. This is our core USP.
Our teams are constantly exposed to in house and outdoor trainings, audits, seminars and conferences, expert guidance on ever changing rules, regulations, and customer requirements to stay up to date with the Industry.
WCI: What are your views on wire and cable sector in general? Also, tell us where do you see Dynamic Cables ten years from now?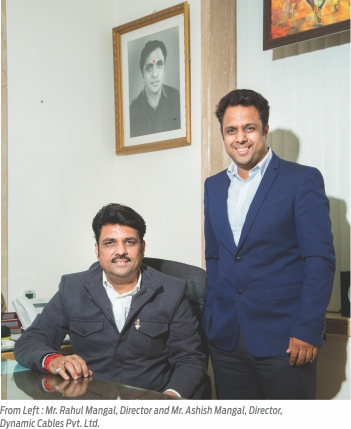 AM: Ten years down the line, I am looking at somewhere around Rs. 1500-2000 Cr and this will be our top-line. To be very frank, I never concentrate on my top-line; I concentrate on my bottom line. I ensure my bottom line increases and that has been my focus always, irrespective of turnover. Maybe ten years down the line, we might be a Rs. 1000 Cr company but our profit will be in the range of what a Rs. 2000 Cr-company could earn. That is our aim and main objective.
Coming to wire and cable sector, it is a highly capital intensive industry. You have to have a good amount of your own money; then only you can work because there is a cost of capital involved. That is the first part. Overall industry is on healthy growth trajectory; there is a huge power sector and infrastructure related plans by the Govt. There is a huge push to complete electrification of the country and tremendous transmission and distribution impetus has been provided by the Govt. So there is a huge potential for the Indian wire and cable sector in times to come.
WCI: What kind of plans do you have for manufacturing railways cables and OFC?
AM: If we talk about railways in particular, the investment has grown tremendously in recent years as the govt. has revealed a number of major plans to modernize and expand our existing rail networks in the country. Cables play a pivotal role in such plans as they are the rudimentary requirement to support such plans. There are a number of cables used in railways infrastructure, mostly the signaling and power cables, all of which have to be approved by RDSO, Indian Railways. They have certain criteria regarding the open area and closed area. We have accordingly planned everything in terms of infrastructure in the upcoming plant. The production capacity is at present variable depending on the requirement.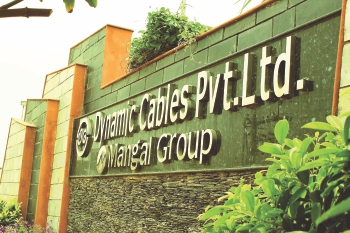 Regarding the OFC, FTTH (fiber to the home) is there. As the emphasis is on digital India, OFC is the next step in improving our communication system hence there is a potential requirement present for OFC. We have the infrastructure ready for us. As soon as we see ourselves established in 66 KV segment, we will embark upon execution of this phase.
Currently, the upcoming plant is meant for 66 KV but there is a provision for 132 KV machine in the existing infrastructure as well. For 132 KV cables, we just have to buy new machinery. We would be putting up one CCV line right now for 66 KV and another CCV line can be also put in parallel in the same building. Dynamic Cables is evolving as time progresses, carefully and gradually, with one eye on our past experiences and the other towards the future.