Konnark Polymer Pvt. Ltd.: A Range of PVC Compounds to Cater the Industry Needs.
With the growing market demands, Konnark Polymer Pvt. Ltd. determines to expand its production capacity up to 1000 tonne per month, taking its technological expertise with regards to the wire and cable industry into consideration.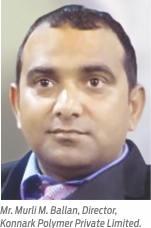 Konnark Polymer Pvt. Ltd, who made a small beginning in 2007 in Mumbai, has established itself as one of the leading manufacturers and suppliers of a diverse range of PVC compounds from the time of its inception. The company owing to consistently growing demands for its compounds has decided to expand the capacity. According to Mr. Murli M. Ballan, Director, Konnark Polymer Private Limited, "In order to expand the company's capacity to 1000 tonne per month, Konnark is planning to procure a German production line which will meet the needs and requirements of the market. This proposal is based on extensive market research done by the team. Konnark Polymer Pvt. Ltd. lays a strong focus on timely market research for making better decisions in terms of marketing and development."
The company manufactures polymers, which are large molecules comprising of various sub-units and have diverse applications in our daily life. Synthetic polymers have high tensile strength which means the material can endure more elongating stress. Other unique properties include toughness, tendency to form semi-crystalline structures, and visco-elasticity. So, an improvement in both physical and chemical properties can be seen in synthetic polymers, resulting in major hike in the demand of polymers for wire and cable industry.
As far as the products are concerned, the company deals in PVC compound. The comprehensive range of products incorporates thermoplastic rubber (TPR) compound, ROHS Compound, FRLS ST-2, ST-2 FR, ST-2, ST-1, ST-3, Type-A, Type-B, Type-C, Type-D PVC Cable compound, railway signaling compound, medical compound and profile compound. The raw materials for these products are carefully procured from top suppliers in India and abroad. The raw material comprises of PVC resin, rubber, plasticizers, chemicals, stabilizers and fillers.
Speaking on the quality parameters adopted by the company, Mr. Ballan says, "The quality experts at Konnark Polymer perform various tests to ensure that all products have groundbreaking physical and mechanical properties. Each product possesses features including durability, high performance, excellent electrical resistance, flexibility, etc. The products undergo stringent quality analysis to meet the ISI norms and industry standards. These tests include thermal stability, hardness test, smoke density test, tensile strength test, temperature index test and many more."
Under the dynamic stewardship of Director Mr. Ballan, the group foresees a strategic growth through capacity expansion and diversification. Moreover, all employees possess complete industry awareness and recent developments. "Everyone works efficiently in all fronts maintaining a strong coordination to achieve total client satisfaction. In addition, the state-of-the-art infrastructure and updated machines along with well-segregated departments for production, packaging and logistics assure better outcome," concludes Mr. Ballan.