Vindhya Telelinks Ltd.: Opportunities Galore for Power & Telecom EPC Business Amid Govt.'s Massive Infra Spending
With its EPC division performing exceptionally well and scoring a respectable Rs. 775.55 Cr turnover in 2016-17, Vindhya Telelinks is expected to do even better in coming times riding on the Govt.'s big-ticket spending in power, telecom, and water projects. The company as of now has an order booked for about INR 1500 Cr in power projects.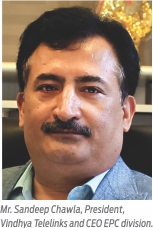 Vindhya Telelinks Limited, a leading telecomm cable manufacturing company, established its EPC Division in 2007 to foray into bigger turnkey power and telecom projects, which it did quite successfully executing some of the most significant projects such as NFS for defense forces. Today, Vindhya Telelinks' EPC Division is a company within a company being a distinct profit center and is complimenting company's manufacturing process in the form of big orders for power and OFC cables through EPC route.
WCI recently had a detailed interaction with Mr. Sandeep Chawla, President, Vindhya Telelinks and CEO EPC division. In the discussion, he delineated on various perspectives and issues related to EPC business in power and telecom sectors, harmony among MP Birla Group companies, tremendous opportunities in power and telecom EPC segments, causes of project delays and cost overruns, regulatory ease to boost infrastructural execution, etc. Excerpts:
Wire & Cable India: To begin with, tell us when Vindhya Telelinks started its EPC division and what made it consider EPC a viable business option besides manufacturing.
Sandeep Chawla: Vindhya Telelinks, a pioneer telecom cable manufacturing company for over 3 decades, is now manufacturing all types of telecom cables. It has a state-of-the-art manufacturing facility at Rewa (MP) and has been supplying its products to all Indian telecom operators (like Bharti, Reliance, BSNL), PSUs, and overseas. The model followed by the customers earlier was to procure cables from us and then have the contractors roll out the network. Bharti Airtel switched to the turnkey model to have single point accountability and cut short the total time. Taking this challenge as an opportunity, our then Chairman, Late Shri R. S. Lodha established the EPC division in the year 2007-2008. Since then the EPC division is facilitating the group's manufacturing capacities by exploring business opportunities through turnkey projects, while, on the other hand, it is leveraging the company's technological knowhow in executing such turnkey projects.
WCI: How is the EPC division performing since inception and presently? There are other M. P. Birla Group companies involved in the same or similar business line, viz. manufacturing power and telecom cables. Does any exchange of ideas and material happen between VT's EPC division and other group companies? Please elaborate.
SC: If you go by the numbers, in the first financial year (2008-09), we started with a meager contribution of Rs. 40.80 Cr in company's total turnover. By the financial year 2016-17, we clocked Rs. 775.55 Cr with a healthy bottom line of Rs.58.91 Cr. We have an order booked of around Rs. 2000 Cr and expect the sustained growth momentum.
The EPC division is being guided by its Board of Directors, Chairman Mr. H. V. Lodha and MD Mr. Y. S. Lodha and is backed by its experienced manufacturing and research team of all MP Birla Group cable companies, which helps in meeting the customer expectations through innovation and cost saving.
WCI: VT claims to offer complete turnkey services for engineering, design, supply, construction, installation, testing & commissioning for telecom and power sectors. Can you brief us some major projects in the said sectors along with important statistics, viz. project cost, size, capacity, deadline, etc.?
SC: Since inception our division has been consistently targeting challenging projects and improving on execution through innovation. Some major ones include NFS project for procurement, supply, trenching , laying , installation, testing and maintenance of optical fiber cable, for construction of exclusive optical NLD backbone and optical access routes on turnkey basis for defense network valuing Rs. 1475 Cr where we have laid about 8,000 km of optic fiber intrusion proof cable and executed the project way ahead of others. Also, projects like China connectivity through Nathula pass, Nepal and Bhutan connectivity, power and substations projects in high altitudes of Himachal Pradesh and J&K have been quite challenging.
VTL EPC division, in addition to telecom and energy has also been doing sewerage projects and is now venturing into water and irrigation sector. Besides, we have been building our own network in various states under IP-I license and leasing it out to telecom operators. In power, we have done lots of rural electrification projects, substation projects, and APDRP projects. In Goa, we have done sewerage projects through HDD technology.
WCI: Coming specifically to telecom and power sector, there seem to be tremendous opportunities in terms of EPC projects in areas such as optical fiber cabling, telecom towers, and broadband network creation, all of which are manufacturing mainstays also for VT and other group companies. Do you find these facilitative in executing your EPC execution?
SC: PM Modi's Govt. has announced big projects as far as the fiberization is concerned. Especially if you hear about BharatNet Broadband project where around 2,50,000 Gram Panchayats are to be covered by laying incremental fiber. The first phase is already over in which we have supplied cables and accessories. In the second phase, the BBNL is contemplating to execute it on turnkey basis. 4G and 5G demand fiberization of towers and quality network for telecom operators. These along with smart cities initiative are big opportunities for all the EPC telecom players and the cable and fiber producers. In power segment, 100 percent rural electrification has been promised by the Govt. which put together various other schemes like IPDS. Even power for all and modernizing and upgrading the existing facilities are generating good volumes for power cable projects. Further, we have the AMRUT scheme through which the Government plans to work on infra development for water and irrigation segment. Overall, we see very good opportunities for the next 5-7 years in water, power and telecom sectors.
WCI: EPC sector, in general, continues to evolve in India, but not without hiccups like the increasing backlog of infrastructure projects and mounting losses due to delays and cost overruns. Do you think timely measures on Govt.'s front can go a long way in sustaining the long-term growth of the sector? What are your expectations?
SC: It's a prerequisite. Unless governmental bodies seriously plan introspection to find the reasons behind the project delays, the evolving of the EPC will remain tardy and not up-to-the-present-requirements. The contractor is penalized for the delays but there are no accountability checks on the other side. Many a times the project management is done in an unpractical manner resulting in delayed or incorrect decisions leading to cost and time overruns and litigations. In my opinion, for every project there should be an Empowered Dispute Resolving Committee with defined timelines, which will be a part of the Project Management team as well and will stay in place from the tendering stage. Factors such as delays in land acquisition, ROW approvals, environmental clearances, capacity constraints, weak project management, dependency on human labor, poor governance, and dilly-dallying by the government agencies need to be resolved on priority basis.
The Government of India's focus on growth of infrastructure provides a silver lining. Transparency in bidding process is providing strength to increase our exposure in the sector. GOI is taking care for adequate fund allocation in infrastructure segment. We are expecting more reforms from the Govt. in the nation building drive.
Aggressive pricing and cut throat competition in various sectors has been putting pressure on EPC industry. It is important that exhaustive detailed projects reports (DPR) are prepared before any tender is floated and the tender estimates are based on the market dynamics as generalized guidelines do not meet the varied challenges put up by the local conditions and ground realities. Our country has diverse geographical, topographical and climatic conditions. To meet these varied challenges, tender guidelines need to be specific for each specific region.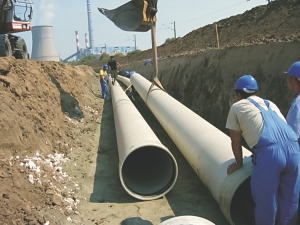 Timely measures on the governments' front can go a long way in sustaining the long term growth of the sector. The Govt. has already started putting efforts towards integrated and holistic development of infrastructure. Steps taken by the Govt. like land acquisition law and intro of GST, if implemented in desired manner, should provide impetus to infrastructure development. However, the translation of these proposed policy/reform ideas into regulations and how these are cascaded down to individual ministers and states remain to be seen.
I expect the government to implement its plans on ground. Ambitious projects like National Optic Fiber Network (NOFN) or BharatNet, which has failed to kick off in spite of best efforts put by the implementing agency, BBNL, should be given a new life by implementing the same on turnkey basis. The time taken by the Govt. agencies in floating and finalizing the tenders need to be reduced. We have a lot of expectations from the current Govt. A lot of announcements have already been made. I think lots of EPC people are now much happier. I would not say that everything is in line but yes, things are moving towards betterment and that too quite briskly, which is very good and if it continues in the same manner for next couple of years, I am sure we will soon develop infrastructure just like any developed nation.
WCI: As per some sources, in the 12th plan, total planned investment was to the tune of INR 9,439 billion, of which INR 4,070 billion translated into construction opportunity. Do you find it sufficient or more could have been done to optimize the spending?
SC: Definitely, it could have been better, but, the way we are moving is not bad; especially, in the last two years, we have seen lots of big projects coming up. The way we are going, we are in the right direction. It just needs to be speeded up now.
WCI: Do you think regulatory challenges are leading to time and cost overruns for such projects?
SC: Regulation is a necessity and implementing it is a basic role of a good government. Its benefit outweighs the cost, but the over-restrictive governance with poorly implemented regulations has a negative outcome; this scenario needs to be rectified with the changing environment.
I think GST would be a very big help in wiping off certain avoidable challenges. Industry would be able to focus more on constructive work than just compliances.
WCI: Can you elaborate the major challenges that you may have experienced in the project planning and implementation stages of large power and telecom EPC projects that you have undertaken?
SC: Large infrastructure projects by the virtue of their impact and scale involve multiple agencies for execution of the project. In such a scenario, the coordination between the various agencies becomes critical factor for successful project delivery. The lack of coordination is usually a resultant of poor integration during the planning phase. Disconnect between the project owners, project team, supply chain team, vendors as well as external agencies are one of the primary reasons for the delay in project execution.
A project can be executed successfully if it is well planned before the bidding stage itself. We should have budgeted fund flow, best technical knowhow, and adequate manpower strength to execute the project. The real challenge starts where we plan to execute the project. Timely decision making and consistent monitoring at all the levels helps to execute projects as per the timelines. This along with a flexible approach is a mandatory requirement. Although, close coordination between different operations and external environment sounds complex, it is the only success mantra for any EPC project.
WCI: Our readers would like to know your observations about the outlook for the power and telecom EPC sector in the next 5-10 years amid many ambitious initiatives like Smart Cities, Digital India, etc. Also, tell us what will be your immediate focus for the success of the company?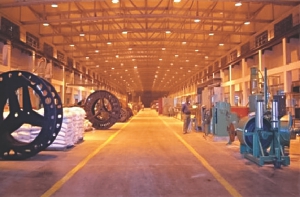 SC: In power sector, several policy initiatives have been taken by the Govt. like Ujwal DISCOM Assurance Yojana (UDAY), Deen Dayal Upahyaya Gram Jyoti Yojana (DDUGJY), Integrated Power Development Scheme (IPDS), Domestic Efficient Lighting Program (DELP), National Tariff Policy 2016 and National Smart Grid Mission. These initiatives are expected to give a boost to the companies in power EPC like us.
The competence and commitment of the people are the principle drivers of competitive advantage which enhances competitive strength by differentiating it from competitors. The focus of the company is therefore increasingly going to be on retaining talent and preparing the organization for the next generation of leadership by identification of key people, knowing their aspirations, designing their growth paths and realigning responsibilities, etc. The industrial relation climate of VTL continues to remain harmonious with focus on improving productivity, quality and safety. Efforts are being made to strengthen organizational culture in order to attract and retain the best talent in the industry