The current edition of the show is to feature new business areas, which are creating buzz in the electrical industry, viz. renewable energy, energy storage, digitization, electric transportations opportunities.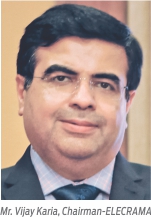 ELECRAMA, the flagship showcase of the Indian electrical industry, is organized by IEEMA brings together probably the whole of electrical industry ecosystem. Being the largest gathering of electrical industry, the show has been widely praised for its all encompassing approach to include everything that is significant in the industry and matters for its growth. The exhibition also provides a strong forum for knowledge sharing in the form of technical conclaves and industry summits.
ELECRAMA 2018 has kept pace with the industry's transformation and has tried including new business areas which are the future of the industry. Wire & Cable India recently interviewed Mr. Vijay Karia, Chairman-ELECRAMA to know more about 2018 edition of ELECRAMA. Excerpts:
Wire & Cable India: What will be the highlights of this year's show?
Vijay Karia: ELECRAMA 2018 will be the largest edition yet with over 40,000 square mts of pure exhibition space and additional 5,000 square metres of pavilions, displays and concurrent events.
ELECRAMA-2018 will feature the new business areas that are redefining the electricity space, the key components being renewable energy, energy storage, digitalization of electricity through IOT and AI and Electric Transportation opportunities. The key new event additions to ELECRAMA 2018 are ETechNxt which will be focusing on the new technology areas and expose the electrical industry to new technology innovations and disruptions and equip them with information to manage the transformation to these new paradigm shifts.
ELECRAMA 2018 will also host a power pavilion, a renewable energy pavilion, a railways pavilion and an international pavilion from many countries. The current show has attracted and hosted a whole new constituency of end users and industry segments like power electronics, renewables, electric transportation, energy storage and automation. The exhibition will also have a huge congregation of electrical trade that includes retailers, electricians, contractors, MSME suppliers, and vendors to manufacturers who will be engaged through special activities
WCI: What is the status and size of the Indian electrical equipment industry?
VK: The size of the industry is valued at around USD 28 billion, a fourth of it is made up of power generation equipment, transmission and distribution contributing the rest. The industry provides direct employment to about 500,000 people and indirectly to about 1 million. We, as a country, are aspiring to increase the output of the electrical equipment industry to USD 100 billion by 2022 and become a destination of choice for overseas producers of such equipment.
WCI: Where does the Indian industry stand as compared with other countries?
VK: India is firmly set on a path of economic growth that is estimated to usher in prosperity like never before. This economic prosperity will need to be built on the back of significant transformations across several facilitating elements, the primary ones being infrastructure build-out, energy availability, and sustainability.
Government's 'Make in India' program has placed India on the world map as a manufacturing hub and give global recognition to the Indian economy. India is expected to become the fifth largest manufacturing country in the world by the end of year 2020. The Government of India has set an ambitious target of increasing the contribution of manufacturing output to 25 per cent of Gross Domestic Product (GDP) by 2025, from 16 per cent currently. India's manufacturing sector has the potential to touch USD 1 trillion by 2025. There is potential for the sector to account for 25-30 per cent of the country's GDP and create up to 90 million domestic jobs by 2025.
WCI: In your opinion, how does the Govt.'s focus on infrastructure development and the implementation of smart cities benefit the electrical equipment industry?
VK: The energy infrastructure is arguably the single most important feature in any city. If unavailable for a significant enough period of time, all other functions will eventually cease. The Govt.'s focus on infra and smart cities of course augur well for the electrical equipment industry, which foresees a quantum jump in demands if the projects are implemented well.
Moreover, IEEMA helps modernize power systems for the smart cities through self-healing designs, automation, remote monitoring and control, and where practical and economic establishment of micro grids. We have all required technologies and skill set.
WCI: In what way, does ELECRAMA and IEEMA promote technical collaborations, research and innovations among its members?
VK: The constantly changing conditions in international markets pose certain challenges that the industrialized nations have to face. Therefore, 'innovation' is the key to the competitive advantages for the country. Technology advances help lower the cost and risk levels thereby reducing the manufacturing capital requirements. The organizations have to be the 'learning' organizations to have the sustainable competitive edge. Increased spending in R&D will help develop cost effective technologies.
WCI: Will there be any focus on renewable energy in this year's show?
VK: ELECRAMA 2018 will also host a dedicated renewable energy pavilion that features technology and product display and, more importantly, will connect the equipment manufacturers, suppliers, and service providers to the key decision makers in end customers like utilities, EPCs, private power producers and captive generation customers segments.
WCI: Has the participation of foreign companies in ELECRAMA increased over the years? What do they look forward to at this show?
VK: Yes, it has increased and this time we will showcase new discussion forums and will have people from various related segments across the globe marking their presence for the first time. 30-40 percent of the audience will be from segments which were never present on this forum before like power electronics, electro-mobility, and power storage. In addition to the World Utility Summit, ELECRAMA 2018 has also introduced the World Contractors Consultants and Channel Partners Congress (W4C), where representatives from across the world will integrate and build relations with the Indian supplier segment.
Global Electrical Equipment Manufacture's Summit (GEMS), a global platform, will be created for the first time for the electricity equipment manufacturing sector to engage and collaborate to strengthen the industry roots further. A fresh and progressive step in this year's ELECRAMA is also including the young generation in this age old industry through E-Tech Next. It is a start up pavilion being introduced for the first time in association with TIE and NASSCOM.
Through ELECRAMA 2018 we aim to give new direction and new meaning to 'electricity'. It will not be a mere exhibition, but we promise it to be an 'experience'.
WCI: What is IEEMA planning to do to attract first-time visitors to the show?
VK: ELECRAMA 2018 will be rolling out a visitor acquisition campaign that spans different forms of media and promotional activities both domestic and global will form part of this. The activities will focus on both quality and quantity of visitors to provide maximum ROI to our exhibitors. Dedicated strategic activities are planned to reach out to each segment to derive maximum participation from the target audience. A host of engagement activities that connect the visitors with the exhibitors and other participants have been planned to pack exceptional value to those visiting the exhibition.