Troester, a globally acclaimed maker of rubber and plastics processing machinery, is known for its cutting-edge cable lines and outstanding extrusion technology. The excellent results produced by its extrusion technology, coupled with optimal control and regulation systems, have turned TROESTER into a competent manufacturer of complete lines and individual machines in the cable sector. Its recent product launch – variable Endseal TRENDSEAL – is doing rounds in the cable market and has proved quite a success.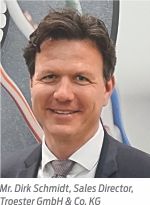 Wire & Cable India recently had an interaction with Mr. Dirk Schmidt, Sales Director, Troester GmbH & Co. KG to know about various new developments on technology front and the company's activities in India and the neighborhood. Excerpts:
Wire & Cable India: What is new at Troester?
Dirk Schmidt: We recently exhibited a new development at the Wire Dusseldorf known as Trendseal. Troester's Variable Endseal Trendseal eliminates the requirement for seal changes during product changes in all types of CV lines and thus decreases tool changing times. Trendseal is used in all types of CV lines for universal sealing applications during the production of medium and high voltage cables. The applications are for CV lines which form majority of our business and where we are quite successful in India.
WCI: Tell us about the developments on the technology front and offering some newer solution to an existing problem?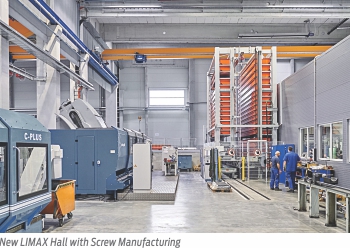 DS: We are offering Trendseal for the existing lines. Moreover, we are offering this as an upgrade for the existing lines of Troester as well as for other lines. This development is giving great benefits to the customers. Troester is also introducing a new concept of screen changer for CV lines, which at this point of time is under R&D and is showing good results. This solution targets to increase by far the limits of production runtime in the CV lines. For the first time, continuous rotating screen changers have been designed especially for the use in high-voltage and extra high-voltage applications.
For HV and EHV, very fine screens are a must to keep the highest quality standards, which need a changeover every 10-14 days. The aim of this continuous screen plate changeover is increasing the length of production runs up to 6 weeks. This means that the line needs to be stopped only once every 6 weeks to clean the extruder. This solution was found after few customers approached us about how to increase the duration of production runs in order to produce cables of longer lengths, cutting down the number of cable joints, especially for the submarine cables. We are receiving valuable feedbacks from customers and are in process of locating customers who are interested in implementing this solution to increase the production runtime of their lines.
WCI: Any recent developments with regard to new order, in India or the neighborhood. How do you see the Indian wire and cable market evolving?
DS: We are in the process of supplying two big lines to Bangladesh – a CCV and a VCV line. There are other developments, which we would disclose as soon as things take final shape.
In India, we have two new orders – one is approaching delivery and the other one has been concluded last week. I cannot at this moment talk much about the order, but this line is to be delivered by the end of this year.
India and the region around are developing quite well in terms of increased industrial activity and requirement of new technologies. Recently, there have been a lot of investments in the Indian market. There was a phase of multiple investments into the CV lines followed by a dull or sluggish market, which was quiet for some years. The region however is showing signs of vigorous investments again as India as well as the surrounding markets are picking up quite fast.
WCI: Tell us what kind of support service do you currently have in India?
DS: We are much satisfied with Tradex Worldwide, Mr. Pradeep Nagrath– our sales representative for India. The way he is handling our business in India and interacting with the customers is quite admirable. The Indian companies are quite eager for our solutions, taking frequent follow-ups with our agent, Mr. Nagrath. We don't have a service center yet in India and this is something we are keeping in our mind. However, at Troester Machinery Shanghai, China, we are having about 80 people, including skilled and well trained service engineers, which we can quickly send to India for assistance. Besides, we are equipping all our lines with remote support module to give a quick assistance for troubleshooting from Germany.
WCI: What are the key strengths of Troester?
DS: The technological capability and the reliability with our backup seem to be the key points of our company. Troester goes beyond just selling products and tries to forge a long-term relationship with customers based on provision of robust technology and a non-stop support. Last year, the company celebrated its 125 years, which shows our long presence in the market. We believe that the past needs to be reflected in the future work of the company. As a result, we apply the same rigor, pursuit of technological excellence, and a quest for optimizing the machines' usability for the current industry as we have done in the past.
We are a family-owned group, who passes the business from generation to generation. The tendency to take good care of the company as well as of the employees has made us successful. Our drive to take care of customers continuously has helped us touch new heights in the business. The owners are of course happy if we are making profit, but we work more towards getting value customers, who express immense satisfaction with our products and services.
As to the product, we are making the machines by ourselves. We are not only an engineering company but are a production company too. The drive to continuously upgrade and optimize the technology has led us to develop many new solutions for our clients.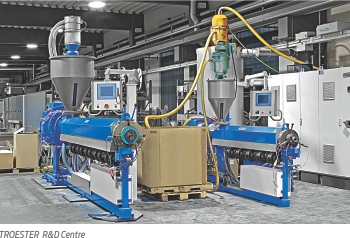 WCI: Please tell us the R&D philosophy of the company.
DS: We have an elaborate R&D facility, dedicated to doing continuous study and research on extrusion process, which is our core business. The objective always remains to create a product matching with current trends and demands in the industry. We essentially need to remain updated with the scope of the new materials, the product of our client industry, and local or country-specific problems. We do a lot of research in the extrusion and screw technology – for example, the crosshead technology, which we are continuously developing. We do developments even during the processing of orders based on the customer's request. This is because we can build the machines and know a lot in the theory, but our customers are the ones who give us the true feedback or share with us what exactly is their need.
WCI: What are your plans for the coming 5-10 years?
DS: We have certain plans to grow the company and to increase our annual sales constantly. Being a Sales Director, my target of course is to support the plans of the company. We are much involved in the target since we have to explain our technology to the customers, convince them, and make them feel comfortable with Troester. This is actually my personal target to support this master strategy through sales view-point.
WCI: Being a global supplier, what kind of difference do you find between the Indian customers and the customers in the rest of the world?
DS: Of course, we like doing business with Indian customers very much. A big difference is that the Indian customers and groups are family-driven. Although the Indian companies have technical teams or other expert teams with them to work, the decision-making power remains with the company owner. Most of the cable businesses in India are family-owned. Everyone knows each other well. In fact, you would meet the same people over and over again. This makes the dealing with the Indian companies quite comfortable. One deals on the basis of trust and understanding. Also, Indians are eager to understand what they are doing and also like to share the knowledge with each other. This is what I figured out personally.