Tata Steel – Global Wires India, one of the largest steel wire manufacturers in the world with a combined annual manufacturing capacity of 670,000 MT, is also a pioneer in its chosen space through continuous production innovation and the launch of numerous novel steel wire variants in the market to cater to ever-expanding needs of customers. GWI now eyes some new emerging segments to serve with its technologically superior products. The recent acquisition of Usha Martin may add further value in its already vast product range.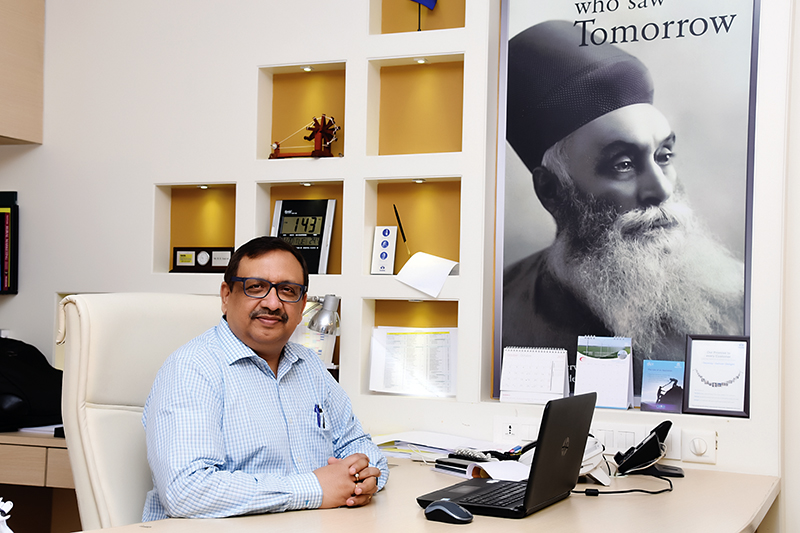 Wire & Cable India recently had a brief interaction with Mr. R. K. Soni, Executive-in-Charge, Global Wires India to know the company's recent performance and its business strategies in long- and short-term, including the steel wire sector's growth prospects. Excerpts:
Wire & Cable India: How has been the year FY19 for Tata Steel-GWI in the light of previous FY when steel wire market was a little sluggish?
R. K. Soni: The market for steel wire is driven by sectoral growths and GDP to that extent. The automobile industry and Infrastructure Construction Industry have seen robust growth in the recent past. We too, have seen in the first two quarters of FY'19 that the wire market has quickened pace and shall continue to do so in the remaining months of this financial year.
However the adverse factors like high petroleum prices and weakening Rupee to the US Dollar has adversely affected the cost structure, putting severe pressure on the margins. But overall, we are hopeful that FY'19 is still going to be better than FY'18.
WCI: Tata Steel, after acquiring Bhushan Steel, is set to acquire Usha Martin too in the same year. Do these acquisitions have any impact on the capacities of Tata Steel-GWI in times to come, especially when Usha Martin has some matching product in its kitty?
RKS: GWI as a profit center of Tata Steel will integrate with our corporate strategies to achieve the goals as set forth for both short and long term.
Usha Martin's Wire and Wire Rope Business Unit has been GWI's competitor in past and will continue to be so post the sale of its 'Steel' division.
It is too early to comment on proposed changes in strategies or product mix, with the addition of UML's steel making facilities. UML has capabilities to produce alloy steels in addition to superior plain carbon steels. It also has capabilities to roll Wire rods and Rebars. Thus yes, the possibilities do exist in adding further value to the output from the steel division of UML once it is completely integrated with Tata Steel.
WCI: Is Global Wires India (GWI) planning some capacity expansion of its own? In other words, is Tata Steel mulling over some capacity addition or a new plant dedicated just to its wire business?
RKS: We are guided by our Chairman's mantra of Simplify, Synergize and Scale. We have our own aggressive growth targets in our chosen space. We also have plans to get into new emerging segments. Our focus will be to invest in technologically superior products and value creation for our esteemed customers through our services and solutions offered by GWI.
WCI: With your wires, you mainly serve the automobile, construction and the retail markets. Are you planning to serve any new yet crucial segment with diversification in product range? Is there any new product in offing, or any new variant of the existing ones?
RKS: We have been pioneers and will continue to pioneer new products and services in India. We have recently introduced "Aayush" coated galvanized wires for the farmers. We have set up capacities to make low relaxation prestressed concrete single wires in India and are encouraging its usage in multiple applications. We have launched PE Coated Prestressed Concrete Strands for buildings and Cable Stay bridges. We are making investments to change the dynamics of "fencing" in India. Our focus is to offer new variants and continuously evolve by embracing international practices in wire applications.
We are also engaged in offering our customers different services and being part of solutions by leveraging on our superior product quality and brand.
WCI: Our readers in steel wire sector would like to know the mantra which makes GWI a leader in the market in terms of capacity, market share, operational efficiency, and technological capability!
RKS: We pride ourselves on our customer-centricity and many of our operational strategies originate from insights gathered from our customers, suppliers and partners. The second aspect is our commitment to establishment of safety practices, a culture of continuous improvements and most importantly shared values as being part of the Tata family and the Tata Code of Conduct.
You must have seen the recently launched and a very exciting campaign of Tata Steel – "We also make tomorrow". This campaign focuses on Tata Steel as a company leading the industry through innovative products and solutions. GWI as an important part of Tata Steel's value chain is committed to sustainability along with advancement in the areas of innovation and technology.
WCI: Share with us your views on the steel wire market in both short-term and long-term perspectives. What are some of the persistent challenges for the Indian steel wire sector and how can be these addressed?
RKS: Consumption and usage of steel wires in India is still not up to global standards. Demand for steel wires in a country like India is still very low at 2.5 million tons per annum. Indian engineers and companies are aware of the many applications of steel wires, yet consumption has not picked up and this in my opinion is our biggest challenge. Investments in creating large globally economic sized capacities is a risk as demand either lags behind supplies or in many cases is completely absent. In some cases we continue to be guided by standards that are archaic.
Also as wire manufacturer's it is also our duty to teach consumers on the opportunity that steel wires offer them. GWI has taken baby steps in this direction, but more focused efforts are needed.
I do see a good robust growth in demand for steel wires with government spending on infrastructure creation and a strong economy. Availability of quality wire-rods which account for 75% of the cost of steel wires shall be a key factor. I see many new entrants into the steel wire manufacturing in India. There is a shift in the 'long' producers; with the entry of Vedanta through Electrosteel. JSW, JSPL, TSL and RINL have also added good quality steel making and rolling capacities into their portfolio. Let us see, how this can all translate into increased consumption and value-addition for the final customer.
WCI: You may add something to the above questions if you have some extra information to share!
RKS: The breakdown of the concept of 'globalization and a free trading global economy' is throwing up newer challenges. Most countries are now adopting stricter non-tariff barriers to protect domestic industries. An aggressive China, rising oil prices, climate change, fragile environment and changing mores will be further complicating an already complex and volatile world.
I believe there will be a good opportunity for growth and profitability for the Indian steel wire manufacturers. But the market is not for the meek; it requires all the sterling qualities of a mountaineer: patience, perseverance, agility, flexibility and a good focus! I wish good luck to all !