The Biennial Industry Highlight in Asia's wire and cable Industry – wire China 2018 ended successfully on September 29th, and the number of professional visitors hit a new record of 45,120.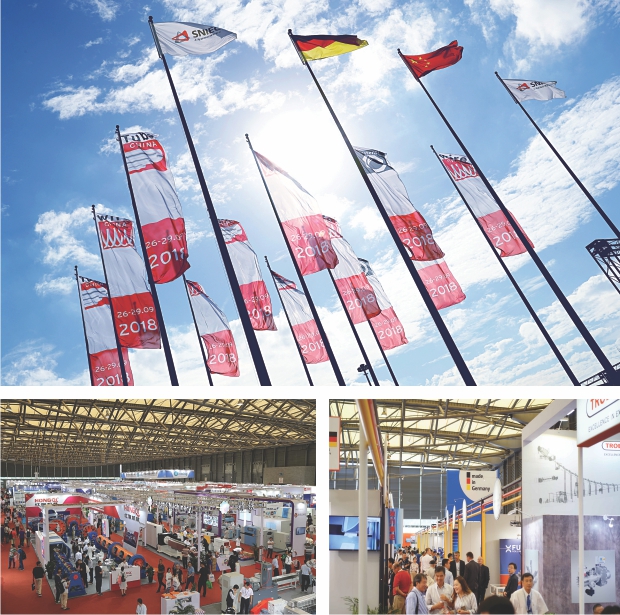 As the flagship event in wire and cable industry, the 8th All-China International Wire & Cable Industry Trade Fair (wire China) and the 8th All- China International Tube & Pipe Industry Trade Fair (Tube China) presented the industry with a "grand feast" in this September.
With the care and support from all walks of industry, the exhibition concluded on September 29th at Shanghai New International Expo Center with great success. The organizers once again joined hands with China Fastener Info to hold the Fastener Shanghai in Hall E4, co-located with wire & Tube China 2018, which effectively connected upstream and downstream enterprises in related industries.
Relying on the strong industry appeal of the show, wire & Tube China 2018 has once again broken the record of visitor number. According to statistics, the four-day exhibition attracted 45,120 professional buyers from 91 countries and regions to the site, an increase of 6.9% over the previous edition.
This year, besides a large number of domestic visitors, there were many more overseas buyers interested in the Chinese market. According to the post-show visitor statistics, the top ten overseas visitors were from: India, South Korea, China Taiwan, Japan, Russia, Malaysia, Thailand, Vietnam, China Hong Kong, Indonesia.
In addition, the participation of nearly 100 local and overseas visitor delegations was another highlight of wire & Tube China. 97 companies and social groups from 10 countries and regions including China, South Korea, Japan, Vietnam, China Taiwan, India, and Thailand visited the exhibition, which increased nearly twice compared to the previous year.
Wire & Tube China not only has a great influence in China, but also acts as an important platform for companies from Japan, South Korea, Southeast Asia and even North America to purchase products, learn technology and develop contacts.
Exhibitors Get Positive Results
Mr. Bernd Lohmueller, General Manager and Sales Director of Maschinenfabrik NIEHOFF GmbH & Co. KG, Germany, was pleased to receive a live interview. He mentioned: "NIEHOFF entered the Chinese market in 1970s and has participated in wire China many times. At wire China, we can not only meet Chinese buyers, but also meet with many buyers from Japan, South Korea and Southeast Asia. In order to meet the environmental protection needs from our clients, we are constantly improving our equipment to achieve higher efficiency under lower energy consumption."
Mr. Li BinHeng, Marketing Director of Singcheer, gave positive feedback about the event: "Since the first exhibition in 2004, we have participated in wire China in every session. Wire China is the absolute perfect platform for Chinese local enterprises to showcase the power of "Made in China". The clients we met at the exhibition are professional buyers in the cable industry. We successfully export the latest equipment of new technology machinery to countries all over the world via this platform."
China Wire & Cable Industry Conference 2018
In the middle of the "Thirteenth Five-Year" development, China's wire and cable industry is progressing in a right direction with focus on quality brands, strengthen technological innovation, and optimized operational efficiency. In 2018, China Wire & Cable Industry Conference released several wire and cable industry reports and the evaluation result of cable enterprise competitiveness, discussed how to grasp the trend and accelerate the transformation of wire and cable industry during this important time.
As a "barometer" for the development of international wire, cable, tube and pipe industry, the biennial trade fair wire &Tube China has been held successfully for eight times, and has won a high reputation from industry insiders in China and abroad.
Mr. Axel Bartkus, the General Manager of Messe Düsseldorf (Shanghai) Co., Ltd., expressed: "In the future, we will continue to adhere to the "global integration and business development" concept, and strive to create a one-stop platform to connect domestic and international trade, so that both suppliers and buyers can meet face-to-face, and bring more business results to the industry! Thank you for participating and we look forward to meeting you again in Shanghai two years later!"