The Mario Frigerio brand belongs to the wire & rope machinery division and is considered the market leader in stranding and closing lines for wire ropes.
July 9, 2019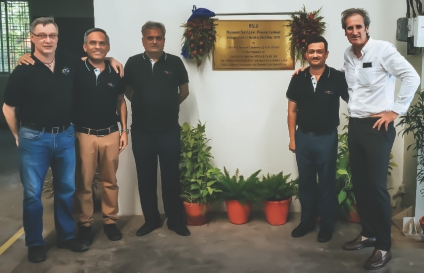 Mario Frigerio, the wire & rope machinery division of MFL Group has successfully installed two separate lines for induction tempered wire preparation at Ramesh Wire Mesh Industries – India.
The first installation includes a drawing section with rod preparation, eddy current defects detector, two blocks drawing step and a smooth coiling of wire, avoiding any unnecessary contact with the wire itself.
The second installation has provided Ramesh Wire Mesh Industries with a treatment line with payoff, a cleaning unit, and two set of pinch rollers with one before and one after the treatment section to control and keep the wire speed and the pull constant in the line. There are hardening furnace and cooling, a tempering furnace and cooling added between the two pinch rollers. Also, after the second pinch roller the line include a complete eddy current system for longitudinal and vertical defects detection, a lubrification unit and a vertical axe coil take-up.