ACIMAF was founded in Brescia, Italy, in 1987 for the purpose of promoting the image of Italian technology in the field of machines and products for the wire and cable manufacturing industry. A member of ACIMAF, TKT Group has been operating in the wire manufacturing industry since 1945 and claims to be the only supplier in the world to provide an entire range of consumables for the wire drawing industry. In an interaction with Wire & Cable India, Mr. Ferruccio Bellina, President of ACIMAF and TKT Group S.p.A. shares details about ACIMAF and his company TKT.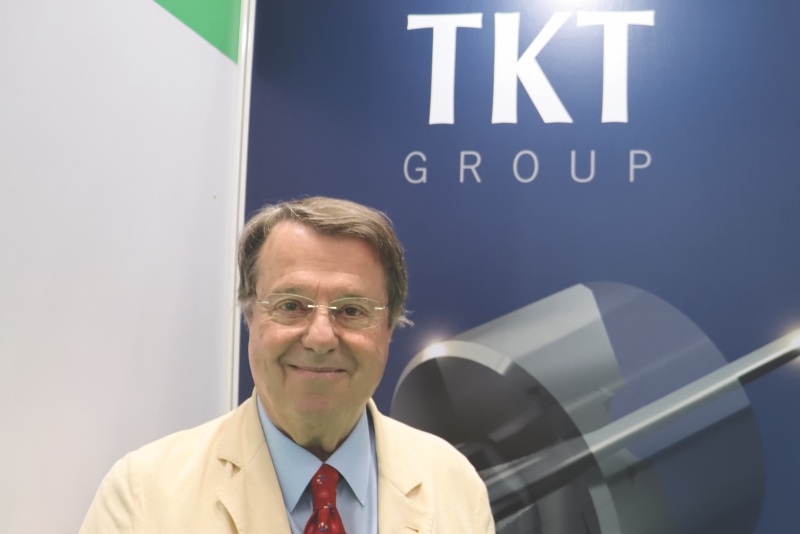 "Our future plan is to develop our presence in the markets, not only through direct sales from Italy but also by starting production… The Indian market is also one of the destinations which we are currently considering for expansion"
Wire & Cable India: Please tell us about ACIMAF. Which are the main markets served by your member companies and what future do you foresee?
Ferruccio Bellina: Associazione Costruttori Italiani Macchine Per Filo (ACIMAF) was founded in 1987 to group all the main Italian companies in the wire & cable industry. Our association is very active in promoting expert knowledge of the sector all over the world. ACIMAF has 72 member companies and most of these companies export more than 80 percent of their products. ACIMAF, together with the Italian Trade Agency (ITA), is participating in many international events.
ACIMAF serves all over the world including Asia, Europe, North America, and South America, and cover every segment of wire & cable starting from the wire rod to the end products comprising all kinds of machinery and consumables. Last year, ACIMAF improved the presence of Italian companies in different countries like Thailand, India, and Brazil, among others.
After the COVID-19 pandemic outbreak, we were not in the condition to travel and develop the business as usual. Today, we are facing other big problems such as energy costs, the Russia-Ukraine War closing some markets that were quite important for our members, and also the fact that some special parts in the machinery (electronic and electrical) are very difficult to find. I think we are going to face uncertain times and the companies will need to forecast future developments besides being really strong in their budget.
Watch: RR Kabel: Naitik Punamiya on Fire Safety
WCI: Could you shed some light on your company TKT Group and its manufacturing facilities?
FB: TKT Group has been active since 1945 in the wire drawing field. We are a small group of companies specialised in the consumables for the production of wires & cables. As they form a closely integrated operating unit, TKT Group is one of the few suppliers in the world that offers an entire range of consumables for the wire drawing industry. One of our companies, Tecnovo is specialised in all kinds of wire drawing lubricants including dry, solid, and wet. Another company, Koner is the producer of tungsten carbide dies. Tecnosider produces wire pulling-in-dogs, spiral brushes, wire straighteners, etc. We provide complete services to our customers for consumable products.
We have four production facilities. Three of them are located in Italy and one is in East Europe. We have a good capacity because we invested a lot in the past years to improve our production facilities and automatise our lines. We have been able to increase our capacity, keeping the energy cost at a relatively low level.
WCI: Tell us more about your product range. How do you think your products are better than your peers in the market?
FB: Speaking about wire drawing lubricants, we were the first to introduce borax-free products in the market. That was a very important step forward and we have been doing this for more than 10 years. Our products are very much experimented with and tested by all the main customers. It was also an important development for us because from January 1, 2023, the use of borax will be forbidden in Europe and only 0.3 percent will be permitted by the law. Otherwise, you have to mark your products with the advisory that the product causes cancer and infertility. Our plants are completely borax free, not only for our customers but also for our workers and employees. And I think this is something that put us on the top level of the wire drawing lubricant producers.
WCI: TKT Group has a long history of serving the wire & cable industry for more than 75 years. Tell us the milestones of your company.
FB: In 1945, we became the first company in Italy and one of the few in Europe to start the specialised production of wire drawing lubricant. Another milestone was when we started a new company to produce tungsten carbide dies. Putting together the deep knowledge of the wire drawing lubricant together with the dies is giving us a real advantage in terms of knowledge of the customer problems.
WCI: What kind of presence does your company have globally?
FB: Our Company exports around 85 percent of the turnover. And we export all over the world including the USA, New Zealand, India, and South America. The new developments are related to improving the lubricant capacity. In the die segment, we have developed new qualities that are working very well with micro powders, improving the hardness and tenacity. Moreover, we have developed a very smart system that allows us to recover the tungsten carbide completely. We are able to recycle tungsten carbide and sell it in the market – which is environment-friendly besides being cost-efficient.
Also Read: Mixer: Italian Excellence in the Cable Industry, Solutions for Medium Voltage Insulation
WCI: What are your future plans? Also, how do you look forward to the Indian market?
FB: Our future plan is to develop our presence in the markets, not only through direct sales from Italy but also by starting production in certain markets that we have already identified, such as in Asia and North America.
We have established a good presence in the Indian market. In our understanding, it is a very interesting market and also one of the regions which we are currently considering and assessing for further expansion. We have a distributor with a warehouse in the country as well as several customers who have been using our products for years.