California-headquartered CTC Global manufactures ACCC® – proven to be the world's most efficient and high-capacity transmission conductor. It deploys advanced technologies that power utilities, around the world, could use to improve their efficiency, capacity, reliability, and resiliency. The presence of CTC in India dates back over a decade and has extended a substantial footprint, spanning 22 states and 2 UTs. Wire & Cable India interviewed Mr. Hitesh Mundhada, Vice President – South Asia, wherein he presents a detailed outline of their footprint in the country, the role of ACCC® Conductor in strengthening the power grid, details about the Conductor Comparison program, and views on the Indian market.
Wire & Cable India: In India, CTC Global has a massive footprint that extends across the geography; tell us about your number of installations and the associated length of transmission lines.
Hitesh Mundhada: CTC Global and our designated manufacturing partners have been catering to the Indian market for more than a decade now. In fact, our manufacturing partners – Sterlite Power, APAR Industries, and Gupta Power – have supplied well over 15,000 km of ACCC® Conductor at more than 200 installations, spanning 22 states and 2 UTs in the country.
WCI: To date, CTC Global has delivered to over 1100 project sites in 60+ countries; kindly define the factors playing a significant role in the company's remarkable growth in the power sector.
HM: With increasing demand from all consumer segments, utilities are now trying to explore technologies that can help offer reliable, 24×7 power supplies with minimum impact on the environment. ACCC® Conductor developed by CTC Global is a proven technology that offers twice the capacity of conventional all-aluminium or steel-reinforced conductors with far less thermal sag. ACCC® Conductor runs cooler and more efficiently than any other conductor type of the same diameter and weight. Line losses are decreased under any operating condition – freeing up generation capacity assets to serve growing demand while reducing emissions.
As we know 'Energy Saved Is Energy Produced'! Also, our conductors have the capacity to carry double power compared to conventional ACSR conductors and can be used in reconductoring generally without any need for structure replacement. The technology is helping resolve issues such as RoW and associated environmental impacts. Our growth hence is supported by the open approach of the utilities which are welcoming quality, efficiency and reliability over upfront "per meter" cost which are helping them and consumers in the long run.
WCI: Earlier this year, the Company launched its fourth ACCC® Core – composite fiber core manufacturing and testing facility in Paraguay; are there any plans to consider any Asian manufacturing location?
HM: In our understanding, the South Asian market has tremendous potential in the power sector on the account of high private-public investments, increasing urbanization, industrialization, and growing consumer energy needs. India especially looks like a promising market from where we have received significant demand in the past as well. The country definitely remains high on our priority and at an appropriate time, we will take the decision of local manufacturing.
WCI: Please enlighten us about the Conductor Comparison program (CCP™), which enables system planners and engineers to compare a range of aspects of conductors.
HM: CCP™ is a free online software program that helps compare and select conductors best suited for specific projects. CCP™ is designed to help system planners and engineers compare the ampacity, line losses, thermal and ice load sag, and economic and environmental aspects of nearly any conductor type and size. The CCP program has a database of more than 1,200 conductor types and sizes and is regularly updated. It will not only enable the user to compare several conductors simultaneously from an extensive conductor library but also provides line loss and emission reduction outputs which can be shared with their team members focused on sustainability and financial goals.
One can simply use this program on the official website of CTC Global. The program is completely free for all guest registers. Also, our engineers are available to offer any support required for the questions the user has and are available with 24×7 support for all global users.
WCI: What are the key strategies of the Company to serve the advanced conductor needs of power utilities around the world?
HM: As demand for clean, affordable and reliable electricity continues to grow, CTC Global recognizes the importance of building a modern electric power grid. The use of 100-year-old technology will not serve utility or consumer needs in the future. CTC Global is highly committed to continually raising the performance bar for overhead conductors and serving our manufacturing partners and utilities with the highest-performing and most reliable products and services. We are proud to lead the way and pleased to be able to continually share our vast experience and expertise.
We have been working with policymakers, regulators, and international development banks to support our utility customers, worldwide. We are also growing our manufacturing partner relationships and internal capabilities while expanding our manufacturing presence and advancing conductor technology. Finally, we continue to grow our highly experienced field service team to support ongoing and upcoming installations for our customers.
WCI: In South Asia, India is regarded to be CTC Global's major market; what is your outlook on opportunities in the Indian market?
HM: The success of any economy depends directly and indirectly on the power sector. The Indian power system has witnessed phenomenal expansion over the last few decades. It has become the third-largest consumer of electricity in the world due to high investments in the industrial, commercial, and agricultural sectors. The Power Minister of India recently remarked that the country's power demand is expected to double by 2030.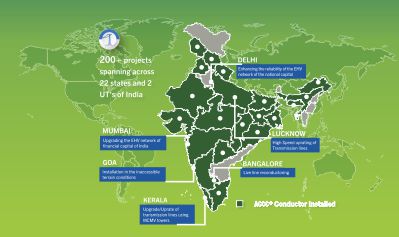 Further, India is aiming for a non-fossil fuel-based installed electricity generation capacity of 500 GW by 2030. This will require connecting the areas with high RE potential to ISTS (Inter–State Transmission System) so that the power generated could be evacuated to the load centres. Thus, huge capital investment will be needed to help India achieve its energy transition trajectory and 'high-performance conductors' like ACCC® is very likely to continue helping utilities contribute to these national goals.
We would to invite the industry to meet us at the forthcoming Elecrama 2023 at hall 11, stall number H11F13.
Also Read: Wire & Cable India Emagazine Nov-Dec Issue 2022
WCI: Tell us how the recently launched ACCC InfoCore™ System and the much talked about 'peace of mind' associated with it.
HM: The ACCC InfoCore® System ensures conductor integrity from factory to field. It was developed by CTC Global to provide an innovative method of confirming a successful installation by crews in the field. The ACCC InfoCore® System utilizes special fibers embedded in the core of the ACCC® Conductor, which allows for inspection in a simple and effective process. World over, utilities are tackling grid reliability and the ACCC InfoCore® System ensures that thereby giving much-needed peace of mind to utility engineers!