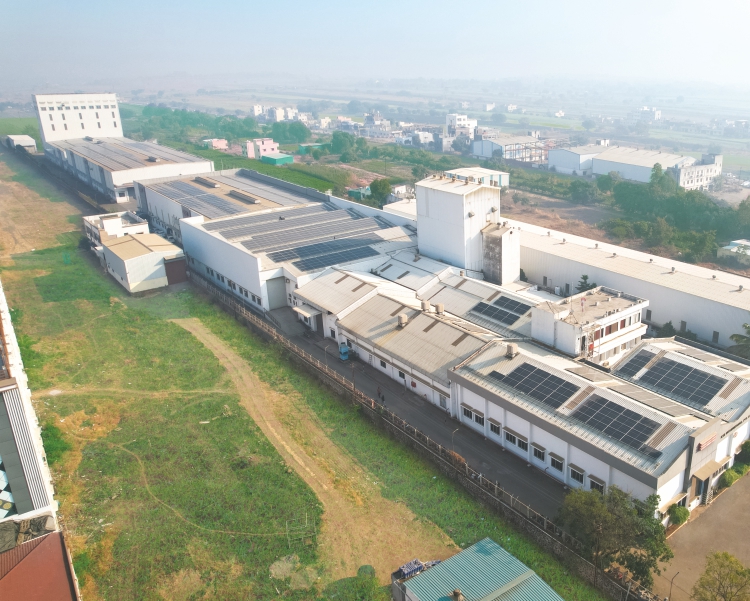 Founded in 1981, KSH International Private Limited is the leading manufacturer of bare and insulated rectangular & round winding wires and transposed cables in India. With 3 manufacturing plants near Mumbai and Pune, the company is known for providing customized solutions and manufacturing products as per customers' specific requirements. In a recent interaction, Mr. Sandesh Bhagwat, CEO, KSH International, shared about the company's business journey and growth, manufacturing setups, product portfolios, the company's USPs, sustainable practices and views on the export market scenario.
Wire & Cable India: Please give us a brief overview of your company, along with major achievements, and crucial milestones.
Sandesh Bhagwat: Shri. Kushal Hegde founded KSH Group in 1969. KSH International was established in 1981 at Taloja, near Mumbai for manufacturing paper insulated copper conductors (PICC). The capacity was slowly & steadily increased from 1981 to 1997. A major leap in manufacturing capacity addition happened in 1998 when the capacity grew to 3600 TPA. In the year 2002, a new green field project was set up near Pune for manufacturing of enamelled copper conductors. In 2006, KSH International achieved a major milestone by setting up its own continuously transposed conductors (CTC) manufacturing facility. Ever since there has been no looking back. KSH International has moved from strength to strength. Today, KSH Group is a well-diversified group with interests in logistics, infrastructure, distriparks as well as service & distribution. The group has more than 1000 employees and is contributing in a major way to the industrial activity in Pune industrial region. The Pune-based group is promoted by the Hegde family, with Shri. Kushal Subbayya Hegde as the Founding Chairman and Mr. Rajesh Hegde as the Managing Director of KSH International. KSH International holds India's largest capacity for CTC manufacturing. KSH International achieved another major milestone in the year 2019 with the commissioning of its new green field project for enamelled round winding wires. In a short span of 3 years KSH International has doubled its capacity for enamelled round winding wires. KSH International was the first Indian manufacturer to receive 765kV transformer approval from Power Grid Corporation of India (PGCIL) in the year 2011. This was followed by HVDC transformer approval from PGCIL in 2017. As a result, KSH International has successfully supplied more than 500 jobs of 765kV transformers and more than 35 jobs of HVDC transformers. KSH International has played a pivotal role in India's power sector with its Make in India and Atma Nirbhar Bharat initiatives all along its journey. KSH International has grown consistently in the last 5 years despite Covid-19 as well as war in Ukraine which had majorly disrupted the markets and supply chain. KSH International has grown at 15% CAGR over the last 5 years and crossed the INR 1000 crore turnover mark at the end of FY23. KSH is well poised to deliver similar growth rates in the next 5 years as well with its customer centric approach and ambitious expansion plans.
Watch: RR Kabel | Solar Cables | Solar Plant | Renewable Energy
WCI: Can you shed light on your manufacturing setup, capabilities and equipment involved?
SB: KSH International has a robust manufacturing set up with most of its machineries from reputed and well known European, US, China and Indian manufacturers. KSH International also has a very well-equipped laboratory for validating the quality of the wires both online as well as off-line. KSH International has invested in advanced equipment like analyzers, high resolution microscopes, rapid profile projectors, etc. to ensure trouble free products are supplied to our customers. All the facilities of KSH International are certified for ISO 9001, ISO 14001 & ISO 45001. Both round wire as well as rectangular wires facilities are also IATF 16949 certified in order to cater to the automotive segment. Currently, KSH International has an installed capacity of close to 30000 MT per annum. KSH plans to double its capacity by FY2030.
"KSH International has grown at 15% CAGR over the last 5 years and crossed the INR 1000 crore turnover mark at the end of FY23."
WCI: Please elaborate on your product portfolio and your USP.
SB: KSH International has more than 4 decades of experience in this field of manufacturing winding wires. Our company has the widest range of portfolio in the industry of enamelled winding wires and is highly focused on gaining expertise and achieving excellence in developing customized product solutions.
Our company's USPs include our commitment to reliably service customers in domestic and international markets by providing design inputs that suit customer applications, our online and offline quality controls ensures that technologically advanced products are delivered in this demanding winding wire industry, as well as our robust system, processes and advanced manufacturing set-up ensures on-time delivery.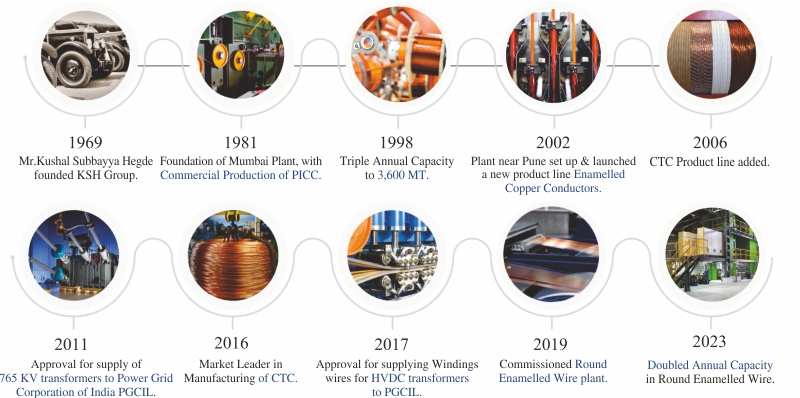 WCI: Kindly shed light on your market footprint, major segments catered and major clientele.
SB: KSH International has a loyal client base which includes both global and Indian companies across industry segments like auto electricals, motors, compressors, power transformers and rectifiers. As a result of this strong foundation, KSH International has an active customer base of more than 120 customers worldwide. KSH International specializes in HVDC and extra high voltage (EHV) power transformers and reactors with 765kV voltage rating. KSH International is also an RDSO approved supplier for electric loco and track side transformers to the Indian Railways. KSH International caters its winding wires to special applications like furnace transformers and rectifiers. With the commissioning of the enamelled round wire facility, KSH International is now catering to a wider set of industries including auto electricals, compressors used in refrigeration industry, motors, alternators, consumer appliances, switchgears and electric vehicle (traction motors) to name a few.
WCI: What are your views on the current scenario of the export market?
SB: Globally, there is a lot of emphasis on renewable energy sources and transformation of the energy sector. Climate change is a major catalyst for this push towards green energy sources worldwide and especially in all the major economies. We are seeing a surge in demand for CTCs and PICCs in the USA, Europe, Middle East and Southeast Asian markets. KSH International is well positioned to take advantage of the emerging demand. We are already exporting 35 to 40% of our annual output to these markets. Due to the war between Ukraine and Russia and the fact that the world needs sustainability in the supply chain, many countries are looking for alternative suppliers and are looking at India as an alternative source for winding wires including CTC and PICC.
"Currently, KSH International has an installed capacity of close to 30000 MT per annum. KSH plans to double its capacity by FY2030."
WCI: Can you identify the upcoming/growing segments and key market trends for the wire and cable industry?
SB: The power generation segment is expected to dominate the market, owing to the high usage of large power transformers in renewable energy generation. This is expected to boost the market in the next decade. As companies strive to reduce their carbon footprints, some of the major transformer manufacturers are developing new low-carbon transformers insulated with biodegradable oils which generate reduced CO2 emissions. Increasing advancements in the power transformers technology coupled with initiatives for reducing carbon footprint is expected to provide ample opportunity for growth to all the market players. Increasing investments in the renewable energy sector are expected to boost the large power transformer market. India has reached 100 GW of renewable energy capacity in 2021 and is the fastest growing market among major economies. India also has a vision of reaching 500 GW by 2030. Through these investments, the Indian government is aiming to meet its commitments given in COP26 wherein 50% of its energy requirements will be from renewable energy sources and will reduce cumulative emissions by one billion tons by 2030.
E-mobility is an emerging market for the magnet wire industry for two wheelers, passenger as well as utility vehicles. In 2022, more than 1 million electric vehicles were added which is a jump of 150% over the previous year. The shift from IC engine vehicles to EVs is underway in India, which has outlined EVs to account for 30% of its mobility requirements by 2030. KSH International is getting ready to address this upcoming market. KSH International has obtained IATF 16949 certification for both enamelled round as well as rectangular winding wires. With our strong technical background, expertise and experience in enamelled winding wires KSH International is well poised to cater to this emerging market in near future.
There has also been a quantum jump in the electrification projects of Indian Railways over the last 6 to 7 years. Indian Railways has recently achieved 100% electrification of the railway lines. Being an RDSO approved vendor KSH International is already catering to this demand.
"Due to the war between Ukraine and Russia and the fact that the world needs sustainability in the supply chain, many countries are looking for alternative suppliers and are looking at India as an alternative source for winding wires including CTC and PICC."
Also Read: UKB Electronics to Fortify in Speciality Cables Sector
WCI: KSH International has been taking consistent steps to include sustainable practices in its operations. Can you detail the initiatives you have undertaken in this regard?
SB: Sustainability is at its core at KSH International. We have always strived to adopt the principle of reduce, reuse and recycle in our plant operations and maintenance. One of our recent initiatives was the installation of rooftop solar of 1 MW power generating capacity. We also have a 12,000 sq. m. rainwater harvesting system in our facility to help recharge the groundwater. By way of a 12000 LPD bio-filter based sewage treatment plant, we recycle the precious water for our other day to day requirements thereby reducing the load on freshwater requirements. Last but not the least, we also reuse all the wooden packaging materials to reduce the burden on the plantations.
WCI: Can we get an insight into KSH International's vision and mission?
SB: Our vision for KSH International is to be a global leader and preferred partner, providing customized solutions across industry segments. Based on scientific, technical and commercial expertise, our mission is to provide innovative wires, cables and customized solutions for automotive, power, consumer durables and all other electrical industries to create value to our customers, shareholders, and employees.