"Our company's current turnover is around INR 550 crore and we plan to achieve INR 2,500 crore of revenue by 2028"
UKB Electronics Private Limited is a leading manufacturer and supplier of wires, cables, wiring harness, power cords and many other electrical & electronic products in the Indian and global market since 1996. The company has a global presence, with 9 plants spread across India and exporting to over 14 countries. The company is planning to invest a large amount of USD 50 million for further expansion, consolidation and modernization of plants all across India and in overseas territories. In a recent conversation with Wire & Cable India, Mr. Manoj Tayal, Managing Director, UKB Electronics Private Limited, shared information about the company's business journey, challenges in the Indian electrical industry, current market trends and the company's future plans.
Wire & Cable India: Kindly give us a brief walkthrough of your company.
Manoj Tayal: UKB is a 25 years old company. We were the first Indian company in the organized sector to collaborate with the multinationals coming to India for white goods production. Our target was to localize the parts which the multinational companies were buying from import markets. Today, almost every multinational company is working with UKB. Initially, we were exclusively present in the consumer electronics sector for production of white goods parts and recently we established our footprints in specialty cables through Electron Beam Cross linked technology (E-Beam) by putting new state of the art plant in Rajasthan, where we are focusing on various sectors like strategic electronics (navy, defense, aerospace, nuclear , railways and metro sector), industrial automations and robotics. Our company's turnover last year was around INR 550 crore and we are planning to achieve INR 920 crore of revenue by this year and INR 2,500 crore of revenue by 2028. Following our company's slogan of "Nek Niyat, Dur Drishti, Pakka Irada", we inculcate honest principles across the organization and in all our endeavors.
Watch: RR Kabel | Solar Cables | Solar Plant | Renewable Energy
WCI: Could you please shed some light on the manufacturing facilities as well as clientele of the company?
MT: Currently we are present with nine manufacturing locations established across India. We have three plants in Noida, three in Pune, one in Goa, one in Chennai and one in Neemrana, Rajasthan.
We have backward integration with a complete copper drawing plant from RBD to bunchers from Niehoff, Germany. We manufacture our own PVC compound and high temperature compounds and have more than 25 extruders from best in class manufacturers globally. In addition there are many more specialized machines to manufacture specialty cables.
The unique capability available in our company is the 3.0 MeV Electron Beam Machine(EBEAM) used to manufacture EBXL wires and cables. We are in the process of adding another 1.5MeV EBEAM machine within this quarter to further enhance our capabilities and capacity.
In the last three years, we expanded our footprints to export markets and now export our products to 14 countries. All our plants are strategically located with close proximity to our customers which make us always stay connected with our customers. Our export business primarily focuses on Europe and USA markets. Our clientele includes companies like Samsung, LG, Sony, Panasonic, Godrej, Haier, IFB, Liebherr and others. Almost every big company in India in the white goods sector is a customer for UKB.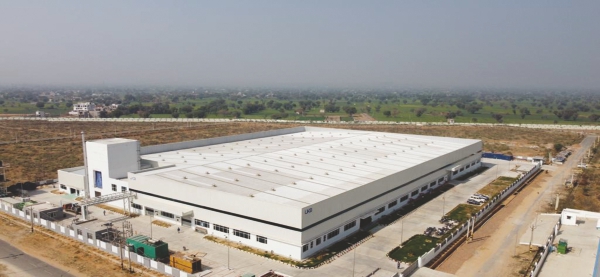 WCI: What according to you are the current market trends influencing the electrical industry and how are you contributing to them?
MT: India currently has very low penetration of electrical and electronic equipment and with availability of electricity across India in towns and cities, increase in per capita income, improvement in standard of living and various government initiatives, demand for all the electrical equipment are increasing in a very fast manner due to which electrical industry is registering robust growth and expected to move with exponential growth in future as well.
The government has also made a very conducive business environment with various policy initiatives, motivating all Indian manufacturers to make parts locally in India for the world. The government is bringing competitiveness in Indian products through various schemes like PLI, MSIPS, SPECS etc.
With various energy conservation programs, industry is also coming up with new products and the latest entrant is BLDC fan, which consumes one third of energy as compared to conventional fans. We have also given our participation in this new technology by development and with extensive research, we developed very critical components like PCB controllers and remotes.
We are always at forefront for fulfillment of customer needs and to provide effective solutions in the electrical and electronic industry. We always focus on being at the right time in the right market and with that we can increase our business opportunities.
Also Read: Ambica Dhatu: Aiming 50,000 TPA Wire Production Capacity with "Stronger, Safer, Superior" Products
WCI: What are the current challenges in the Indian electrical industry?
MT: There are hardly any challenges considering the opportunities available in the domestic and international market.
The challenge is always about the quality of the product. We as an Indian manufacturing industry need to prove ourselves in the international market with respect to quality and cost. The customer needs to be confident about the quality of our product, which can be ensured by having a good process to make customers comfortable. In China, there is a special kind of wire called EBXL (Electron beam cross linked) Wire , which has a very high melting temperature and generally doesn't catch fire and in turn never melts and produces zero smoke. As per various policies in China, the government always promotes the use of this EBXL wire in all sectors like housing and commercial for safety. In India, BIS has given the standard for this wire cable but has not yet mandated it for industries. However, we are proposing the government approve these cables for at least high rise buildings, malls or any place having large footfalls.
WCI: What are UKB's future plans for growth?
MT: In the upcoming years, we are planning to invest approximately USD 50 million for expansion, consolidation and modernization of our manufacturing plants all over India as well as to establish manufacturing facilities at overseas destinations as per customer requirements. We are focusing on manufacturing of specialty cables for special purposes, we aim to create cables which have a shelf life of 40-50 years, like the EBXL or cross linked cables which are only being manufactured by very few companies in India