After Conquering Exports, Making Inroads into Domestic Market
Sarvasv Group, a maker of quality wire and cable machinery, has an extensive portfolio of nations it is exporting to, covering Africa, the Middle East, Eastern Europe, and India's neighborhood. With export share of 60 percent of all products, the company is fast making its headway in the domestic market.
Sarvasv Machinery and Equipments Pvt. Ltd. began its wire and cable machinery journey with the export of machines made by different Indian manufacturers only to realize later that the expertise acquired therein would make it one of the most prominent indigenous machine makers and an exporting giant with full control on stages of project completion from machinery manufacturing to trial runs at client site.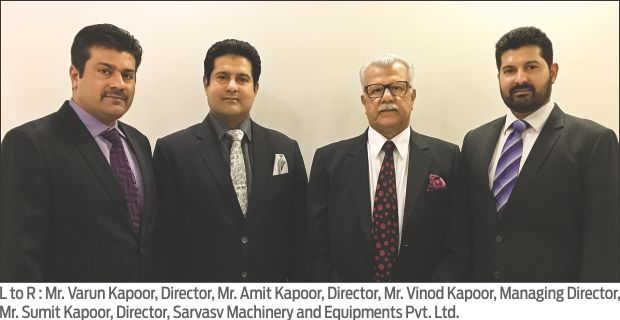 WCI recently talked to Mr. Vinod Kapoor, Managing Director, Sarvasv Machinery and Equipments Pvt. Ltd. in detail to know about Sarvasv's evolution, its state-of-the-art facility at Bhiwadi, next expansion plan, and strategy about the Indian market. Excerpts:
Wire & Cable India: To start with, please tell me how Sarvasv Group came into existence.
Vinod Kapoor: Sarvasv Group came into existence in 1984. We began with exporting wire and cable making machines manufactured in India to the neighboring countries and some African countries and we got tremendous response from them because of good quality machines at affordable cost. 1980s was the time when China was not in the picture and European machines, though good, were quite costly, at least 10 times costlier. We got this breakthrough essentially because of price advantage associated with our supplies.
Confidence built up gradually after a number of successful supplies and regular business started pouring in, especially from the neighboring nations like Bangladesh. The commitment for timely shipment and after-sales services also were the factors in our business growth unlike other Indian suppliers who were not interested in providing after-sales service once they sold the machine. We thereafter expanded our business to other countries including Eastern Europe.
In the year 2000, we were suggested by our buyers to manufacture our own wire and cable machines because of quality, after sales and timely delivery related issues as we did not have much control over machines' manufacturing process. We then started a very small set-up at Okhla with some locally purchased and some imported machines, which has now been converted to our office. We got our initial orders from Bangladesh and Nigeria and we managed to deliver them the best material in set time limit.
Our business grew swiftly after the first successful delivery soon to reach a scale where we had to shift to a bigger space in Faridabad, our second unit, a covered area of about 15,000 sq feet on rent. Soon Thereafter, RICCO allotted us land in Bhiwadi, Rajasthan along with some term-loans for construction works. Total factory area at our Bhiwadi plant is 120,000 Sq Ft. It took 8-9 months for the factory to come up and we moved both the units, Okhla and Faridabad, to this newly constructed facility. On this new premise with covered area of 40,000 sq feet, we employed 40 to 50 with latest machines. We set-up R&D center and design centre using latest 3D modeling and simulation softwares and also employed two engineers exclusively for the purpose; this helped us to stay ahead of the curve. As of today, we have grown to strength of about 110 workers working with us including five engineers and a dedicated separate team for commissioning and after sales support.
Engineer Varun Kapoor, Director, is very aggressive in marketing. The highly skilled top management is fully within family with my other sons, Mr. Sumit Kapoor, CA and Mr. Amit Kapoor, MBA (Marketing & HR). Also, to reduce the machinery delivery time frame we are considering another expansion of 40,000 sq feet and I hope within a year's time another facility will be provided. We are going in for high precision cutting and welding machines, CNC turning centers, VMC machines and other ancillary machines to help us produce more quality goods and reduce our delivery time frame and be at par with the European standards.
WCI: What machines did you start manufacturing initially?
VK: We started with rotating machines and even now our core business is rotating machines. The machines include high speed stranding machine, armoring machines, laying machines, rewinding lines. Five years back, we developed a very high speed stranding machine, called skip stranding machine, which has eventually replaced tubular stranding machine which was working at a speed of 400 rpm. This skip stranding machine is working at 1000 rpm, producing two and a half times more with same set-up; although it is slightly expensive, people find it to be a very efficient and good machine.
Our key focus has been on innovation and technological enhancements in our machines, over last 2 years we have developed other high speed rotating machines like double twist bunchers, quadding machines, drum twisters and twinners.
We always have four to five machines on the floor under manufacturing, from which 60-70 percent is for exports. In India also, we are doing very well and some of the most reputed companies are buying machines from us and are satisfied with machines' performance. They have even visited our plant and are very happy to see such kind of set-up, rarely seen in India.
WCI: Tell us something about your business in terms of export-import ratio.
VK: As mentioned earlier, we essentially started our business by exporting to various countries. Today, we have strong base in the neighborhood including Nepal, Bangladesh, etc.; in the Middle East, viz. Sharjah, Al-Rasal Khema, Dubai, Qatar, Saudi Arabia; in African nations such as Kenya, Nigeria, South Africa, Botswana and Malawi. We have exported our machines to various East European countries and Australia too along with some business acquired in Pakistan of late. In nutshell, our machines have been accepted widely all across the globe for quality, for being operator-friendly and for their cost. Our efficient after sales support has also ensured us repeat orders.
There was a time, roughly five years ago, when China was giving us a very tough competition because of its easily available machines on less cost. Chinese were offering machines within 35-40 days whereas for us the usual machine build-up time was 60-90 days but of course with quality much higher. This was later realized by customers as they found these Chinese machines not durable and are inefficient, they returned to us with larger orders.
As far as Indian market is concerned, we were not much known here. So, we started participating in trade fairs and that is how the Indian cable industry manufacturers came to know about us and gradually we started making difference to them; some of the very big companies are buying machines from us now. Of course they started hesitantly but now they are purchasing regularly from us and we are getting repeat orders from them. We are getting recognized here and I hope in coming one or two years we will be number one in India as well. When we started, the export percentage was 100 percent and gradually, because we were very keen to start marketing in India also, this export percentage reduced to reach 60-70 percent now with 30-40 percent of our supplies consumed domestically, with increased production.
WCI: For this 60-70 percent export, do you have engineers outside India also to oversee the installation and other after-sales services?
VK: Yes, we have a team of five engineers dedicated to after-sales service. The three engineers are on pay-roll with us and the services of other two engineers are obtained by outsourcing. They have got multiple-entry visas for the countries where we are regularly supplying. We could depute them for any complains and after-sales service, for erection and commissioning of the machines at a very short notice.
WCI: It has been almost three decades that Sarvasv Group has been in existence. Did you really notice some c`hanges in people's mindset and trends in the market?
VK: Yes, well, I should say that we are the trendsetters in the field of exports of wire and cable machines in India. We had been purchasing these machines from reputed manufacturers within India in Delhi, Bombay, Punjab, Maharashtra and other places. When foreign clients worked on those machines, they found that they could rely on Indian machines; that's how gradually they became confident that India can supply.
There are certain high-tech machines like CCV/VCV lines and other equipments for 132KV-400KV EHV Cables in which Indian manufactures are still not considered at par. Electron Beam Processing and to some extent Optic Fiber Cable machinery are also a few examples where Indian manufacturers lag compared to Chinese and European manufacturers. Better, cheaper and faster deliveries from China are reasons for customers to go there or to Europe. Once we start making good HT cable lines or EHV cable lines in India, definitely we can compete with European countries and pose a big challenge to the European machinery manufacturer.
WCI: India is a very price sensitive market and has lately become a customized market in a sense that manufacturers would want a machine customized to his own set of requirements. So, how do you go about these customizations?
VK: Yes, we have to produce tailor-made machinery for each individual need in the wire and cable industry. A machine's specific design and development is decided after a number of deliberations with the customers knowing what changes they are looking for in our standard machine. Our R&D team looks into whatever they suggest and starts working on changes that are required. We communicate the changes to the buyers and final meeting takes place when we finalize the product. So, everything is now tailor-made as per customers' demand.
We can say that almost 60 percent of machines that we produce are tailor-made. Additionally, we also tell our clients that if they improve few things within their setup, they can have better efficiencies in the machine. We have an experience of dealing with more than 50 clients and have made 50 different types of tailor-made machines.
WCI: Are they ready to pay the price as tailor-made means expensive?
VK: Yes, pricing is a very tricky issue but since we want our foothold or rather a strong foothold here in India, we do compromise on price and cooperate with our buyers on the prices. We don't want very high margins of profit but what we want is a good foothold and a good name.
WCI: If we talk about orders, what number of orders can you execute?
VK: It depends really on the type of machine and it is very difficult to disclose the exact numbers. Although we have built up a capacity to execute 3-4 machines every month with the new expansion coming up we plan to double our capacity
WCI: What are your future plans for Sarvasv Group?
VK: Like I said, we are going in for the further expansion with highly sophisticated machines like CNC/VMC machines, high speed cutting and welding machines and some equipment for R&D and design. Sarvasv is planning to keep some staff for the quality control as well. We are looking forward to increasing the number of our sales service team. More machines will be added in the portfolio though our core business will still remain rotating machines and we aim to be the top Asian manufacturer for all types of rotating machines.
WCI: In the last couple of years, the European technology market has matured and many suppliers are shifting focus to Indian subcontinent. How will that be for you?
VK: I think this would open the market for us because once European people come and set up their plants here, they will also provide recognition to the Indian production or the machines produced in India. So, in that case, brand name India or campaigns like 'MAKE IN INDIA' would definitely get the benefit. I think it is going to be a very healthy competition if those people come here. This will enhance the quality standards as well. The Indian machine makers will have to match with their quality and India is very much capable of doing that.
Overall, we welcome European manufacturers to set up shop in India, it will benefit the overall wire and cable industry and also give a boost to the Indian machinery manufacturers in terms of quality and pricing.
WCI: Going forward, do you see yourself doing a JV or technical tie-up with any of the companies?
VK: We have produced two machines in technical collaboration with a Spanish company, viz. a high-speed buncher and a high-speed Dual spooler. We have been producing these machines from the last two years and have been highly appreciated in both India and abroad. We are getting repeat orders for these machines. We will go for future collaboration if we get opportunity on mutual terms. There is still a gap which needs to be filled between Indian machines and European machines and a JV would be a faster process of filling this gap.
WCI: It is felt that Africa lately has come up as a very big cable market. What are your thoughts on this African Market?
VK: We have already supplied many machines to them and we are doing number of projects in African countries, for instance, in Kenya, we have done a very big project successfully for conductors and cable manufacturing. Before that we did one project in Nigeria which turned out to be extremely successful. Thereafter, we have done a project in Botswana that is also working fine.
We are now focusing on a project in Saudi Arabia on a turnkey basis right from machine selection, designing and production to raw material supplies, testing and manpower.
WCI: Going forward, what would be you major area of focus, export or domestic market?
VK: The focus on exports will always be there because that is in our blood. We started from exports and we would serve the Indian market with our enhanced production. But again, like I said earlier, as Indian market is very important and a vast market, we want to increase our share in Indian market too.
WCI: Would you like to add something?
VK: There is very small number of machinery manufacturers in India and you can count them on fingers who are making good quality machines and who really perform as per the contract with being able to provide proper after-sales service. Apart from this, there may be 100 manufacturers of machines in India and if they learn to produce good quality machines and good service, it would make a huge difference.
We celebrate our foundation day on February 7 and every year we hold a recreation day for all the staff members, the labor and the directors. Everyone gathers in the factory at Bhiwadi to celebrate the day. Awards are given to outstanding workers and staff members. This event binds us together and makes us a happy team ready for excellence.