Italy-based Padanaplast, a close-knit yet technically sophisticated group, has created many pioneering compounding solutions for the wire and cable industry, especially its silane crosslinkable polyolefin compounds, for the emerging needs around safety, zero-halogen, and flame-retardancy.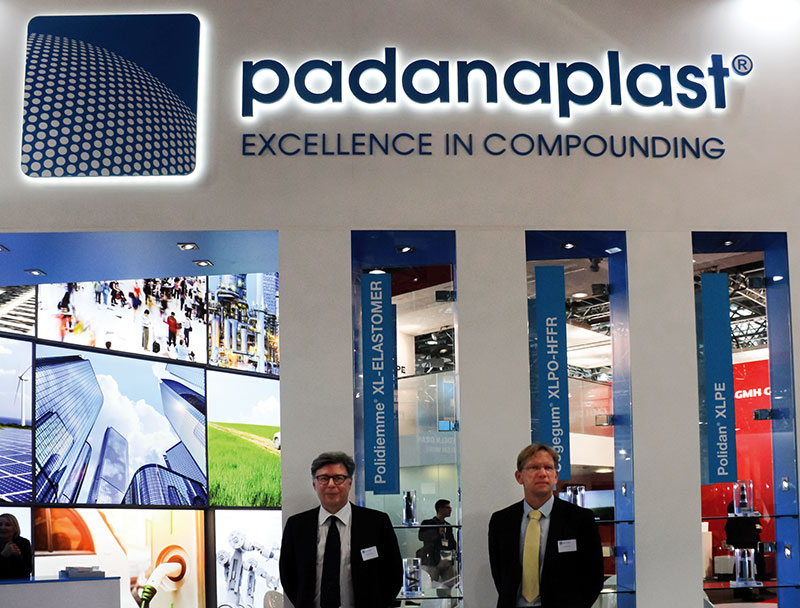 Wire & Cable India recently talked to Mr. Antonello Casale, R&D and Customer Technical Assistance Manager, Padanaplast and Mr. Matthias Strehl, Sales & Marketing Area Manager Central Europe, Padanaplast to know their technical expertise and strategy for the Indian market. Excerpts:
Wire & Cable India: Tell us about Padanaplast?
Antonello Casale: Padanaplast, established in the early 1970s, started with manufacturing of PVC compounds for wire and cable as well as other applications. Over a period, we have developed a wide range of products and are one of the first companies to produce silane crosslinkable polyethylene. For silane crosslinkable compounds, we have acquired the license from Dow Corning. Padanaplast is also one of the pioneers in applying crosslinking technology in HFFR compounds for variety of applications including wire and cable. Padanaplast today stands as a company with a higher competency in silane crosslinkable polyolefin compounds.
WCI: What are some of the new developments at Padanaplast?
AC: We have vastly improved the flame retardancy of materials. This is because, in the recent years, the demands for cables with higher flame resistance properties have increased for safety reasons. There is an apparent shift from halogenated material to a non-halogenated material, giving a big push to efforts for inventing and producing new polyolefin based materials with crucial physical and chemical properties. Putting all such properties together in a compound becomes critical as we have a variety of materials. For example, zero halogen and flame retardancy properties are now compulsory in railway, ship wiring, public buildings and so on. Besides the flame retardancy, you have to match many other technological properties as well.
At Padanaplast, there was an important development in the solar energy sector. We became one of the first producers of compounds for photovoltaic panel cables. Besides, we started producing special compounds for cables in windmill generators in recent years. For the automotive industry, we started producing special halogen-free material for primary wiring in cars, e.g. as a substitute for PVC. For the electromobility trends revolutionizing the automotive industry, halogen-free compounds are much preferred. Fur such applications, we have cable compounds that are high in performance in terms of temperature and possibility to apply very high current.
WCI: What kind of future trends do you see with regard to cable development especially in the Indian market?
AC: If we look at the market side, it is easy to locate applications or sectors showing strong demand growth. Alternative energy and electro-mobility sectors will be very important from future growth view-points. Besides, materials for standard applications like construction, railways, and so on are also showing strong growth trends with demand for highly sophisticated and improved chemistries.
Concerning India, I believe the need for faster development on the infrastructure front would require huge amount of improved materials for applications in construction. The first requirement for such products will be higher safety which means to improve the flame retardancy of the material.
WCI: What are the major strengths of Padanaplast?
AC: One of the major strengths of Padanaplast is a very close collaboration between R&D department and technical assistance teams. This close association focuses on a unique objective, i.e. how to design and develop a material which fulfill the market needs. This circumstances lets us combine the market feedbacks and R&D vision in order to remain stay ahead of times.
The wire and cable market, which is technical driven, is the major business for our company including other businesses such as compounds for pipes or injection molding applications. Our major strength is to put together the business and the technical needs. On the technical side, we can speak to our customers in a very comprehensive way. The customers really appreciate this. Although we are a small company with strength of 100 people, this doesn't mean we are small in terms of technological skills. We have the needed flexibility and capability to adapt to various situations due to the small size of our company.
Matthias Strehl: When we talk about our strengths, the customers appreciate the tight and trustful collaboration, which is mandatory in order to discover their needs and to find the right solution. Furthermore our partners value our short response time.
WCI: Indian market dynamics are very different from those of the other markets in terms of price, quality, and service. What strategy will Padanaplast have for the next coming years especially for India?
AC: Considering the technical strategy, we are large in our product range and offer a wide range of products with different performances and prices. We try to cover all the needs globally. For India, we want to develop a very capable sales network. We all know India has big as well as small producers of cables. We will try to cover everyone step-by-step. We need to cater to different kinds of customers in different ways. India is a huge country and we will need a very well-organized sales network. Besides offering customers a wide range of compounds, giving them complete information about our solutions is also important for us to help them make the right decision.
MS: Padanaplast has a comprehensive product range. For instance, on the one hand we offer premium grades for photovoltaic cables approved by different European and American standards. On the other hand we produce cheaper and most cost-effective solutions on request. If there is such a demand from India, we are able to deliver these alternatives.