AEI Machines at wire India 2018
Associated Engineers & Industrials Ltd. will showcase its Rigid Stranders at wire India 2018, which is scheduled from 27-29 November in Bombay Convention & Exhibition Centre in Mumbai.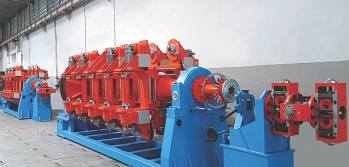 With 47 years of continuous presence in manufacturing and design of Rigid Stranding Machines, AEI Machines (Associated Engineers & Industrials Ltd.) has become the reliable partner for stranding needs of several reputable cable manufacturers.
AEI MACHINES offers custom-made solutions as per customer's production requirement for all types of energy cables and conductors. The company remains focused on developing and offering Rigid Stranders to attain excellence in stranding, providing cable manufacturers with machines of robust manufacturing and equipped with the most advanced technological advantages and safety features.
AEI Rigid Stranders deliver accurate back tension, smooth strand deviation and precise lay control. These features are essentially required for superior quality compacted conductor in case of low, medium and EHV power cables and for high production speeds in case of overhead conductor manufacture.
At WIRE INDIA 2018 AEI Machines will exhibit its new developments that ensure optimal process efficiency and superior quality stranding. AEI Team shall be looking forward to welcoming visitors from all over the world and showcase the advantages of upgrading to AEI Stranders.
Stand: D71
______________________________________________________________________________________________
IDEAL WERK to Exhibit at wire India 2018
IDEAL WERK will provide the visitors a glimpse of its welding machines for wire and strands, conductor and cable welding machines at the Bombay Exhibition Centre in wire India 2018, from 27 to 29 November.
IDEAL's product portfolio ranges from welding machines for the joining of wires, wire strands and band saws for wood and metal to wire processing, the manufacture of sheet metal products, and the joining of metal strips.
IDEAL BAS Series: Welding Machine for Band Saws and Steel Strips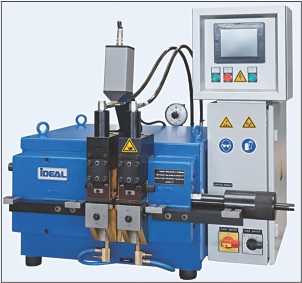 The IDEAL BAS series is a result of over 90 years of experience in the field of band saw joining. As a result of IDEAL WERK's constant research and development generated by its highly skilled staff, as well as from our continuous collaboration with its customers, it has become the worldwide market leader for band saw flash butt welding machines.
IDEAL offers high quality machines engineered in Germany according to DIN ISO 9001 standards with a long-lasting sturdy design. The classical BAS machines for the small and intermediate working range operate with a motorized cam disc and a precisely adjustable spring loaded mechanism that generates the application specific upsetting force.
Options:
GTR automatic annealing device with infrared spectral pyrometer – leads to an automated adjustment of the annealing temperature
Various shear solutions
Various grinding machines
IDEAL BAS 300 Series: For the Production of Band Saws and Steel Strips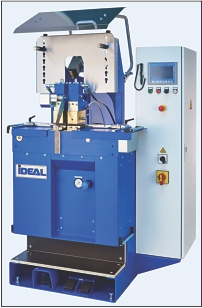 The new IDEAL BAS 300 series comes with a revised structure allowing for faster product change-overs as well as reduced maintenance time.
Key advantages:
Pyrometer for annealing – with integrated LED lighting and automated protection system
Touch screen control – can save up to 100 different parameter programs, allows an automatic setup of the actual jaw position and the annealing position
USB interface – for program and parameter transmission and backup
Path measuring system and parameter control
Integrated spark protection shield
Hydraulic or pneumatic clamping device
Maintenance-free servo motor for individual adjustment of the initial and final speed, as well as the individually adjustable burn-off distance
Low emission- and cost saving effect results in less pollution, which supports a healthy work environment
Options:
Hydraulic deburring tool
Pneumatic loading device
Inserting stop for centering the band ends
Special clamping device for the alignment of band knives
Stand: C57
______________________________________________________________________________________________
Maillefer Novelties @ wire India 2018
On display at wire India 2018 will be a new superior compression technology and visitors can experience demos of the Quick Conductor Splicing technology.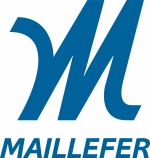 Maillefer's continuous goal is to push the boundaries of what is possible and to develop its extrusion technology to new heights. As part of this, the company has created Topography Scanner, aimed at measuring extrusion process quality in real time.
Maillefer will also be presenting Smart Dosing, a consultation product that equips line operators with the peroxide and antioxidant self-dosing know-how needed to implement Smart Dosing to the CV lines.
For fiber optic cable producers, a new superior compression technology is introduced. It allows modeling the product with neural networks, and thus improves fiber length control.
Another novelty in production competence is OCC software, which monitors the cable core real time during curing process.
Visitors will also experience demos of the Quick Conductor Splicing technology, which will provide with faster and more reliable conductor splicing, compared to conventional technology.
Last but not least, Round Premium Value Package is a true industry breakthrough for existing and new VCV lines. It includes all necessary know-how to cut down geometrical errors by half, and increases line productivity by 20-40%.
Stand: G83/Hall 01
______________________________________________________________________________________________
wire India 2018 with Rosendahl Nextrom
Rosendahl Nextrom, as the world's leading producer of manufacturing systems for cables, wires and optical fibers, will once again be part of Wire India 2018 and showcase the latest developments.

Preparations are already in full swing for Rosendahl Nextrom. wire India 2018 is one of the largest and most important trade fairs in the cable market for the Finland based company. Here is a small overview of what you can expect to see during wire India 2018.
LAN cable production line
Solar cable production line, in co-extrusion as well as tandem extrusion
High-speed house wiring lines with speeds of up to 1500 mpm
Manufacturing solutions for fiber optic cables such as loose tubes, SZ–stranding, jacketing and tight buffer
Fiber draw towers of up to 3000 mpm and a maximum preform size of up to 8.8m (including handle)
VAD / OVD preform technology
Stand: G55
______________________________________________________________________________________________
Rautomead's Continuous Casting Technologies at wire India 2018
Rautomead will be exhibiting the newest technology for continuous casting production of CuCrZr, CuMg and CuOF wire rod at Wire India 2018 to be held at the Bombay Exhibition Centre in Mumbai, India, from 27 to 29 November.

Rautomead's continuous casting machines are used internationally to deliver continuous casting of Copper Wire and Cable, Alloy Wire, Engineering Alloys, Precious Metals, Copper Magnesium and Copper Chrome Zirconium Rod.
Rautomead Graphite Furnace Technology For Continuous Casting of CuMg Rods
Rautomead graphite furnace technology is the established market leader in Europe and in China for those manufacturing copper magnesium products. The graphite furnace removes oxygen from the copper, facilitating accurate control of the magnesium content with minimal losses. Large diameter, high magnesium content rods may be produced for manufacture of shaped and stranded wires for high speed passenger train catenary systems. Smaller diameter, lower magnesium content rods may be produced for drawing to small diameter and fabrication of wiring harnesses for automotive vehicles.
NEW Rautomead Sealed Lid Continuous Casting Technology for CuCrZr Rod Production
Rautomead Limited will be exhibiting the NEW SEALED LID continuous casting RSL technology, designed for processing progressive alloy rods such as COPPER CHROME ZIRCONIUM. The single furnace, multi-chamber design, accurately controls and maintains the target composition by varying the feed rate of each of the constituent elements. Feedstock to the machine is copper rod and cored wires containing chromium and zirconium powder. The liquid metal is protected from the atmosphere by being enclosed within an argon gas environment. The cast rod is used for subsequent manufacture of high strength, high temperature products such as welding tips.
Stand: H87
______________________________________________________________________________________________
EDER Engineering-Austria at wire India 2018
EDER Engineering-Austria will highlight the entire range of equipment used in the die-working and wire/cable industry, with a special accent on PCD dies.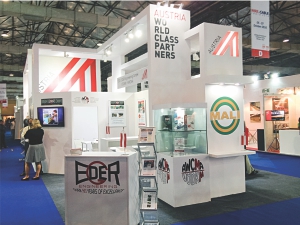 EDER Engineering bring over 70 years of experience and exposure to the global market, in supplying top-of-the-line machines for die processing, e.g. leading standard-, semi-automatic- and fully automatic machines for both the reconditioning and production of ultrahard precision TC, ND and PCD drawing die-tools. EDER equipment is globally established and proven to deliver the best results and this will reflect the final product quality.
Indian companies strive increasingly to penetrate newer developed markets and have therefore also to concentrate on superior quality. As for producing high quality wires, they would need equally high quality drawing dies. This is where EDER-Austria comes in, preferring to work with companies that are quality conscious and who value premium products. EDER is ready to support them with a wide range of leading technology machines, plus assistance and process know-how whenever required.
Machines for working of tungsten carbide dies
Machines for working of diamond- / PCD dies
Die Workshop ancillary equipment
Die working material/ Consumables
Most of these products will be presented in a multi-media show on a video wall and latest catalogues will also be available for visiting customers at the EDER stand in Mumbai.
Stand: G74
______________________________________________________________________________________________
AWCMA at wire India 2018 in Mumbai
Austrian Wire & Cable Machinery Manufacturers´ Association will showcase their product portfolio in the wire India 2018, from 27-29 November in Mumbai.

As repeatedly done previously already, a group of 7 association member companies will present themselves in the Austrian Pavilion, jointly organized by the Austrian Federal Economic Chamber and the association ́s president, Dr. Eder, in Mumbai.
The following companies will display their special portfolios and can be visited at the below stated Stands:
AWCMA/VOEDKM: F 71
EBNER Industrieofenbau: G 56
EDER Engineering: G 74
FORTUNA: H 60
MAG: F 57
MEDEK & SCHOERNER: G 60
ROSENDAHL NEXTROM: G 55
WKO/ Advantage Austria: F 55
At the AWCMA stand, catalogues and information of non-exhibiting Austrian member companies will be available, while the traditional Café Vienna Desk, located at Austrian Information Stand, will offer typical Austrian hospitality to visitors of member companies at this 2018 event.