Bartell Machinery Systems stepped in the Indian cable market just three years back and has already won prestigious contracts for supplying its high-speed machines. Having already supplied over 8,500 machines worldwide, the company is known for developing some uniquely robust, high-performance stranding, armoring, and bunching machines for the ever dynamic cable making industry. Banking on assured and faster ROI with its machines, Bartell is planning its swift rise in the Indian market in the next few years.
Excerpts of interaction of Wire& Cable India with Mr. Timothy S. Murphy, Director of Sales & Marketing, Energy Solutions, Bartell Machinery Systems: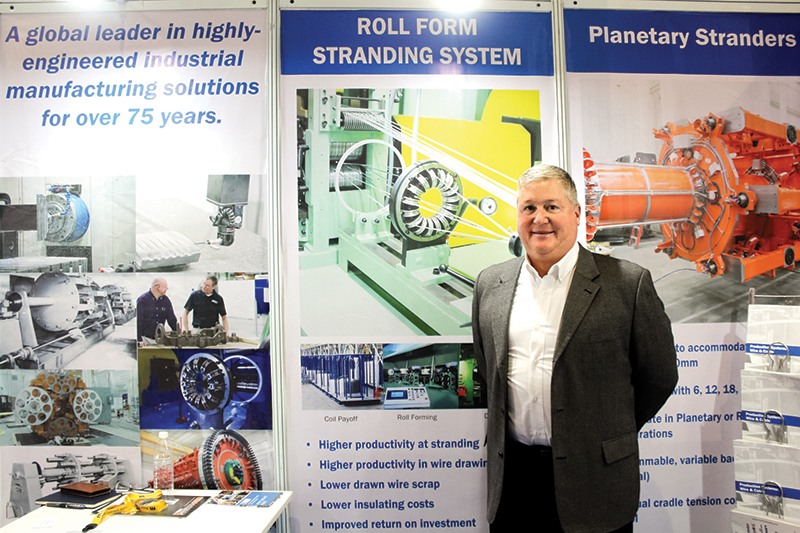 Wire & Cable India: Tell us in brief about the Bartell Machinery Systems, when it was founded and the journey so far?
Timothy S. Murphy: Bartell Machinery Systems was founded in the year 1940 in Rome, New York. Our manufacturing facility is located less than a mile from the place where the company started its operations from Mr. Bartell's garage. We stepped into wire and cable industry because the growth and demand in wire and cable segment was all-time high in Rome, New York at that time. We had over six wire and cable plants located in the region.
Over the years, the company started its tyre business and was acquired by National Standard in 1969. Following that, the Heico Group of Companies acquired Bartell Machinery. Heico Companies Inc. is a multi-billion dollar corporation owning more than 50 businesses focused in industrial markets and we are fortunate to be under their umbrella. In 2002, we acquired CEECO brand and all its associated intellectual property to expand our capabilities in the wire and cable industry. We are now are fully capable of designing, manufacturing and delivering a complete range of equipment for the wire and cable industry. Our full range of solutions includes; strip armouring systems, tubular stranders, planetary stranders, rigid stranders, double and single twist bunchers, roll form stranding systems, data and LAN cablers, fibre optic stranders along with all the support equipment such as caterpullers and pay-offs and take-ups.
WCI: If we talk about the product range you have, would you categorize your entire machinery range into 2-3 categories in terms of applications?
TSM: It is probably not just the specific application-based machinery because there are multiple machines that go across the platform. All such ancillary machines in our range can be applied to data and optical fibre cables as well as to low and high voltage cables and to residential cables. For example, our strip armoring system ArmourLock SA-4 is suitable for residential and commercial armoring of cable for building wire, fire systems and communications. Double twist stranding is for medium and high voltage aluminum and copper cables up to 300 square millimeters. The single twist planetary may be used anywhere from low to medium to high voltage, and for the different sizes. The rigid stranders also go across platforms. So, we make products that will go from making anything from OFC and LV/MV/HV cables to products required for the medical field and aerospace industry.
WCI: When Bartell started, it has good business around as you just told. How is the business now in the local market and elsewhere in US?
TSM: The local market where we are based right now has gone down. The overall domestic market, however, is good as the plants that used to be in our area have just moved South now. The US market has been growing substantially for us. It has doubled in the last two years and we still manufacture in upstate New York. We are expecting that the domestic market will see a surge in demand growth for the next five years at least.
WCI: If we talk about the international market, the market outside the US, which all markets are important for you?
TMS: We consider the Asian market to be very important. Currently there are trade issues with China but we are still focused on the region. In India, we have just stepped in and can see a tremendous potential here. We see the market in India growing in the next five years, especially with the Govt. trying to invest in their infrastructure. We see that as a huge opportunity for us and for India to invest in more advanced systems, high-speed production machinery that the manufacturers here have not seen. The Indian market is a key segment for us.
WCI: What all factors apart from infrastructure do you think is pushing the Indian market as of now?
TSM: I think the Indian customers are looking for high quality and higher speed machinery. The wire and cable manufacturers are looking for suppliers from US and Europe who are capable of making that kind of machinery and we are fortunate to be one of them.
WCI: How long has Bartell been active in India and how has been the experience so far? Are you able to generate enough inquiries?
TSM: We have been active in India for the last three years. It took us some time to set up a base in India. We delivered our first machine in December 2018 and have several projects coming up for 2019. The experience so far has been good and rewarding for both Bartell and its customers here.
Yes, there were innumerable inquiries, especially from the top-tier suppliers in India because we offer some of the industry's best high-performance machinery.
WCI: European companies have their foothold older, and probably firmer, than American companies like yours. How do you see that as a competition, or as an inspiration?
TSM: Of course, the European companies have been in India for some time but we compete with them here as well as we do anywhere in the world. It's all about what you can provide for the customers and that's what Bartell is all about. What machines would be suitable for the customer is more important. It's not about what you pay for the machine; it's more the value the machine brings to a business and how its capabilities can help a company grow. If the machine costs USD 200,000 and is not living up to the expectations in delivering the ROI, then it's, of course, not the right solution. However, if your ROI is just 12 months, the machine is worth every penny.
WCI: First machine was delivered in December, 2018. What is the target for Bartell in next 3-5 years in India? Share with us the most pressing challenges you face with Indian customers.
TSM: For the next 3-5 years, we are looking to double our machines delivery each year.
As for the challenges, the Indian customers, of course, are very concerned with the costs. When you are talking about ROI, the questions on cost always come up. After doing a full assessment of the products that they are making, we review how our solutions can bring additional value over their current process. We show how the initial upfront investment in our equipment can result in larger gains in the future.
WCI: As far as the technology is concerned, you mentioned that your technology stands apart from the competitors and assures ROI despite being a little costlier. Please explain the underlying difference!
TSM: For a lot of our processes, it's different than what our competitors do. For instance, our roll form strander can achieve fill factors of 96 percent and above while conventional stranders can typically achieve a maximum fill factor of 92 percent. The effective saving in insulation costs between the two processes is around 2 percent. So, a higher fill factor means you use less material to make your product, which improves the ROI. Also, the way we design our products is more as a process solution than just a single machine.
For example, our roll forming system uses single input wire technology. In single input wire technology, one size for input wire is used across the wide range of products whereas other solutions use multiple sizes of input wire. As a result, the wire drawing equipment can run faster and longer. The uptime is high and the manufacturing plant is fully operational for far more time, reducing operational running costs by an estimated 20-30 percent. This is one example of the value our systems bring to a manufacture.
WCI: Tell us some specific products out of your wide range that you may have targeted for the Indian market.
TSM: The key products for the Indian market are the roll forming double twist stranders and the ArmourLock SA-4 strip armoring system. We have already covered the roll forming stranders with single input wire process so let's talk a little more about our strip armouring system.
Our strip armoring system, the new ArmourLock SA-4, is the industry's first solution that can make product from half inch to four inch on single machine. Traditionally, for strip armoring, manufacturers would have a machine that can go up to two inch and another machine that goes up to 4-5 inch. We have combined the best of these two machines and made them into one to make full range of products on a single machine at the highest speed. The system can make product at 1300 RPM which is the industry's highest production speed for a strip armoring machine.
WCI: What factors do you think may spur the growth in the Indian market and provide opportunities for companies like Bartell?
TSM: From what we see, the Indian market is going to grow at anywhere from 4-7 percent year-on-year over the next five years. Similar for the other parts of the world, you are going to see a larger growth percentage in the optical fiber market than the traditional market. When you look at the production amounts in optical fiber, they don't compare to the tonnage that you are making in low medium and high voltage cables. Production wise the percentage may not be as high as in the low medium and high voltage cable segments, but the growth is much bigger in optical fibre with a 10-12 percent growth.
WCI: You talked about the optical fibre and its high growth rate. Do you have something as a machinery supplier on OF/OFC side for the Indian market?
TSM: We haven't seen a lot of opportunities in OF but we do have planetary stranders, vertical layup machines, and we can design manufacturing lines with multiple machines that can be put together for the production of optical fiber cables. We don't make the machines that manufacture optical fibre itself. Bartell produces machines just like any other machines used for wire and cable manufacturing. For OFC, it is more of assembling the fibers and cables. We have rigid stranders and planetary stranders already being used in optical fiber market. We have plenty of tools and machines to supply to the optical fibre market but as of now we have not participated in that market much in India. This is an area we look to participate in the near future.
WCI: Any final words for the Indian market on behalf of the Bartell Machinery Systems?
TSM: We appreciate the opportunity to serve the wonderful people of India. We look forward to meeting the Indian customers and offer them the opportunity to expand their business and achieve great success through the use of our solutions.