VisioCablePro® bobbin unwinder has an intelligent automatic switch-off function, and safety is ensured due to the low traction on the rotating components and the indicator lights.
October 29, 2021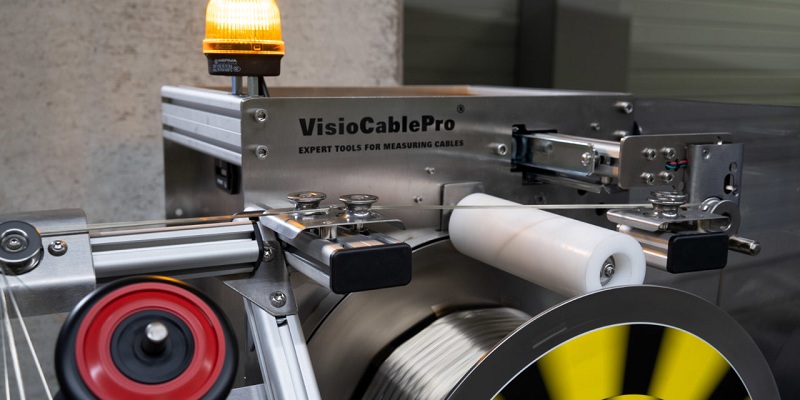 iiM AG Measurement + Engineering has developed a solution to support sustainable production and resource conservation in the wire and cable industry. The company has introduced a new automatic bobbin unwinder ABU24 enabling the manufacturers to swiftly feed up to 24 braiding spools back into the braiding process simultaneously. This helps in reducing costs significantly, making the solution both resource-efficient as well as cost-efficient.
The special braiding spools are essential to use the braiding machines during the cable and wire manufacturing process. These spools also called "bobbins", cannot be completely or evenly unwound during braiding. In effect, there is always a certain amount of wire attached to the spool.
Watch: Wire & Cable India News Roundup
Conventional methods such as using blades or multitools, are very time-consuming and also damage the surface of the spools. Consequently, along with the damage, there is also the risk that the fine wire will become caught or snap when the spool is used again. The use of these manual methods compromises the service life of the spool substantially.
Addressing this concern, iiM AG has designed and developed the new automatic unwinder making the use of braiding spools more sustainable than before. This provides the opportunity to unwind up to 24 spools at the same time. The machine with a simple, logical design allows the operator to complete loading and set-up in less than 5 minutes. Compared to the manual cutting of the residual wire, the time saved using the new method is considerable.
The new VisioCablePro® bobbin unwinder has an intelligent and automatic switch-off function, which brings the machine to a halt when the wire is unwound from the spools or if the decoiler is full. In addition, it also ensures safety in operation owing to the low traction on the rotating components and the presence of indicator lights.
Furthermore, the ABU24 allows the production costs to be further lessened because the high quality of spools remains untouched over a very long period. The risk of wire breaking during braiding is significantly minimised besides the risk of injury and the time needed by the operators. The machine can be used with wire, thread, or plastic fibres.