Birla Cable Ltd. has been extremely successful in terms of pioneering the design and manufacture of OFC in India since 1992, introducing many one-of-its-kind cabling solutions, never seen before. The company, along with other group companies under M. P. Birla Group, is dedicated to innovations in cable design and development and was born out of technical JV with global experts.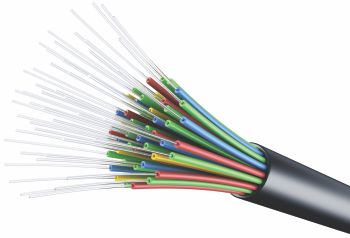 Birla Cable Ltd. (earlier Birla Ericsson Optical Ltd.) is a trendsetter company in many ways, especially when it comes to introduce a new technology to the country. Manufacturing today a wide range of cables and telecommunication cables based on optic fiber, the company is known as benchmark-setter for many cable products, which are now produced by other companies.
R. Sridharan, CEO, Birla Cable Ltd. forecasts a massive digital revolution in waiting and holding tremendous opportunities for the OFC making companies.
Wire & Cable India recently talked in detail to Mr. R. Sridharan, CEO, Birla Cable Ltd. on various aspects related to the company and the industry as a whole. One thing strikingly noticeable in the interaction was the proclivity of the MP Birla Group to imbibe the best technology from outside by undergoing technical JVs. The wide interaction also took in purview the other companies in the group and highlighted their shared ethics, technological readiness, and vision to transform the Indian data and power transmission space. Excerpts:
Wire & Cable India: Birla Cable Ltd. (formerly Birla Ericsson Optical Ltd.) is a JV company since 1992. Tell us about this company and how the product portfolio evolved over time from the beginning till now.
R. Sridharan: Birla Cable Ltd. (formerly Birla Ericsson Optical Ltd.) originally was a joint venture between M.P. Birla Group and Ericsson Network Technologies AB (formerly Ericsson Cables AB), Sweden with technical collaboration from Ericsson, for the design and manufacturing of Optical Fiber Cable (OFC). In this company, Ericsson held 27.5 percent stake. It is a publicly listed company and majority shareholding remains with M.P. Birla Group. Subsequently, the company started manufacturing copper telecom cables as the Department of Telecommunications (DoT) then was buying lot of copper telecom cable as well. During the mid of this current year 2016, M. P. Birla Group bought the entire (27.5 percent) shares of Ericsson being held in this company and as a result of this transaction, the company is renamed as Birla Cable Ltd.
Besides these products, Birla Cable makes other structured cabling products such as LAN cable, CAT 5e, CAT 6 and CAT 6A cables, and other data communication cables with UL (Underwriters Laboratories, USA) approval, which is a mark of trust and mandatory for producing and selling these kind of products to data centers and other enterprise network applications with highest safety standards. The company also produces automobile wires, braided co-axial cables along with other specialty FTTH (Fiber-to-the-Home) cables and other copper specialty cables.
The company has been quite prolific in terms of pioneering the design and manufacturing of OFC in India with continuous exchange of technical know-how, since 1992. Besides these credentials, Birla name itself is a brand and as a mark of trust and a symbol of progress since long.
WCI: There are other companies under M. P. Birla Group dedicated to the cable segment. Please share with us a brief about these separate companies working in somewhat similar area of business highlighting their major lines of operation.
RS: Under the cable group of companies within M.P. Birla Group, Universal Cables Limited is the first company started way back in 1960s. With the approval of the government, Universal Cable started producing paper insulated power cables. Later on, Universal became the company to introduce XLPE technology in India with technical collaboration with ABB, Sweden.
The product portfolio of Universal Cables is extensive consisting myriad variants of cables and capacitors. It produces capacitors in technical collaboration with GE of USA and Toshiba of Japan. Moreover, Universal Cables is having probably the largest portfolio in power cable segment ranging from low voltage and medium voltage to high voltage and extra high power cables. Its cables and capacitors are known by the brand name 'UNISTAR'.
To meet the growing demand of extra high voltage cables (220 kV and above), UCL has adopted VCV (Vertical Continuous Vulcanization) process at its Satna, Madhya Pradesh plant in technical collaboration with Furukawa Electric Co. Ltd., Japan for cable designing, manufacturing, laying, jointing, testing and installation. The VCV process takes place in 120-130 meters high towers from Troester and Maillefer having one of the largest capacities in India. This is one of its kinds of facilities in India for making EHV cables, which gives us the highest quality, superior testing results and longevity of products. We are deriving long term benefits on a continuous basis and have become pioneers in EHV segment with approvals from KEMA, Netherlands – the basic qualification criteria for doing the turnkey projects with various power utilities in the country and aboard. This was about Universal Cable Limited.
The second company within the cable group companies is Vindhya Telelinks Limited, which was put up in 1986 in joint sector between Universal Cables Limited and Madhya Pradesh State Industrial Development Corporation Limited to implement a project for the manufacturing of Jelly Filled Telephone Cables (JFTC). Subsequently, M. P. Birla Group took over the shares of other promoter's' stake as well. It is also a publicly listed company. The company later diversified its portfolio as per the need and trends of the market and has since become a leading manufacturer of copper telecom cables as well as optical fiber cables in addition to other specialty cables, optical fiber ribbons, FRP rods, E-Glass rovings, quad cables, signaling cables and tinned copper wires.
Vindhya Telelinks subsequently set up its project division, Vindhya Telelinks Limited-EPC Division, for turnkey projects and this division has grown considerably in time to encompass an extensive area of projects in power, telecom, and others. Under the division, we offer complete turnkey services for engineering, design, supply, construction, installation, testing and commissioning for telecom and power sectors. The projects from telecom operators include turnkey projects of optical fiber cabling, complete infrastructure for telecom towers, and intra-city HDD – broadband network. In the power, we do EHV cabling projects, rural electrification projects, transmission lines, transmission and distribution sub-stations, and lighting projects.
This EPC division is also pitching in for various smart cities projects in a big way as smart telecommunication, power distribution, and metering systems, all of which we are doing and having capabilities to do bigger infrastructure projects in this segment. Apart from that, the EPC division owns an IP-1 (Infrastructure Provider-1) license from DoT, GoI, whereby you build your own telecom OFC network and lease it out to telecom operators, both public and private. Many private sector operators are already enjoying our OFC network wherever it is required for them.
The third company is Birla Cable Limited (formerly Birla Ericsson Optical Ltd.), about which I have already given the brief to you. The fourth one is Birla Furukawa Fibre Optics Pvt. Limited and is a joint venture between Furukawa Electric Co. Ltd., Japan and M.P. Birla Group, wherein MP Birla holds 55 percent of stakes thereby retaining the majority in this JV. The company is based in Goa having a state-of-the-art manufacturing set up for manufacturing optical fibers, the main raw material for making OFC. Apart from supplying OF to our three group companies, we also offer this to other cable manufacturers in India and overseas. We export a good quantity of OF to various countries with the support of Furukawa. Moreover, Furukawa owns the company called OFS based in USA and Europe; so we get the best of both Japanese and American technological advancements in the area of fiber optics coupled with strong engineering skills from Birla.
WCI: It appears, from the above conversation, that M.P. Birla Group attaches quite significance to technical Joint Ventures. And, as per reports, you have put in place another JV recently for your EPC business, haven't you?
RS: Yes, it's true! We have recently incorporated another company called Birla Visabeira Pvt. Limited as a Joint Venture company, between Visabeira Global SGPS., SA, Republic of Portugal and M.P. Birla Group, India led by Vindhya Telelinks Limited. The new company will engage in EPC project business in telecommunications, energy, renewable energy and other infrastructure sectors in India and other territories as mutually agreed. As per the agreement, M.P. Birla Group will hold 51 percent shares in the paid up equity share capital of the new JV company with the remaining 49 percent held by Visabeira Global SGPS., SA. Visabeira Global is a very big name in FTTH technology, smart cities, niche railway projects, and internet of Things (IoT). This company is already very active in European and African markets and has some of the biggest operators as its clients. Building upon their technical expertise and exposure to bigger projects, and also banking upon the strengths of Vindhya Telelinks' project division, we are sure to bring about innovations in a cost effective manner to India.
As for technical collaborations and JVs, yes, we believe in learning from the best and pioneering new technological trends in manufacturing. Of course, home grown technology should be there and but absorption of the best technological trends from all over the world is also essential, and for that purpose only we have entered into various JVs from time to time. And, I can say that we have absorbed all of the best available technologies in a best possible manner.
Let's understand it in this way! In the beginning, or say in 1970s and '80s, India did not have adequate technical know-how or the latest technology which was globally prevalent at that time; you had to bank upon the knowledge of major leaders of the world such as GE, Toshiba, ABB, Ericsson, Furukawa, etc. to learn the best technological practices. So, at the inception, Birla Group has this methodology to bring in the latest technological advancements into India by way of these JVs. Over a period of time, we have absorbed these technologies fully and substantially. Now, the Indian engineering talent pool has grown immensely to the extent of churning out original, cutting-edge technological innovations smarting under this initial import of technology. So, initial push is crucial and technological progress can't happen in isolation.
We as a company has absorbed what we could and now are building upon the basics and coming up with new ideas and technologies on our own. We are now offering our latest innovations, design, and indigenous products types to other companies, whether international or domestic. The technical collaborations formed decades ago are continuing only as a long term association and as a mark of trust; the technologies have been not only well-imbibed, but also disseminated to all industry stakeholders.
WCI: For imbibing the best technological practices from outside in order to innovate on your own, as you said that M.P. Birla Group companies have done consistently, you must have a proper R&D set up in place. Please elaborate!
RS: Of course! If you talk about R&D, development of innovative products and methodologies, and utilization of state-of-the-art technologies in the implementation of services and projects, we are continuously investing considerable amount of our resources on those fronts. For example, Universal Cable's Satna (Madhya Pradesh) facility has a pioneering R&D set up recognized by the Ministry of Science & Technology, Government of India.
The laboratory in Satna is superb with all state-of-the-art equipment and a top class team of experts dedicated to innovations and product development. The team in the laboratory is employed on a long-term basis and is constituted by engineers, polymer specialists, etc. Some of these experts are also involved in preparing draft standards for the specification bodies pertaining to safety and quality parameters of power cables. Our experts believe that products should exceed the quality specifications and the entire R&D team's focus is directed towards attaining excellence and benchmarking. This is true for all the companies in the group, viz. Vindhya Telelinks, Birla Cable, and Birla Furukawa.
Our R&D set up is not only churning out innovations in terms of products and processes, but also shaping a talent pool to give it back to the industry, thereby doing the capacity building and skill development for the entire industry on a long-term basis. Moreover, the technological up-gradation is a continuous process and we introduce latest technology, new balancing equipment, new machinery, etc. every year or in two years to keep abreast with the latest technological advancements around the world. And, this is not possible without deep involvement in R&D.
All our group companies' products are approved and certified by the topmost certifying bodies, viz. Telcordia (formerly Bellcore) for OFC, UL for structured cables, and various other Indian certifications such as RDSO, BSNL, DoT – QA, DGQA, KEMA, CPRI, etc. The kind of test set up we have and a culture of quality we imbibe in our entire manufacturing system add value to the whole supply-chain.
WCI: As you said, your EPC business has grown considerably over last few years and your presence is almost all pervasive when it comes to building power and telecom infrastructure. Kindly tell us the strengths of your EPC arm and major new developments therein.
RS: See, as far as strengths are concerned, if you go to a customer to build a network, be it underground power cable network or telecom network or setting up power distribution sub-station or rural electrification, you must be backed up by quality products which would go into these networks. We have in-house production facilities for these major products in various facilities of Universal Cables, Vindhya Telelinks, Birla Cable, and Birla Furukawa, and this is a great strength in itself.
Secondly, the way you undergo with the quality implementation and project execution in a time bound manner is also crucial. For that, you have to have separate quality control department; project management team; top-class equipment such as HDD drilling machine, powerful blowing and best in class splicing machines among others; and skilled power cable jointers in terms of manpower. We have all of that and more in order to accomplish projects in a time bound, cost-effective, and systematic manner.
Of course, we have been able to grow on EPC side significantly, and that can be conjectured by the fact that out of Rs. 1000 crore topline clocked by Vindhya Telelinks in the last financial year 2015-16, more than 50 percent was from the project earnings, which you can see from our results. We do all kind of projects including power, telecom, sewerage, etc. and our order book is pretty healthy as of now. With the govt. emphasizing on boosting and revamping the infrastructure, there are opportunities galore for us, especially with the Smart City initiatives.
WCI: Your export is considerable and you are conspicuous by your presence in the domestic market. How do you balance yourself amid the demands from export and domestic markets?
RS: India is a unique market and largely depends on price – a highly price sensitive market. Even when the global price level is notably high, you would find the Indian prices as very-very low owing to various factors, frequent policy changes being one among them. Some projects are driven by the central government and some by state governments and the policies are varying from time-to-time. Accordingly, tender conditions vary and so do the price levels. Considering all these variables being factored in the domestic market, it is always better to de-risk your business by looking for opportunities outside.
Global market is immense and potential is huge. Now, if you take the example of telecom industry or OFC industry globally, OF requirement is all time high – in the calendar year 2015, the worldwide fiber requirement was almost 400 million fiber kilometers in terms of usages in OFC, which is slated to go up this year. We participated in various opportunities in export markets like Europe, Africa, other Asian countries, South American countries with a sizeable amount exported from all our companies.
Export earnings are contributing to our kitty, and we consider it as nice, balanced approach without neglecting the need of the domestic market. Moreover, if the sum total of demands from export and domestic market exceeds our existing capacity, we readily go for capacity augmentation by adding machines and upgrading technology every one or two years' time duration. Export has tremendous potential for us to focus and we are doing that.
WCI: What are your views on the Indian wire and cable industry?
RS: The overall growth scenario is buoyant for the Indian wire and cable industry amid the flurry of infrastructure initiatives, driven both by the public and private sector in power as well as telecom sectors. Take the case of telecom segment, wherein telecom infrastructure in India is now a necessity amid rapid rise in data usage. For instance, take the smart phone usage. It has shown an unprecedented growth in last few years and estimates say that by 2017 or 2018, Indian will become the country with largest number of smart phone wielding people.
The advent of various social media platforms; various types of internet accessing devices including PC, tablets, notebooks, smart phones, etc.; e-Commerce portals and market places have resulted in never-seen-before data consumption. This will only grow in times to come. The internet has penetrated in far-reaching areas or hinterlands in the country embracing new users in its fold. All these developments indicate towards a future where an all-encompassing telecom infrastructure would be indispensable.
New age data communication technology like 4G LTE is being adopted to cater to the data hungry market. New Greenfield operators are coming up and launching their services in a big way which includes FTTH as well – enabling data for triple play, viz. voice, data and video. Also, existing operators are upgrading their network from 3G to 4G and have launched their services in selected cities; and will soon launch on a pan India basis.
Optical fiber has a tremendous future because of its unlimited bandwidth carrying capacity and highest speed carrying capability. The drive for higher performance in optical fiber systems has led to R&D in transmission equipment, for example – coherent detection systems, etc. which in turn has resulted in highly enhanced equipment in terms of performance and infrastructure robustness. Therefore, combined with passive medium like optic fiber, various components in OFC network, and active components, the optic fiber based telecommunication is soon slated to see a revolution. And, it is started to happen now!
India is fast catching up with the global market. India has almost touched 20 million km of fiber consumption last year; and this year, it is expected to grow at least by 15 percent depending upon various Government driven and private sector led projects. Next 3-4 years in India will witness a huge multiplication in opportunities in telecom and OFC industry. This market is picking up globally, not only in India. China has already rolled out 4G and FTTH services on a mammoth scale; almost 240 million fiber kilometers has been consumed in 2015 itself and the current year is estimated to witness 15-20 percent rise!