"The new plant will open up new avenues for the business positioning ourselves as a credible supplier in the global market. By the end of FY 2022-23, we expect to attain a 25 percent growth from our installed capacity at the close of FY 2020-21."
Headquartered in Indore, Madhya Pradesh, Rajratan Global Wire is one of the leading manufacturers of high carbon steel wire in India specialising in automotive tyre bead wire, high-quality spring and rope wires. The company, which began its journey three decades ago, has made its mark as a world-class manufacturer of high carbon steel wire. Presently, Rajratan has two manufacturing plants, one each at Pithampur in Madhya Pradesh and Ratchaburi in Thailand, with a total capacity of around 1 lakh TPA. The largest domestic manufacturer of bead wires is in the process of scaling up its domestic and overseas capacity.
The two planned capacity additions are a Greenfield investment in Chennai and a Brownfield expansion that's already underway at its Thailand plant. Mr. Sunil Chordia, Chairman & Managing Director of Rajratan Group presents a rundown on the business journey of the company, the key strengths of their product portfolio, and an outlook on the Indian steel sector in an exclusive conversation with Wire & Cable India magazine.
Wire & Cable India: Could you please take us through the business journey of your company?

Sunil Chordia: In 1989, we set up the foundations of Rajratan Global Wire and the commercial production commenced after three years, in 1991 with the production of pre-stressed concrete steel wire products and stands. It was in 1995 when we started the production of bead wires with an initial manufacturing capacity of 5,000 TPA. At present, the company has an installed capacity of 72,000 TPA at our plant located in Pithampur, Madhya Pradesh in India.

With the objective to actualise our global vision, we initiated our operations in Thailand in 2006 by establishing Rajratan Thai Wire Co. Ltd. At the plant in Thailand, the commercial production and operations commenced in 2008 with the setting up of a new manufacturing facility. Currently, the installed capacity of steel wire is 40,000 TPA in our subsidiary in Thailand which we are planning to increase to 60,000 TPA. In addition, with regard to our Indian business, we have announced a new Greenfield investment in Chennai which will further add 60,000 TPA to our domestic production capacity, taking the overall capacity of the company to 1,80,000 TPA.

WCI: Since you've already mentioned your product range, kindly enlighten us about the USPs of the products.

SC: The Company specialises in the manufacturing of tyre bead wire and high carbon steel wire. The tyre bead wire, used in all kinds of tyres for automobile, aircraft, two-wheelers, three-wheelers, truck bus radials, and so on, is essentially a drawn steel wire, which is manufactured from quality wire rods with high carbon content. We provide customised tensile grades in the segment as per customer requirements. The high carbon steel wire which is drawn steel wire is also manufactured from quality wire rods with high carbon content. The product plays a vital role in a number of industries such as automobile, construction and engineering.

Over the past twenty-five years, we have undertaken a lot of efforts in order to achieve quality improvements while also paying attention to reducing the costs of conversion. With leveraging a quite high production capacity and our focus on these key products, we are able to offer our customers superior quality products and better services. Moreover, we are certainly capable of enhancing the products and making new products as per the market requirements. Thus, we are very much aligned with the requirements of our customers.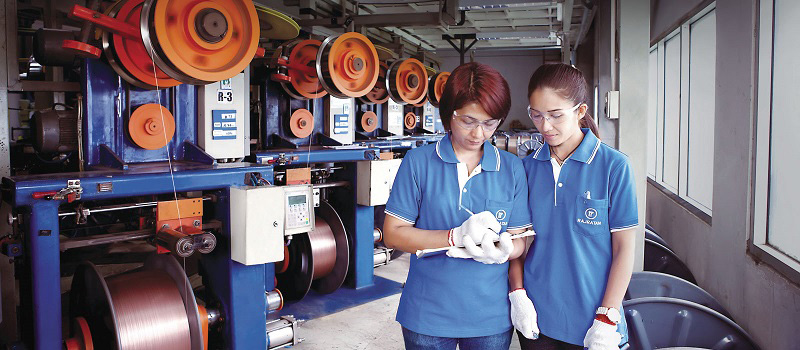 WCI: What are some prestigious projects for which the company has supplied the products?

SC: Rajratan has cemented its position as a dependable global supplier of bead wire to renowned quality-demanding tyre manufacturing companies. In addition to marketing products in India and Thailand, we also serve customers based in other countries including Italy, the USA, the Czech Republic, Malaysia, Indonesia, Philippines, Vietnam, Sri Lanka, and Bangladesh.

We have become a regular supplier to every marquee tyre manufacturing company in India and Thailand including Sumitomo, Yokohama, Bridgestone, Apollo Tyres, MRF Ltd., CEAT Ltd., and JK Tyre & Industries.

WCI: What are your targets for the next two years with regard to market reach, R&D and technological advancements?

SC: As I've mentioned, we are going to commission a new manufacturing facility in Chennai in South India which will enable us to service customers in the southern region. Besides, the Greenfield project will also leverage the port proximity to capitalise on the export opportunities by serving the international markets.

The plant is a port-based location that will have a manufacturing capacity of 60,000 TPA. Since we've already been approved with all the multinational tyre companies and formed strong relationships, we are intending to supply to them from our upcoming Chennai location. We are aiming to build on our existing market presence and strengthen the capacity to service the customers in a better way. The proposed investment is undertaken with the objective to cater to the international markets which we are not able to achieve from our existing Indore location since it is a land-locked location. Thus, the new plant will open up new avenues for the business positioning ourselves as a credible supplier in the global market. By the end of FY 2022-23, we expect to attain a 25 percent growth from our installed capacity at the close of FY 2020-21.

WCI: Kindly share your outlook on the steel sector in the country.

SC: The present scenario of the Indian steel industry is seemingly quite favourable and promising which can be attributed to various factors. Due to the change in the China policy, people are considering an alternative to Chinese products and India ranks as a top consideration as an alternative to Chinese supplies. Thus, the country has a huge potential of supplying value-added steel items to the global market. I am quite bullish regarding the growth of the steel sector in the country. We strive to be at the forefront in meeting the requirements of our customers.