Finland-based Maillefer Extrusion Oy is a developer of production technologies for segments including – wire, cable, pipe, and tube. With the widest services portfolio in the industry, Maillefer also holds 22 patent families – the highest in the industry. The specialities of the company are extrusion technology, production process know-how, material science, and maintenance solutions, amongst others. In 2021, the Finnish technology supplier introduced local manufacturing in India by establishing a new facility to serve the Indian market.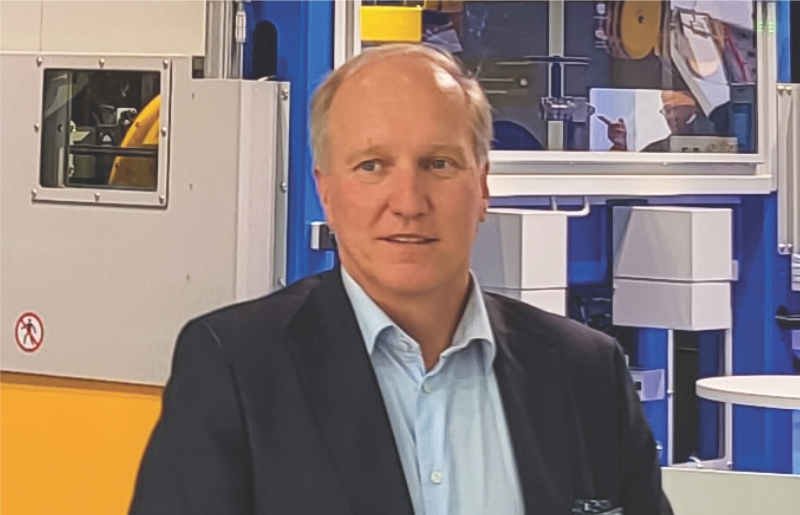 In an exclusive interview with Wire & Cable India magazine, Mr. Lars Fagerholm, CEO, Maillefer Extrusion Oy, talks about the new developments, their core philosophy, plans for the Indian market, and the future outlook.
"Being in the Indian market and gaining a longstanding experience, we have high expectations and are quite optimistic regarding our growth… we had recently commenced our local production in India, which has been going quite well for us."
Wire & Cable India: What have been the most important developments at Maillefer in recent times and how was the journey?
Lars Fagerholm: There are a number of new developments at Maillefer, including both small and large-scale transformations. We continue this kind of set path forward, and we've been evolving from being a machinery supplier into becoming a source of technology, expertise, and know-how. Additionally, many new things are connected to this aspect. We strive to fulfill our customers' requirements by delivering solutions, as per their desired needs, which are based on the 'Science of the New Factories' and connecting this with the supply of any technology required for making the factory. The Maillefer Smart Factory connects and analyses your processes and end products in real-time for more intelligent production.
Based on the history and the know-how of our company, we try to broaden our scope. And what is important in this is the fact that the more we are working with this approach, the more our expertise grows. Thus, we have been getting more and more ideas to innovate in our machinery, develop intuitive technologies, and bring futuristic solutions.
WCI: Kindly comment on the theme of your participation at wire 2022.
LF: We decided the theme of our participation to be– "Enter. Extend. Explore." These are the core levels that we have recognised to be of prominent importance. The theme is based on the idea that the customers' willingness to invest is based on their plans to increase or "extend" the capacity. Furthermore, market demand is driven by factors such as the customers' requirements, the nature of the market, and so on. Thus, with the three production solution levels mentioned in the theme, we aim to fulfill the diverse needs of customers all over the world. We don't talk about too little or too much, too expensive or too low-cost. We are trying to create a good balance between these opposites. Based on this, we are trying to create tailor-made solutions for our customers.
We have participated in wire 2022 with the focus on "smart technology". Thus, we have been investing and doing a lot of innovations in process control and gaining data from the production lines. Firstly, we get the data from the production line which we understand and analyse and later on, we connect it with the process know-how at Maillefer. Our ultimate goal is to keep on developing and bringing active and pioneering Artificial Intelligence-based solutions for the lines. This is something about which we are quite ambitious.
Additionally, the use of smart technology is also connected to the way we approach "preventive maintenance". Hence, we have been looking forward to improving the quality of the production lines. The new aspect is that we have created a diverse assortment of smart technology-based solutions.
Watch: Cable & Wire Fair Show Reel
WCI: How do you keep yourself ahead of your peers in the industry?
LF: We are quite driven and competitive to stay ahead of the game. Maillefer is truly recognised for its ingeniousness and intuitive acumen with respect to technology. This mindset can be traced back to creating such a culture in the organisation. In fact, working with this mindset and nurturing this culture has been truly rewarding for us. It gets our adrenaline going! Circling back to what I said earlier, the more we learn, the more we are able to help our customers. This is what essentially we have been doing. Moreover, we have more ideas that we want to implement in R&D. We are always looking for ways in which we can help our customers as efficiently as possible, and go one step further in reaching beyond what is possible in today's world!
WCI: Being a magazine based out of India, we would like to know more about how you look forward to the Indian market.
LF: As you know, we have been in the Indian market for a long time, and we have a strong history in the Indian market. We have a subsidiary for the Indian market, i.e. Maillefer Extrusion India Pvt. Ltd. Being in the Indian market and gaining longstanding experience, we have high expectations and are quite optimistic regarding our growth in the country. India is one of the largest growing potential markets. The significant growth in the Fibre to the Home (FTTH) and the 5G technology as well as the growth in the renewable/green energy sector is really important in this regard. Thus, we are highly hopeful and expecting to attain great growth in the market.
Moreover, we had recently commenced our local production in India, which has been going quite well for us. We have completed the initial order and the production line is about to start at the customer's site. While the pandemic had slowed down the progress a bit, our manufacturing operations are now progressing well.
WCI: Could you please elaborate on the local manufacturing facility in India?
LF: Our manufacturing facility, which is partly owned by us and partly by the partners, is fully capable of producing different components, as well as assembling, testing and commissioning the same. As mentioned, we have completed the first line which we will use as a point of reference and it will enable us to achieve the business growth we have envisioned. First and foremost, we are aiming to serve the Indian market with the local manufacturing facility. Nevertheless, there is a strong possibility that we would plan to broaden our scope in the future.
WCI: What are the future plans of Maillefer as a company?
LF: Presently, there has been a huge growth in the renewable or green energy sector worldwide. This evidently presents us with a lot of different avenues. Considering the dynamism of the market, we would like to assess the potential of various innovations. We will continue to strengthen our capabilities and competencies. Thereby, we will look forward to expanding, growing, and being an even stronger player in the future. As a matter of fact, we have the support of Davis-Standard, LLC and thereby, we have the possibility of taking our company to the next level. We have a lot of strength and capabilities as well as the necessary leverage to grow further!
WCI: How do you enable the customers to achieve sustainability?
LF: Our focus is on making the world more "green" in terms of energy. Moreover, Maillefer has been playing an integral role in the development of various interconnections which are required worldwide. Also, the development of renewable energy is something that has been driving the markets today. Thus, we are very much at the centre of this trend. This is a very exciting opportunity!
Also Read: Maillefer Center in Eclubens Certified for ISO 14001 and Marks Points for the Environment
WCI: Anything else that you wish to add to the interaction?
LF: I would like to affirm that sustainability is extremely important today and is changing what we are doing and how we look at things in addition to how we operate and handle our business activities. Maillefer is always standing for long-lasting quality and investments. This has been becoming more and more important to us. It is defining how we innovate and the solutions which we bring to the market should be more sustainable than ever before.