Borouge has been serving customers in 50 countries worldwide since 1998 with its creative polyolefin solutions for a wide range of industries, including energy and infrastructure. It is a strategic partnership between Abu Dhabi National Oil Company (ADNOC) and Borealis, one of the world's leading providers of polyolefin solutions and base chemicals, employing over 3,100 people. Borouge deploys unique technologies that provide innovative and value creating polyolefin solutions for a wide range of applications, with a strong focus on the wire and cable portfolio. Since the launch of the 'Digital India' programme, a digital transformation has been underway to bridge the digital divide across the nation. This includes connecting rural areas with high-speed internet networks and advanced digital infrastructure. At the same time, fibre optic cable manufacturers are bracing themselves to meet the increase in demands brought about by fiberisation, 5G services and fibre-to-the home (FTTH) fixed broadband. In an interview with Wire & Cable India magazine, Mr. Jong William, Vice President of Energy and Infrastructure, Asia South, Borouge, shares the recent developments at Borouge, the outlook for fibre optic cables, and the company's plans for the Indian market.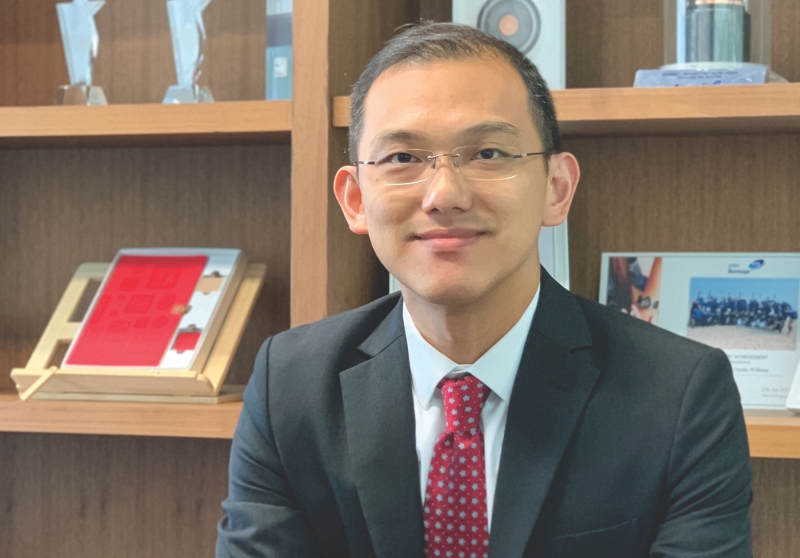 "Innovation is embedded in our DNA – we have over 1,000 active patents which allow us to offer innovative polyolefin solutions for the wire and cable industry."
Wire & Cable India: Can you share with our readers what are some of the recent developments at Borouge?
Jong William: At Borouge, we are always looking at ways that we can enable everyday life and add value to the whole cable and wire value chain with our differentiated polyolefin solutions.
One of the new material innovations that Borouge and Borealis have brought to the fibre optic market is a low-shrinkage laser printing jacketing material. This new material allows fibre cable manufacturers to produce at higher line speeds with a lower wall thickness. At the same time, it ensures excellent adhesion resistance properties for printing identification.
We have also increased our production capacity for fibre optic jacketing to support our future-proofing efforts. We expect significant growth in the fibre optic cable market due to increasing investments committed to the fifth generation of cellular technology networks (5G) and installation of optical fibre from data centres to individual buildings or homes.
Borealis' acquisition of DYM Solutions, the South Korea-based manufacturer of compound materials for cables, also helps us to expand our production capacity for specialised Flame Retardant cable compounds and semicons for the power cables in our portfolio.
All of these recent developments allow us to better serve our customers in the Asia region.
Watch: RR Kabel (RR Global): Shreegopal Kabra
WCI: What is your outlook on the global fibre optic cable market?
JW: After several years of low market demand for fibre optic cables, we foresee healthy global annual growth for the next four years. This growth is likely to be led by three main factors:
Fibre to the Home (FTTH): FTTH has been gaining traction in Europe and the United States and remains integral for future demand. FTTH is a reliable access network method that delivers the highest possible Internet connection speed by using optical fibre directly into homes, buildings or offices. This will also apply in India as the BharatNet project is creating an extensive network infrastructure that provides broadband connectivity for homes and institutions in far-flung villages and areas. The BharatNet project is set to be the world's largest rural broadband connectivity programme using optical fibre.
Investments in 5G: This will trigger demand for fibre optic cables as they are required to enhance network connectivity by facilitating millimetre wave frequencies with high-speed broadband connectivity. To give us a sense of the market opportunity, telecommunications giant Ericsson is expecting 5G subscriptions to reach 4.4 billion by the end of 2027 from the forecasted 1 billion at the end of 2022.
Higher data consumption: With the increasing usage of smart devices, an adaptation of advanced technologies, and businesses ensuring their online operations are uninterrupted 24/7, capital investments in data centres are likely to spur demand.
WCI: What kind of trends do you foresee taking shape in the wire and cable sector?
JW: The total cost of ownership (TCO) throughout the entire value chain will become more critical. TCO refers to the overall lifetime cost of manufacturing, installing and operating a solution or product.
Cable manufacturers want to use innovative solutions that provide a high level of efficiency and consistency with low scrap levels. Meanwhile, operators and owners of fibre optic networks are looking to streamline the installation process and reduce maintenance costs. It is critical for players in the entire value chain to work closely together to find solutions that focus on the entire cable system lifecycle and optimise the total cost of ownership. The Borouge jacketing materials are designed to provide the most optimal TCO for the entire value chain.
On a macro-economic level, we are likely to see inflation, commodity price levels and glass fibre shortages lifting the price levels of fibre optic cables. As a result, import duties or minimum local content requirements will likely be imposed, bringing about more supply chain and logistic issues. Therefore, it will become more important for cable industry players to 'think global, act local'. This means businesses will have to adapt their operations and offerings to stay relevant to the individual markets they serve, without losing an eye on the global trends.
It is undeniable that we are operating in a rapidly changing environment. Yet, Borouge remains confident that with our specialised solutions, coupled with our industry expertise, we can help our partners and clients to navigate these challenges and turn them into opportunities.
WCI: Do you identify any differences between India and the global fibre optic market?
JW: The fibre density in India is currently below the global average. Bearing that in mind, we are also witnessing a surge of investments in telecommunication, especially with 5G and fibre connection for the rural villages in India. The announcement of several large-scale projects in the pipeline will create more demand for fibre optic cables in the next few years.
Some of these key projects include:
India's first 5G spectrum auction that concluded on 1 August 2022;
The next phase of the BharatNet project which will see 360,000 rural villages being included under the Indian government's rural broadband connectivity programme; and
Airtel Xstream Fibre's plan of expanding its reach of installed home broadband into India's 40 million households by 2025.
Based on forecasts, we can expect India's domestic fibre optic cable market to be the largest in the world after China and register double-digit growth from 2022 to 2025. Beyond establishing domestic market growth, the Indian cable manufacturers will look into expanding their international footprint with high-quality fibre optic cable solutions.
This is why we have identified India's fibre optic market as a strategic location for Borouge's subcontinent growth story. We will continue to extend dedicated commercial and technical support to this market to help develop enhanced solutions for our partners and stakeholders.
Also Read: Borealis and Borouge Launches New Flame Retardant Jacketing Grades
WCI: How do you keep yourself ahead of your peers in the industry?
JW: Our commitment to innovation and close collaboration with our partners and customers keep us ahead of the competition.
Innovation is embedded in our DNA – we have over 1,000 active patents which allow us to offer innovative polyolefin solutions for the wire and cable industry. Our state-of-the-art Innovation Centre, located in Abu Dhabi, focuses on developing new innovative polymer solutions for infrastructure, advanced packaging, energy, mobility, agriculture and healthcare sectors in close partnerships with Borouge's customers throughout the value chain. This ensures specific customer requirements are met.
The other secret ingredient to our success is the close collaborations with partners along the entire value chain. Our value-chain partnerships see some of the best minds in the wire and cable industry and at Borouge, come together to build value for our customers. The wire and cable industry is a customer-centric business, and only when we collaborate with one another, we can provide reliable, efficient wire and cable solutions for a sustainable tomorrow.
---
Mr. Jong William has over 25 years of experience across multiple disciplines in the petrochemical industry. He started his career at Borouge as regional sales manager for wire & cable, packaging and pipe, where he played an instrumental role in accelerating the expansion of the Sales team across Asia South to support Borouge's production growth.