Group Nirmal has an expansive product range comprising over 100 SKUs of different products including galvanized and black steel wires, aluminum conductors, ribbed wires, welding electrodes, and hot rolled steel products. Excerpts of interaction with MD Nirmal Saraf, Nirmal Wires Pvt. Ltd. – Group Nirmal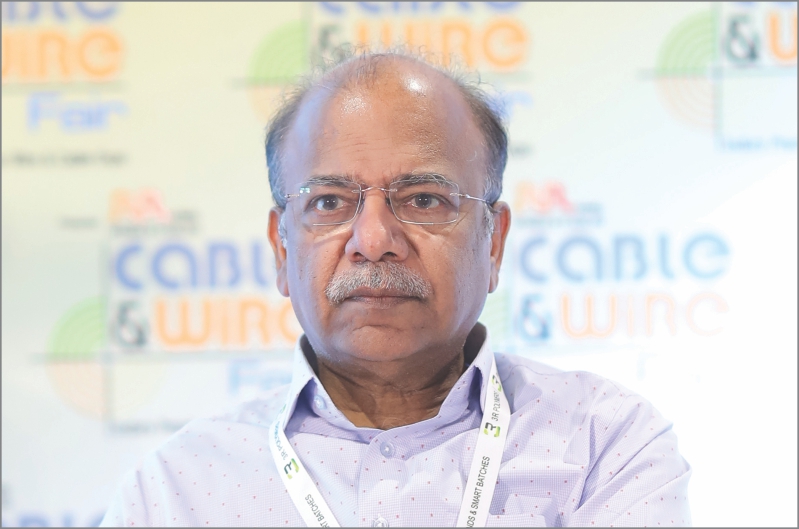 Group Nirmal is an established quality manufacturer of world-class steel wires with an annual capacity of 1,80,000 metric tonnes and a 1,200-crore turnover operating in 7 state-of-the-art manufacturing facilities. Our main products are steel wires, with a focus on galvanized & ungalvanized steel wires, aluminum conductors, pre-stressed concrete wires and more.
As a group, our vision is to be constantly innovative while striving to be greener and more sustainable while maintaining the highest ethical standards. We focus on being a value creator that promotes inclusive growth- not only for us but also for our suppliers, customers, business partners and our nation at large. Rooted in Kolkata, it is our aim to rekindle and reestablish West Bengal as the predominant manufacturer of steel and steel products. To achieve this, Group Nirmal aims to establish the brand "NIRMAL" by achieving overall excellence, innovating continually, manufacturing the best quality goods at optimum cost & surpassing customers' delight.
Watch: RR Kabel: Shreegopal Kabra
Reminiscing the Business Journey of Group Nirmal
Our journey began in 1971 with Shri Ramautar Saraf at the helm. Fuelled by the spark to create the best quality steel products in West Bengal, he established a small wire drawing unit under the corporate entity Central Store Supplies (P) Ltd incorporated in 1942 by his late father Shri Jhabarmal Saraf. After many years of hard labour and facing multifarious challenges, he kept the flame alive, and in the year 1985 put up a steel wire galvanizing plant under the corporate entity Nirmal Wires Pvt. Ltd incorporated in 1981.
In a few years, we established a flourishing business in the steel products industry mainly steel wires and rolled products. The Company is now meeting customers' needs in over 40 countries around the globe.
Moving from one milestone to another, Group Nirmal has now expanded the product range to over 100 SKUs of different products including galvanized and black steel wires, aluminum conductors, ribbed wires, welding electrodes and hot rolled steel products. Some of our wires and their vast applications include- Wires for producing Umbrella Ribs, various types of springs, wires for earthing, wires of staying, armoring of cables, and concrete re-enforcement wires. These wires are used in transmission, distribution & generation of power, security & protection, fencing, general engineering, and automotive, amongst others.
In a bid to service the retail customer, a distribution network has been set up. This caters to a wide range of consumers in the agricultural sector and the individual household sector. The predominant products reaching this sector are chain link fence, barbed wire and galvanized wire. The retail segment also caters to the small requirements of industrial consumers providing goods such as welding consumables wire nettings. These are available at our retail counters.
We stand out in the wire & cable industry as a holistic solutions provider. Group Nirmal doesn't just guarantee product quality; the group guarantee extensive after-sales service, and a robust customer feedback collection system to further the customer-first commitment. Recognised as leading innovators, we customise and re-invent to meet customers' requirements, without letting sustainability suffer in all our production processes. A dedicated quality team works round-the-clock to ensure the immaculate quality of finished products, thereby being true to the group's vision of maximising value for all stakeholders. All these factors have enabled Group Nirmal to build customer loyalty and trust, reinforcing our motto of quality-first.
Also Read: Group Nirmal: Planning Global Expansion
The Way Ahead
Moving ahead, some new products have been recently developed – ASTM Class C and Class B Zinc Coated wires. Globally, companies with the ability to manufacture these wires can be counted on one's finger types. Future product offerings include aluminum clad wires, low relaxation pre-stressed concrete wires and patented steel wires. Group Nirmal's future plans include attaining raw material security by establishing long-term relationships with our raw material manufacturers and by backward integration.
India is on a mission to be 'AatmaNirbhar'. To contribute to this goal the wire and cable industry needs to work hard to develop and manufacture products to substitute imports. To gain global leadership we need to make our products and services competitive in cost and unparalleled in quality. This, in our opinion, is the road ahead for 'Make in India' and Make for the World. India has all the prerequisites to be a dominant force in the global supply chain of steel & steel products. The international economic conditions are conducive, and customers are receptive to Indian products. The harvest is ready, all we need to do is work hard to reap it and bring it back home