Established in the year 1993, Mikrotek is one of the top five manufacturers of wire drawing dies and die polishing equipment in the world. As an ISO 9001:2015 certified company, Mikrotek is continuously moving forward in its vision to supply dies that meet customers' expectations. Wire & Cable India recently interacted with B. Kamal Babu, Managing Director, B. Anitha Kamal, Director, and R. Manjunatha, Sales Manager, Mikrotek Machines Ltd. to know more about their recent developments and expansion plans.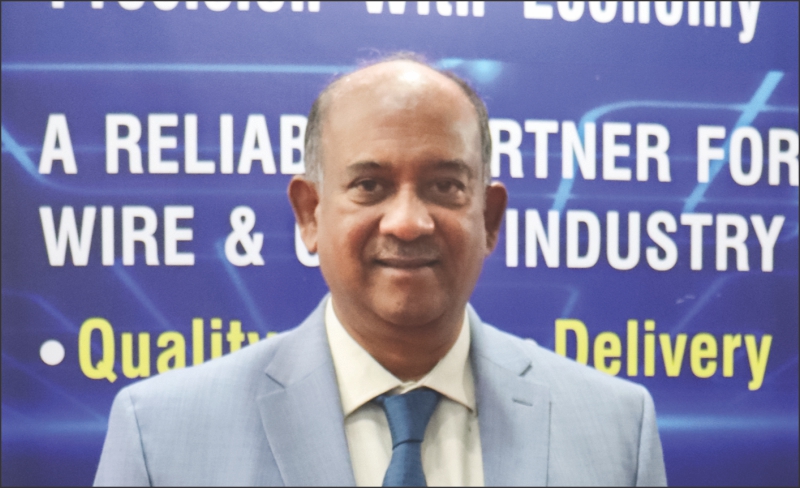 "We use Lean Six Sigma, IoT, and Industry 4.0 effectively to deliver all customer required products in the wire drawing process. Mikrotek is all about Wire Drawing Dies to Draw More along with Precision with Economy! All under one roof for the Wire Drawing Industry!"
Wire & Cable India: To start with, please tell us about Mikrotek, its product range, and the new developments of the company.
Kamal Babu: Mikrotek is a very ambitious company with highly focused business goals and is continuously working hard to achieve them. Our objective is "If any wire drawing company from any part of the world needs a Die, we should be able to reach them quickly.
Mikrotek has a wide range of products for the wire drawing industry. Our product range covers all types of Dies, Die making machines, reconditioning of Dies, consumables and even training and consultancy.
Watch: RR Kabel: Naitik Punamiya on Solar Cables
WCI: How do you strive to fulfill the customers' expectations? Also, tell us how Mikrotek is different from its peers.
KB: The objective of Mikrotek is to provide its customers the products as per their various needs. We collaborate with our customers so as to gather valuable insights into their requirements and applications. Thus, it will pave the way to 'DRAW MORE' wire, which is our motto. One of the key advantages of Mikrotek, compared to all other peers in this industry, is the fact that we are amanufacturer offering world class quality at a very attractive price fulfilling another tagline "Precision with Economy"! We customize our products as per the customer demands in different areas and segments i.e., soft-wire and hard-wire.
We have established good presence in all types of materials ranging stainless steel, steel alloys, tungsten, aluminum, copper, gold, silver, platinum, etc
WCI: Process efficiency is important for any manufacturing industry and for consumables like Dies, it is really important to save on the running cost. How do you help the customers on that front?
KB: We use Lean Six Sigma, IoT, and Industry 4.0 very effectively to deliver customer-friendly products. We also discuss the technicalities openly with our customers and derive what is best for them. We might be the only company in the world with its own Center for Excellence – MCX wherein we not only upskill our workforce but also train our customers in deploying best practices so that the Dies are used for optimum benefit.
WCI: What kind of attention and effort does Mikrotek make in R&D and skill development?
KB: Die manufacturing while it is a small segment within the entire wire & cable industry, it has a critical role to play and contribute. Realizing this, we started our own R&D division fifteen years ago. Our R&D division is headed by a home-grown expert with three fulltime engineers. Dies being the heart of wire drawing, our team continuously analyses the Dies performance and makes innovations and improvements to stretch the limits of quality and reliability! We carefully observe the trends in the wire industry and stay in sync accordingly – in our operations and products.
One of our fine achievements is our proprietary 'Solid Rock Technology'–where Diamonds are sintered combining Nano alloy metal powders. This very special process helps faster heat transfer by which our Dies retain size and geometry for a longer time combined with wire drawing at better speeds!
The new developments of the company in the Die making are using newer and harder materials for high wear resistance and faster heat transfer, which in terms give longer Die life and higher productivity for our customers. Our machines are also being upgraded with more automation for higher accuracies and shorter cycle times. We have now added Nano Dies, Profile Dies and a complete range of Extrusion tools thus offering our customer a full range of Die products all under one roof!
WCI: Could you tell us about the international presence of Mikrotek?
Anitha Kamal: When it comes to international presence, I can say that Mikrotek is playing a leading role in terms of Quality, Cost, Delivery and Safety and improving the footprint of Indian companies across the world. Further, Mikrotek is rapidly establishing itself as one of the most preferred brands for its product range! We are present in the USA, Mexico, Canada, Middle East, Southeast Asia and Russian markets covering more than 35 countries. We are fast getting into newer markets where we are yet to be represented.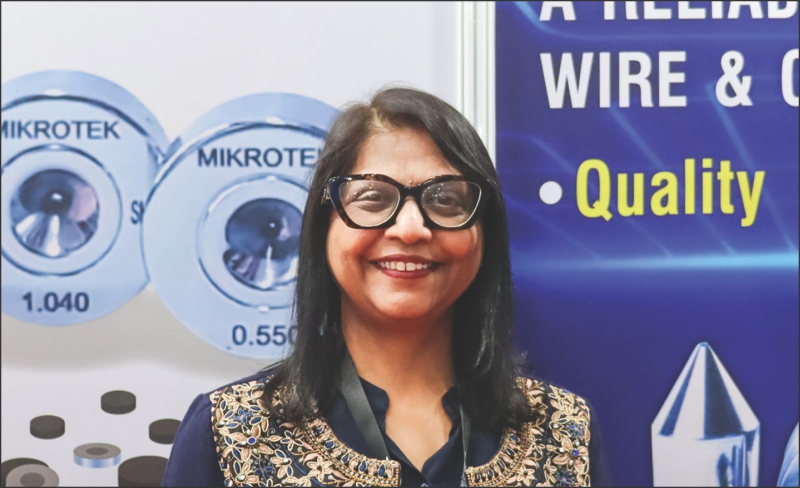 WCI: What is the share of your domestic and overseas market? What kind of challenges did you face when enhancing your footprint?
AK: Over the last few years, around 40 percent of our products are consumed in the domestic market and about 60 percent are exported. We are working on increasing our international market share to 70 percent while 30 percent would be earmarked for the domestic market.
WCI: Please elaborate on your future plans. What message would you like to give to your customers and your peers in the market?
AK: We are in the process of building a new Greenfield manufacturing facility. We aspire to be the biggest manufacturer of Dies globally. We call this our 5X program, wherein we will have a five-fold capacity to help expand our horizons and cater speedily!
Post-COVID-19 pandemic, we foresee many opportunities for Mikrotek. We have taken strategic steps to expand ourselves into the Middle East and the American markets. Going forward, we will be having at least two service centers in India catering to domestic and Southeast Asia, two centers in the USA region and one each in Europe and the Middle East. Besides this, we're also considering new developments in the market, such as CVD diamonds and Nano-based products. We would assess their success with our customers and adapt to the new technology accordingly.
To our customers – the wire & cable manufacturers, I would like to say that the Indian wire & cable industry has a lot of opportunities and we would go a long way together. To our peers, I would say that a huge market is open to all where everyone has a place.
WCI: Could you shed some light on the sales strategy at Mikrotek?
R. Manjunatha: We consider ourselves not limited to a supply of products but also a solution provider. In addition to selling, our priority is also in providing good services to our customers. To fulfill that, we give them a trouble-free experience. Our strategy is to keep our customers happy. We, as a sales team, are travelling all over the world, visiting our customers, understanding their increasing expectations and together making improvements in processes and products towards win-win situations. All our salespersons are well-trained engineers with thorough process and product knowledge.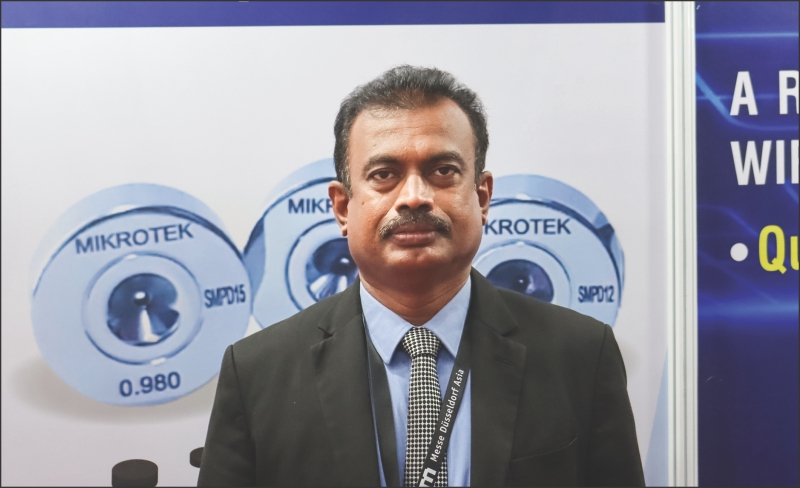 WCI: What kind of challenges are the customers facing and what are their expectations?
RM: In some cases, the end users require some additional knowledge on best use of the product. They also need some education on managing quality and productivity related issues. These are some of the challenges.
Expectations
They look to us for support in providing them the guidance on best use of the dies and also minor maintenance. Being experts in wire drawing dies, our customers also expect us to guide them in improving their process for better quality and productivity.
WCI: Could you shed some light on the types of training you provide to your customers?
RM: We provide various types of training
1. MCX (Mikrotek Center for Excellence):
a. To our customers:
To educate the workforce of our esteemed customers, Mikrotek offers the following certification courses through MCX (Mikrotek Center for Excellence) program.
i. Foundation course:
This is for the fresh technicians over a period of 3 weeks. Here the candidates are taught basics of Dies, Die making and Die maintenance. On completion these candidates are equipped with hands on experience and are ready to use resource for our customers
ii. Refresher Course:
This is aimed at technicians experienced and engaged in Die maintenance. The duration of this course is one week. Here these experienced technicians have their knowledge refreshed and also trained in the latest tools and techniques in Die maintenance. On completion these candidates come out with increased knowledge and higher awareness of latest trends and best practices for the benefit of our customer organizations.
We test and give them a certification at the end of both the above programs.
b. For in-house personnel:
Talking about skill development, it is normal in the Die making industry, to train individuals on one particular task or operation. However, at Mikrotek, you will find a majority of our people who can comfortably perform minimum three tasks in production operations. This gives management more flexibility in better utilization of manpower and increased job satisfaction to our employees.
2. Customer end
On request of our customers, we also visit and conduct small seminars in their workplace or factory to teach them best practices of Die usage and maintenance. We introduce our new products and discuss scope for process and product improvements.
3. Symposiums
We conduct periodic seminars and Wire Symposiums to educate the workforce of our esteemed customers about our products and help them to choose the right product for themselves.
This is an initiative by Mikrotek providing a larger platform for the all-round benefit of Wire manufacturing customers and associated business and technology partners. Here we invite our customers and also spokespersons and industry experts from the lubricant, wire, and machine manufacturing sectors. We bring them to a common platform so that our customers can ask them questions directly and get their queries resolved. We are planning two symposiums in 2023.
Also Read: Mikrotek Center of Excellence Offers Certified Courses in Die Technology
WCI: India is an evolving market. What kind of evolution have you seen amongst the wire and cable manufacturers in India? And what evolution do you foresee in the coming time?
RM: The Indian market is fast catching up with world-class quality as most OEMs are catering to global markets. This is giving an opportunity for the entire industry to upgrade themselves! There is a greater realization of the impact of human skill and well-established processes to deliver fine quality. Mikrotek is investing hugely in educating the employees top to bottom on Lean, 5S, and Kaizen for continuous improvements. Going forward we will consider competing for top Business Excellence recognitions!
Like every other area, our customers, the wire manufacturers, continuously become more quality conscious. The new generation engineers of our customers are open to education, innovation and under the guidance of their mentors thinking about efficiency and productivity. They quickly adapt to the suggestion of maintaining the quality of machines and utilizing the consumables very well. We will continue to educate our customers so that they adapt to a lean manufacturing system for a win-win situation. The developments happening around are very good for the Indian industry.