APAR Industries is gearing up to tackle the biggest challenges of the 21st century, catering to the needs of the global energy sector through sustainable means. The company believes that with an innovation-first mindset, solutions that make anything possible can be found. APAR's mission is to design & manufacture building blocks for energy infrastructure, transportation & telecommunication sectors that contribute meaningfully to making this world more energy efficient, environmentally sustainable, and safer. In a conversation with Wire & Cable India magazine, Mr. Shashi Amin, CEO – Cable Solutions, APAR Industries Limited, talks about the new innovations, their advanced solutions in the wire & cable industry, market expansion strategies, and their participation at ELECRAMA 2023.
New innovations and recent developments
Since our inception every year we have been exploring all the strides to deliver innovative products that solve the real problems of our customers. Over the past two years, our cable solutions business has developed and introduced specialised OFC cables, tether cables, tactical cables, submarine pressure tight cables, and torpedo cables for defence and shipyards. We have achieved many UL approvals which have further strengthened our exports to the US markets.
Our flagship innovative light-duty cable – APAR Anushakti house wire, powered by e-beam technology is now easily available for every household. This product is melt-resistant, fire-retardant and offers 50 years of life. Along with wires, cables & harnesses for automotive, we are manufacturing and supplying a complete range of integrated harnesses for electric buses, 2 & 3-electric vehicles (EV), EV chargers, solar jumpers and moulded harnesses with an inline fuse. With increasing requirements for quick-to-install cable products and quality that outlasts, we are developing a complete range of cable harnesses for locomotives & railway coaches, earthing kits for rolling stock, PA system cable harnesses and many more.
APAR is the largest manufacturer of electron beam cables in India, with three e-beam accelerators (1.5 MeV, 2.5 MeV, and 3 MeV). We have recently commissioned a 2.5 MeV e-beam line, over and above the existing three e-beam facilities at our Khatalwada plant in Gujarat. Our cables factory is also commissioning 2 additional CCV lines. At APAR as an organization, we believe in continuous improvements and augmented journey with the implementation of Kaizen, and Lean Six Sigma programs across both our cable facilities in Umbergaon and Khatalwada in Gujarat. We have been investing in new technologies and methods to make our operations more efficient, minimize wastage, and improve our products and services.
As India's number 1 and largest cable manufacturer for renewables and speciality cables, we have recently signed a JV with Clean Max Rudra Private Limited to establish and develop wind and solar hybrid power generation facilities in the state of Gujarat. This is another step towards building a net-zero future for India.
R&D is the bedrock of our organisation and is driven by our mission statement "To design & manufacture building blocks for energy infrastructure, transportation & telecommunication sectors that contribute meaningfully to make this world more energy efficient, environmentally sustainable and a safer place". Backed by extensive R&D facilities and a strong research team, our range of cables is specially developed as import substitutes to "Make in India". At the same time, we are always on the search for new global requirements, energy saving and sustainability. Solving real business problems for our customers and energy problems for the world we have become the leaders and have grown to be India's largest manufacturer of special application cables.
Market expansion plans and defining trends in the year ahead
"The Wire and Cable industry was about INR 58,000 crore in FY22 and we expect it to grow at a CAGR of above 10%. APAR has been working diligently to create awareness of its innovative light-duty cable range (powered by e-beam technology) among all the stakeholders through BTL, ATL and digital routes. With over 18 UL approvals our e-beam cables are well accepted in the US market. We have also introduced a comprehensive range of application-specific wires and cables in more than 100 countries around the globe. Even after the accomplishment of 29% export cables business, India remains our home market where we deliver products of global standards. In 2023 we will continue to lead the innovation curve globally.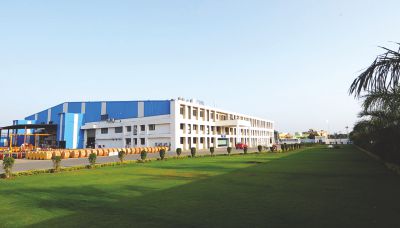 In present times, the customer seeks sustainability and sees value in products that are long-lasting, time-saving and affordable. To cope with these evolving expectations, at APAR we have developed a range of next-generation wire harnesses. We have pioneered expertise in designing, developing, manufacturing and supplying specialised wiring and wiring harness solutions for the EV industry. We are proud to be the 1st Indian cable manufacturer to enter the EV segment, geared up for meeting global standards.
India is one of the emerging countries in recent times for generating solar energy. With favourable government policies and a conducive environment, India is gearing up to execute the world's most extensive renewable energy expansion plan. For a solar plant, cables play a pivotal role in interconnecting solar modules, combiner boxes, inverters, and other electrical components all the way to taking the generated power to the grid. In the last decade, India witnessed a sharp increase in demand for technological advancement of modules, structures, inverters, and copper cables. But in this metamorphosis, the copper cables could not meet a few critical challenges besides ensuring lower transmission losses.
Also Read: Wire & Cable India Emagazine Nov-Dec Issue 2022
Inspired and witnessing these needs, APAR Industries developed and launched a special photovoltaic (PV) solar cable that sustains the surge and other harmonic transitions during electrical power transmission. These surges occur at all levels between applications, like PV modules, inverters, inverters to end power distribution grids, etc.
Idea for participation at Elecrama 2023
ELECRAMA is known to bring together the complete spectrum of solutions that powers the planet. This gives us a perfect platform to establish ourselves in the mind of our customers as a 360° service provider in the space of power transmission and distribution. Senior experts from three of our key business segments (cables, conductors and speciality oils) will be present at stall no: H14 A2D1 (Hall 14) showcasing our future-facing services. At Elecrama, we will highlight sustainability and our continuous efforts towards a greener tomorrow. At the event, we are also going to reveal our newest business vertical "Telecom Solutions".