Wire & Cable India 2014 is being organized by Messe Düsseldorf GmbH and its subsidiary Messe Düsseldorf India Pvt. Ltd., with their co-operation partner, Confederation of Indian Industry (CII) and the support of the International Wire and Cable Exhibitors Association (IWCEA), the International Wire & Machinery Association (IWMA), the Italian Wire Machinery Manufacturers Association (ACIMAF), the Wire and Cable Industry Suppliers Association (WCISA), USA and the Steel Wire Manufacturers' Association of India (SWMAI).
The excellent result of the fair held in 2012, where 84% of the visitors stated that they would visit the next edition, gave a strong indication of the networking, trade and business opportunities possible, for the corporate and small to medium enterprises.
The 5th edition of Wire & Cable India is covering an area of 12,000 square meters of space, where 280 exhibitors are participating from 25 countries and country pavilions from Germany, Austria, China, Italy and USA will be a major feature. This fair will be a showcase of the best of technology, specialisation, innovation, machinery and products for the development and sustained growth of the wire and cable industry in India.
The organisers expect decision-makers from the machinery, materials, construction, automotive, auxiliary and process technology tools, telecommunications as well as the electronics sectors to visit this biennial event.
Wire & Cable India will be held concurrently with the trade shows, Tube India International, Metallurgy India and India Essen Welding & Cutting.
ASSOMAC –

pioneering its way ahead as the largest wire plant manufacturer in India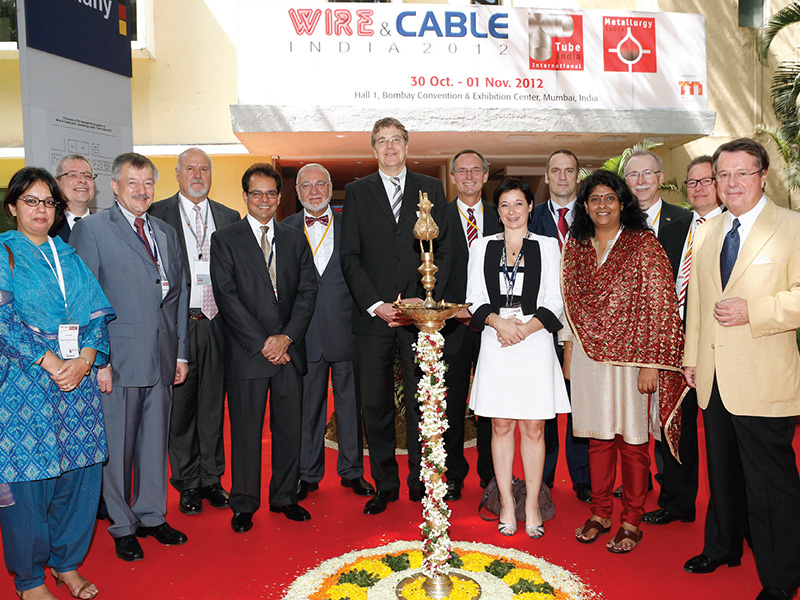 Assomac Machines Ltd., India based company produces innovative and technologically advanced machinery both for ferrous and non-ferrous wire industry. These attributes have led to the successful export of Assomac Machines across the globe. Assomac Machines are successfully installed in Europe, Middle East, African Continent, South East countries and many more.
The company has a 250,000 sq. ft. production facility where all in-house components are manufactured, assembled and tested as complete machines. With the changing economic condition of the world, India is being targeted as a high growth area of the world & lot of foreign players are making India as a base for their activity. There is a spurt in the growth of Steel Wire Sector as well as Indian Cable sector. The Indian Cable sector clocked unprecedented growth of 60% due to a 200 percent growth in the control cable segment. On one hand there is a huge opportunity presented by the mandated "Electricity for all by 2017" in India and yet there is challenge of meeting this inspiring goal within the stipulated period. Assomac is ready in absorbing the new technologies rapidly to meet this growing market in India as well as evolving global standards for efficiency and sustainability.
On display during the show would be the latest high speed state of the art sturdy Straight Line Wire Drawing Machines for high production, high quality drawing of wires with lower interference. Besides this we would be displaying the literature, product information and the innovations made by the group.
We are confident that we can offer to you top quality machines at affordable cost. This is a happening place for us as we are manufacturers of Wire Drawing Plant & Machinery and most of the participants are already our customers hence we get to meet large customers, suppliers, Wire related professionals under one roof which is impossible to meet otherwise.
Exhibiting since: Beginning of the show. This is the fifth exhibition.
Stand No. IA 01
Beta LaserMike

Products Meet India's Growing Demand for Quality Assurance Measurement Solutions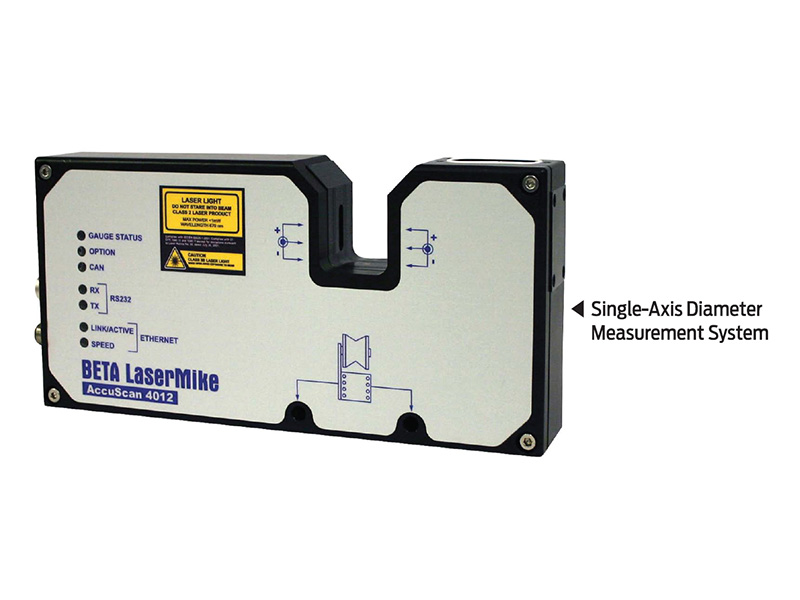 NDC Technologies, a leading global provider of precision measurement and control solutions, will showcase several offerings from its line of Beta LaserMike products at this year's Wire & Cable India exhibition in Mumbai. The innovations on display include the single-axis AccuScan 4012 diameter gauge and the new DCM SCS-700 automated LAN/Data cable testing system. Other products of great interest for the India wire and cable market include the Beta LaserMike ActiveScan motion-based diameter measurement system.
"We've have seen an increased interest in our products in India due to the rapid growth of the automotive, telecommunication, and construction industries," says Richard Snaith, Director of EMEAI Sales for the Beta LaserMike line of products. "This has amplified the demand for highly accurate, reliable measurement and control solutions for wire and cable production. Wire & Cable India is one of the largest exhibitions for the wire and cable industry and we're excited to show off our innovative products to new and existing customers."
The Beta LaserMike AccuScan 4012 gauge provides single-axis diameter and ovality measurement capabilities in a high-performance package. The AccuScan 4012 offers manufacturers a compact, economical device for measuring product diameters up to 12 mm at 1200 scans/second with ±0.0005 mm accuracy. The AccuScan 4012 provides highly flexible communications with easy connection to a host PC or PLC using RS-232, DeviceNet, Ethernet IP, Profibus, and Profinet. Its durable, low-maintenance design enables the gauge to reliably operate in a wide range of demanding industrial applications. An optional ultra-bright display and operator interface is available to easily configure and view measurement data.
The Beta LaserMike ActiveScan measurement system outperforms traditional stationary and motion-based diameter gauges used to measure cables with unique profiles. ActiveScan effectively monitors and controls the height and width of flat, sector, and special-shaped cables up to 40 mm with the highest precision regardless of product alignment or angular rotation. The system measures products at any line speed with ±0.001 mm accuracy. ActiveScan uses a completely pneumatic motion-based platform with no electronic components for the lowest possible maintenance and highest reliability, and it is engineered for long-term operation. The unique, non-contact oscillating measurement method ensures repeatable accuracy, faster product changeovers, and higher productivity for greater profits. The ActiveScan system also interfaces with Profibus, Ethernet IP, and RS-232.
The new DCM SCS-700 LAN/Data cable testing system efficiently tests Cat 5e/6/6a cables to 700 MHz and offers a low-frequency option to test cables down to 100 Hz. Dual-frequency testing can be performed with a single connection to significantly reduce set-up and testing time. The DCM SCS-700 is engineered with an automated 4-pair switching platform, enabling operators to perform cable testing in less than 3 minutes. And, this system includes easy-to-use testing software with complete test management and reporting capabilities.
Stand 1D26
B.S. SHAKTI STEEL PRIVATE LIMITED

Going from strength to strength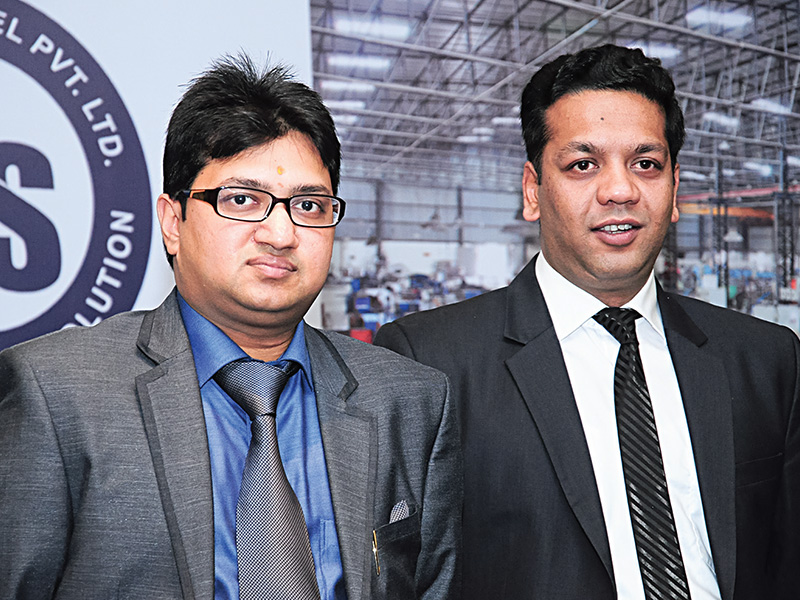 B.S. Shakti Steel Private Limited was established in 2011. Located at Rohtak, Haryana, its ultra modern manufacturing facility comprises imported continuous straight line wire drawing machines with in-line cleaning process, wet drawing machines and state-of-the-art tube annealing furnaces. The facility ensures quality products as per international standards and also customers' specifications.
The company's highly qualified and experienced team of professionals also plays a vital role in enabling the company to achieve its goals and targets. This team of professionals consists of engineers, technicians, quality inspectors, warehouse personnel and sales and marketing executives. These professionals work in tandem with each other to execute a task properly. The company provides them with regular training to enhance their professional skills.
An ISO 9001-2008-certified company, B.S. Shakti Steel Pvt. Ltd. has an impressive product range, which includes products such as Stainless Steel Fine Wire, Stainless Steel Bright Bar, Electro Polishing Quality Wires (EPQ), Spring and Rope Wire, Cold Heading Wire, Electrode Quality Wire and General Purpose Wire.
The company also offers a wide range of applications including kitchen accessories and wire baskets, braiding hoses, chains, conveyor belts, trolleys, wall ties, wire ropes, spokes, nails and fasteners, springs, wire mesh, staples, scrubber, welding electrodes and threaded bars.
Manufacturing Process Flow
B.S. Shakti Steel Pvt. Ltd. produces superior quality stainless steel wires in different grades and sizes. To ensure quality, the company follows an efficient, result-oriented production process.
The wire rod is physically inspected for size, seams, cracks and other physical properties like tensile strength. The chemical properties of the wire rod received are also analysed in-house for grade verification.
After the wire rod is cleared from pre-manufacturing inspection, pickling and coating is done followed by baking to remove moisture content from the wire rod to be fit for wire drawing. The pickled and coated wire rod is then drawn to various sizes as per customer order in continuous dry drawing blocks. A strict quality inspection is carried out for diameter, tolerances at every stage to ensure production of a dimensionally correct product.
The drawn wire is annealed in strand annealing furnaces of various capacities depending on the diameter of the wire. A strict quality check for UTS is carried out to ensure that the quality of the product is maintained. The annealed wire is further drawn to fine and superfine sizes in oil medium in wet drawing machines. A strict quality inspection is carried out for diameter and tolerances at every stage to ensure production of dimensionally correct product.
The final inspection or pre-dispatch inspection of the finished product is carried out for surface, diameter, tolerance, ultimate tensile strength, elongation and chemical properties.
After the material is cleared for dispatch from the final inspection, the material is packed as per standard packaging norms or as per customers' specific requirements in coil, hangers, bobbins, etc.
Packaging Norm
The company maintains extra caution towards its packing and labeling. Presentation and preservation and proper labeling help the company in avoiding mishandling of and damages to the product.
The company has also set up a capacious warehousing unit to store products in a safe and clean environment. This is managed by experienced storekeepers, who are trained in the domain of warehouse and inventory management. They keep complete record of all the activities inside the warehousing facility, such as arrival of new products, outgoing products, shipment and other details.
The company's packaging facility enables it to deliver defect-free products to its clients. Its packaging experts are highly experienced and pack the products using best quality factor input. The company also offers customised packaging service as per the demand of its clients to meet their exact requirement.
Vision and Mission
The company aims to accomplish sustainable, profitable growth in stainless steel wire and related businesses; create differential value for its customers through innovative and cost-effective offerings; continuously upgrade its business processes and technologies and ensure the highest quality standards; and enhance employees' competencies to create a high-performing organisation and business environment.
Research and Development
Extensive research is conducted by the company's research associates for the development of products and improvement of infrastructure. All of them have broad knowledge of the industry and about the requirements of various clients. The company has equipped its Research and Development Unit with cutting-edge technologies, which help the research associates in conducting research work.
Market surveys are conducted on parameters such as raw material and technology used and the manufacturing process undertaken.
Empowered with sound product knowledge, valuable experience and the latest technologies, the company is in a strong position to offer a product range that is in sync with market demand.
Tin Electro Plating Plant for multiple wires from
Cab Device Industries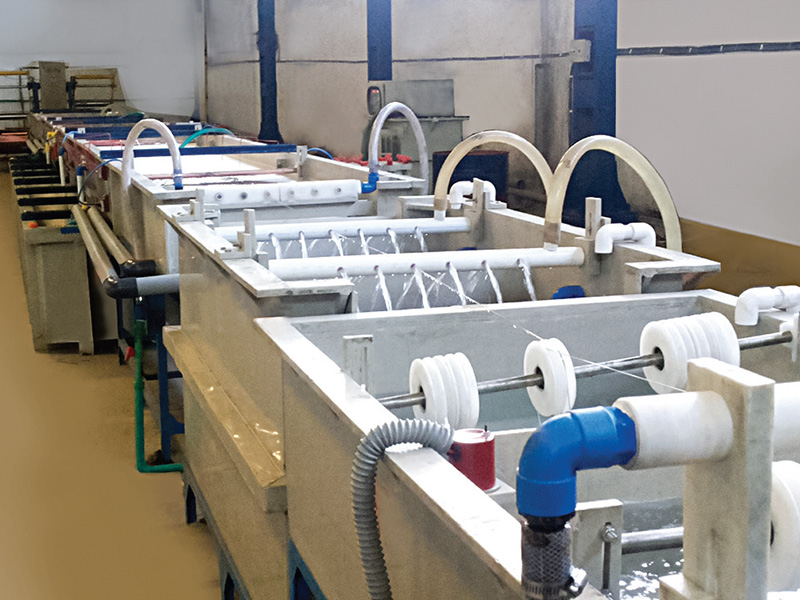 Cab Device Industries has established itself as one of the India's leading names in the field of wire & cable making machinery with its promise of quality products that stay ahead of time. The innovative approach has helped the company gain prominence in manufacturing of Copper Wire Annealing Plant, Tin Coating Plant (Electro Plating & Hot Dip) & Induction Preheaters which are enclosed by different types and uses according to application or customer requirement for premier manufacturers of Domestic Wire, Super Enamel Wire, Submersible Winding Wire, Instrumentation Wire, Control Cable, Communication Cable, and Rubber Cable & Power Cable.
The Company was formed as an initiation & vision of Mr. M.L. Chhabra, a self-made entrepreneur, having more than 32 years experience in Wire & Cable Industries.
We have already launched new product in Indian market i.e. Tin Electro Plating Plant for multiple wires up to 112 wires and the machine is satisfactory working in many companies i.e. Apar Industries Ltd. (Uniflex), Polycab Wires Industries Pvt. Ltd., Srinilink, KMG Wires Pvt. Ltd. etc.
We have also developed new technology in our continuous in line resistance annealers having good efficiency.
Exhibiting since: Many times since CII was organizing the show.
Stand No. 1B75
C.M. Caballe:

Built to Rotate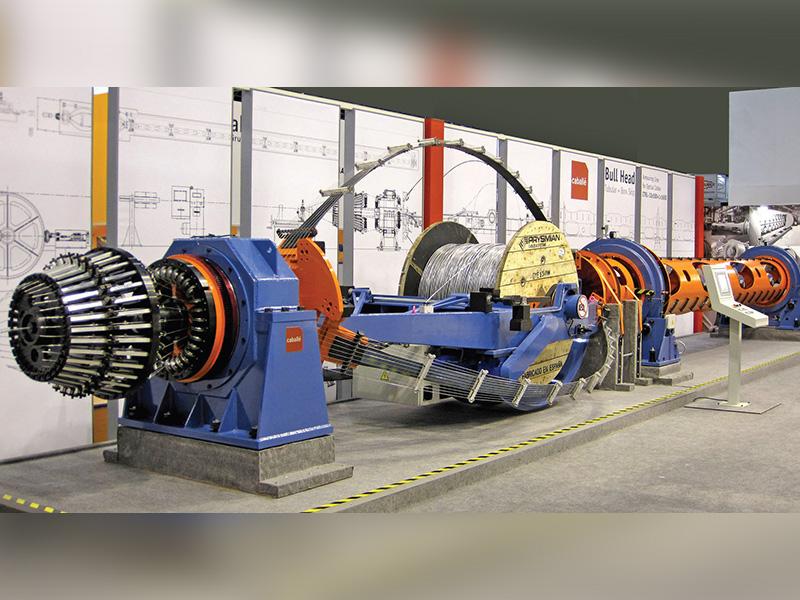 With over 70 years of experience in the design and manufacture of rotating machinery for the production of power and telecommunication cables as well as steel ropes, the Spanish company C.M. Caballé provides the cable industry with a wide array of stranding, twinning, bunching and cabling machinery. The firm is constantly developing new, high quality equipment to meet the ever-changing needs of the Wire and Cable Industry.
The company's portfolio includes the following equipment:
Double twist stranders, rigid stranders, drum twisters, single twist stranders, bow skip stranders, tubular stranders, planetary stranders, SZ stranders, shielding-jelly filling-sheathing lines.
Ancillary equipment: pay-offs, take-ups, capstans, caterpillars, taping machines, binders.
New Developments
Upgraded rigid stranders and drum twisters for HV energy cables (Milliken conductors, overhead conductors with trapezoidal wires).
Bullhead tubular strander for FO cables. New "bullhead" tubular strander for the production of OPGW cables and armouring optical cables / special cables.
Exhibiting Since: 2010
Stand No. 1D03
CONDAT:

Specialist in industrial lubricants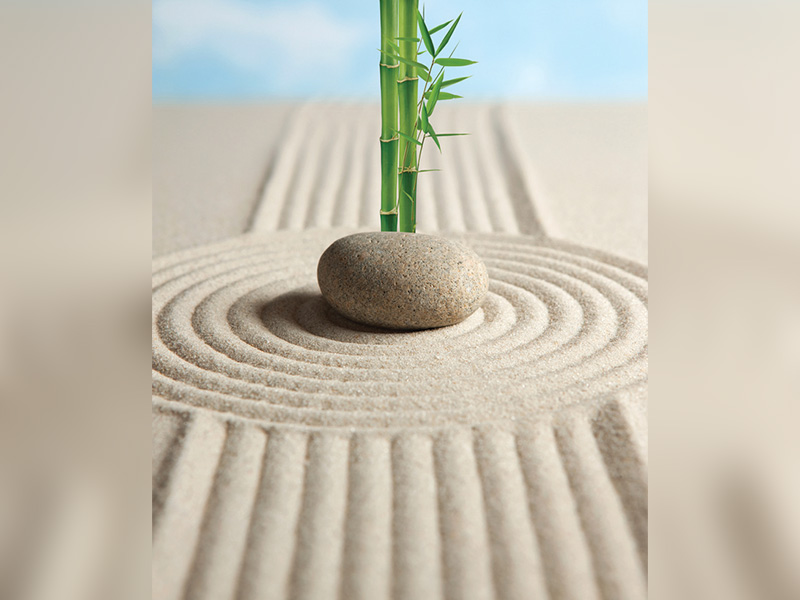 CONDAT will present its latest developments in surface technologies for metal forming and present its extensive range of lubricants for Wire Drawing and Cold Rolling including:
VICAFIL®: the industry's most comprehensive range of wire drawing powders, wet lubricants, pastes, neat oils and greases.
STEELSKIN®: Advanced lubricant specialities for special wire drawing applications
GALVASMOOTH®: smoke free charcoals for high zinc weight galvanized wires
Besides, on the show CONDAT will promote 2 innovative products:
VICAFIL TS 7300 AD: New Perfor-mance Booster for Borax Coating
Based on water soluble mineral salts, VICAFIL TS 7300 AD is simply added to the Borax solution. It improves significantly standard Borax coatings providing a better coat weight control. In case of high moisture it helps keeping the coating even and adherent with no need to process again the coils. Wire drawing is therefore much more efficient.
VICAFIL SUMAC 5: New Dry Drawing Lubricant – Sodium Soap Based
VICAFIL SUMAC 5 has been designed for the wire drawing at very high speed. It offers the ability to work at higher temperature/speed whilst providing a high lubricating stability. It is perfect for stainless steel and high carbon spring wire, bead wire and steel cord applications.
With a complete set of new wire drawing solutions, CONDAT helps you reduce your production and processing costs whilst keeping caution to the environment & people.
Moreover, in order to reinforce our position on the Indian market, our distributor Usha Lubes Private Limited as opened an office and warehouse in Pune, Maharashtra. This will enable us to provide an improved service to our current and future customers in the North and South of India and in the important business areas of Gujarat and Maharashtra.
Hall 1 Stand D14
Enkotec:

A dedicated partner for your nail manufacturing needs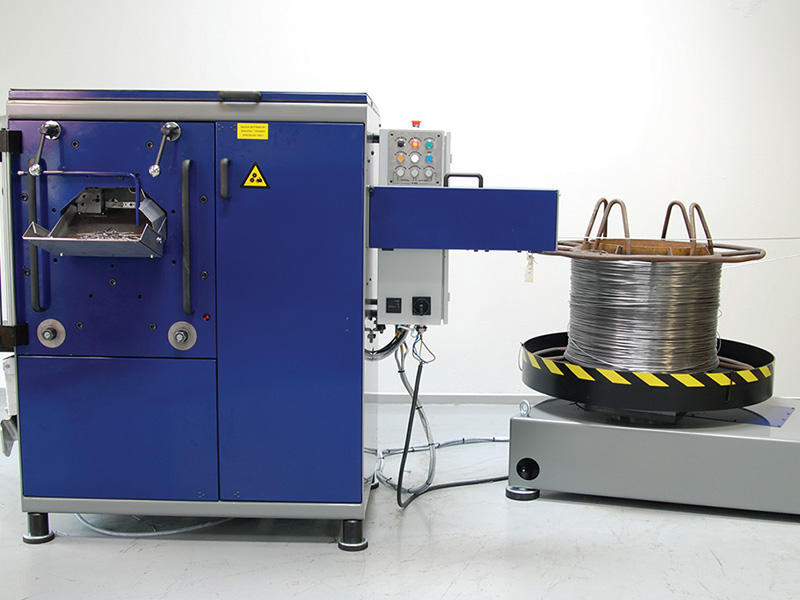 At the Wire & Cable India 2014 ENKOTEC will focus on its ENKOnail series of nail manufacturing machines, intended for small and midsize capacity needs. These machine models include the MM01 producing big nails of ø2.8-4.2 mm and 60-103 mm lengths at a speed of 850 nails per minute. Another ENKOnail machine is the MI01, producing 1,000 nails per minute at ø2.0-3.8 mm and 50-90 mm lengths. The machines are based on the well-known ENKOTEC rotary forming principle making it possible to manufacture high-quality nails at a high speed and with low running costs.
Managing Director of ENKOTEC A/S, Bent Petersen: "When designing the ENKOnail series, we have had a strong focus on assuring our customers optimal machine performance in relation to investment."
The ENKOnail machine is synonymous with high efficiency and user-friendliness, featuring simple adjustments, quick tooling changeovers, easy access for cleaning and service, long tooling life, high stability, saving of space, and low-noise production.
Bent Petersen concludes: "We see our ENKOnail models as a very strong alternative for our customers' capacity needs, whether they produce a single nail type or several different nails. Combined with our high-end ENKOnail+ series, the ENKOnail models allow us to offer a complete range of high-speed nail machines, where many tooling parts are common for all machine models, thus increasing their cost effectiveness."
Stand No. 1B37
Ningbo Kaite Machinery Co., Ltd.

Ningbo Kaite Machinery Co., Ltd., the largest professional manufacturer in China of steel wire rope stranding & closing machines.
Ningbo Kaite Machinery Co., Ltd. was founded in 1952 and transformed from state-owned enterprise to joint-stock private enterprise in May, 2000. With over 60 years history and 40 years manufacture experience of steel wire rope stranders/closers. We provide machines for 80% of domestic-scale enterprises, share over 50% of the market, exported to many globally known overseas steel wire rope manufacturers. We're in good relations with lots of other overseas steel wire rope manufacturers in Europe, North & South America, Central Asia, Southeast Asia, etc. Our products with advanced technology and manufacture process on behalf of the highest-level in China, some of them meet the international advanced level.
Exhibiting since: 2 times
Stand No. 1E77
Machine & Controls:

Delivering performance at par with European lines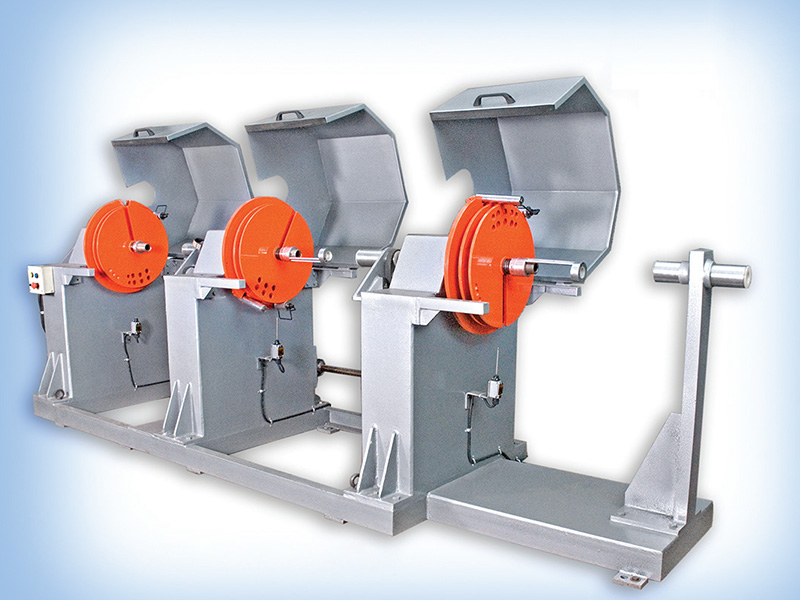 Machine & Controls is in the unique position to offer both production lines and product know-how for the optical fiber cable industry.
We have supplied loose tube buffering lines, SZ stranding lines and sheathing lines for all the major OF cable manufacturers in India and abroad in the last twelve years. We have expertise to upgrade old manufacturing lines using innovative means to enhance production capacities.
New Developments
We developed and successfully commissioned our new product in recent years – extruder for optical fiber loose tube line with European components as well as European extruder were integrated to our loose tube line, complete steel tape armouring set up for optical fiber Cable and aramid/ glass yarn applicator for OF cable. We also developed & supplied FTTH line and drop cable line for optical cable manufacturing.
With a team of dedicated engineers to provide after sales & service support, we use a judicious mix of European and Indian components to deliver performance at par with European lines.
M&C has also developed and delivered production lines for control cable, data cable and FRP rod. We supply dual spoolers for bare conductors, insulated conductor as well as for optical fiber loose tube and tight coating lines.
Stand No. 1A-82
Micro Products:

Providing electric resistance butt and flash welders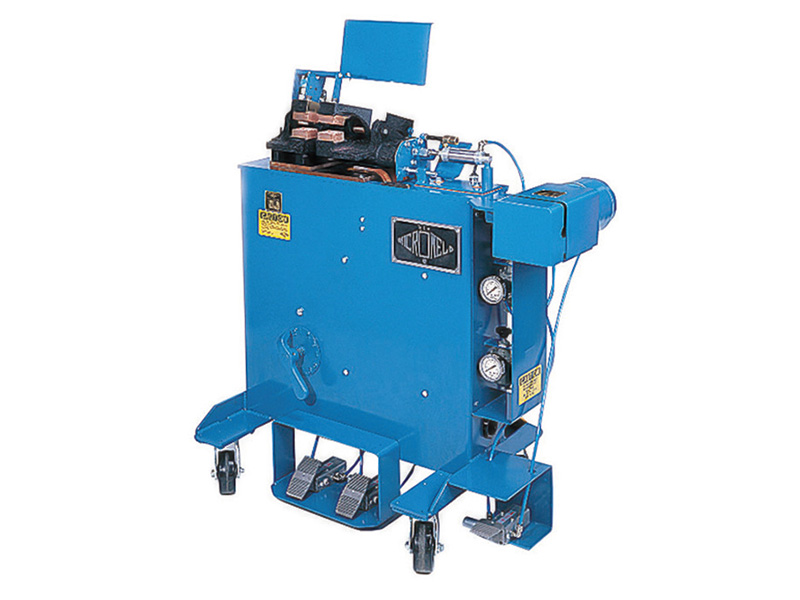 USA based Micro Products Company, known worldwide for its high performance Micro-Weld butt welders, for 85 years is participating again as an exhibitor in Wire & Cable India show in Mumbai.
Company personnel will be available to discuss butt welding requirements and recommend suitable welders for various applications. Micro-Weld's complete line includes over 50 models. Custom applications can also be discussed. The company offers excellent service and support worldwide and now has representatives in several countries/regions.
Stand No. 1F30
Niehoff:

Key partner of the Indian wire and cable industry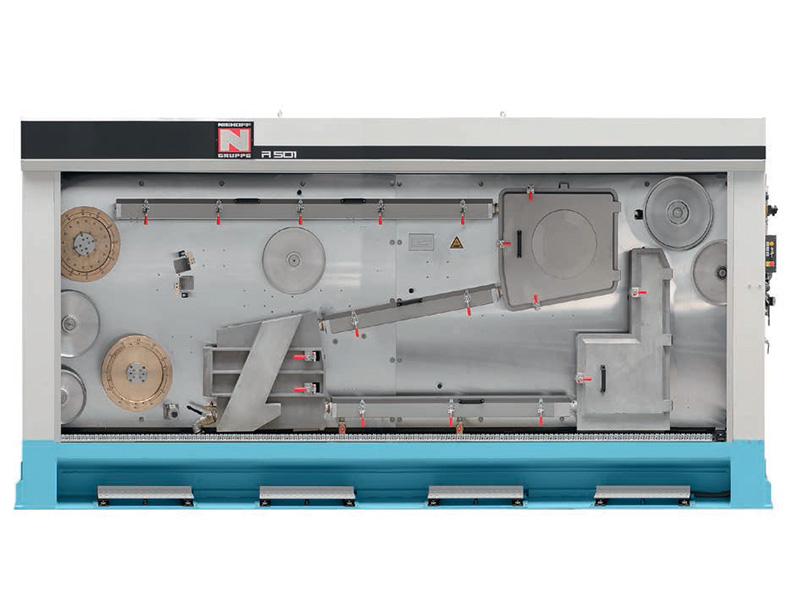 The exhibits
The annealer R 501 belongs to the proven family of NIEHOFF's annealers and is designed for simultaneous annealing of two wires. The annealer is delivered with NIEHOFF rod break down machines type MM 85, MSM 85.
The D 800.6 + ARH 630 double twist bunching machine built by NoI under Niehoff licence is adapted to specific requirements of the Indian market. The machine is designed for strands with a cross section of 0.25 to 16.0 mm2 and accomodates spools with a maximum flange diameter of 800 mm. The machine in the configuration displayed in Mumbai is specially adapted for production of instrumentation cables with three tapes applied in line with the stranding process.
NIEHOFF customer service
Visitors at the booth will also have the opportunity to obtain information about NIEHOFF's comprehen- sive technical assistance and after- sales service offering the reliable and economic supply of OEM-parts of the "NIEHOFF Original+ components" trade mark.
Partners at the NIEHOFF booth
NIEHOFF partner companies Strecker (wire welding machines), Zeller + Gmelin (drawing lubricants), and HFSAB (lead extrusion and cable stripping, repair and recovery equipment) will also be in attendance at the NIEHOFF booth to introduce visitors to their products and services.
NIEHOFF: For more than 30 years successful in India
Maschinenfabrik NIEHOFF has been active in India for more than 30 years now. In 1986 NIEHOFF signed a distribution and licensing agreement with the Indian firm ASACO. In 1997, both companies established the common joint venture company NIEHOFF of India (NoI) whereby NoI was to build wire and cable machines adapted to the requirements of the Indian market under NIEHOFF license and to offer its customers technical assistance and after-sales service. When NIEHOFF acquired all NoI shares in 2003, NoI became a 100% subsidiary of the NIEHOFF Group. To date, besides India, NoI has delivered machines to Sri Lanka, Bangladesh, Pakistan, Sudan, Jordan, Mali, Kenya, Botswana, Nigeria, South Africa and sees potential sales markets in diverse markets of the African continent.
Manufacturing facilities
NoI started its operation in a modern factory near Hyderabad in 2007. Before, a 31,500 sqm plot on a new industrial estate near the metropolis Hyderabad was purchased in order to build a modern factory with possibilities for further expansion. The factory opened at the beginning of February 2007 had a production area of 3,500 sqm as well as 700 sqm office space. The production area included a state-of-the-art production line equipped with modern machinery, a paint shop, an assembly area, a test stand and a ware- house. The total investment was in the order of USD 1.5 million. With increasing demand, in 2011-2012 the factory was expanded. NoI added a 2,250 sqm manufacturing hall for a total of 6,000 sqm plant area thus expanding the capacity of the factory by approximately two thirds.
NoI builds rod breakdown machines, annealers, spoolers, bunching machines and pay-offs conforming to NIEHOFF standards and des- tined for the Indian and neighbouring markets. NoI is also responsible for the complete after-sales service and the reliable and fast supply of NIEHOFF customers with NIEHOFF Original+ parts for all NIEHOFF machinery.
NoI is the market leader in India for rod breakdown, multiwire drawing machines and bunching machines.
Close cooperation with NIEHOFF in Germany
NIEHOFF and NoI are in a position to manufacture machines and lines adapted to the requirements of the Indian customers there and can react quickly to their demands. In order to meet the high NIEHOFF quality standards and to be familiar with the latest technology, the management of NoI, Managing Director Daniel Thomas and General Manager Andre Berthold, cultivate a close cooperation with the parent company in Schwabach. NoI's service engineers regularly train in Schwabach in order to assure the customers an optimum service.
NIEHOFF and the Indian wire and cable industry
Numerous international and several big national wire and cable manufacturers and hundreds of smaller ones are active in India, and most of them rely on NIEHOFF machinery. With the continuously growing Indian economy and the corresponding demand for cable products NIEHOFF's activities in India are increasing as well.
Oil tempered wire from
Pengg Usha Martin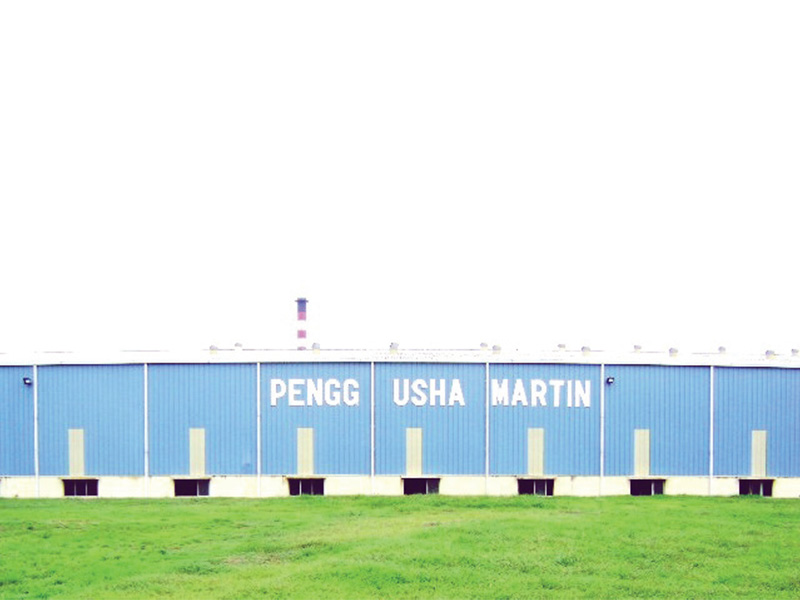 Pengg Usha Martin is the producer of oil tempered wire in the country. Oil tempered wire for auto application finds application in suspension, clutch & valve application of the auto sector. This is a 100% import substitution product with Pengg Usha Martin being the lone domestic producer of the country.
New Developments
We are presently undertaking Rs. 20 crores (Euro 2.5 million) project towards capacity augmentation from 7,200 MT/annum to 10,000 MT/annum.
Besides, the Company currently producing round oil tempered wires will be soon producing shaped oil tempered wires.
PS Costruzioni Meccaniche:

Citizens of the World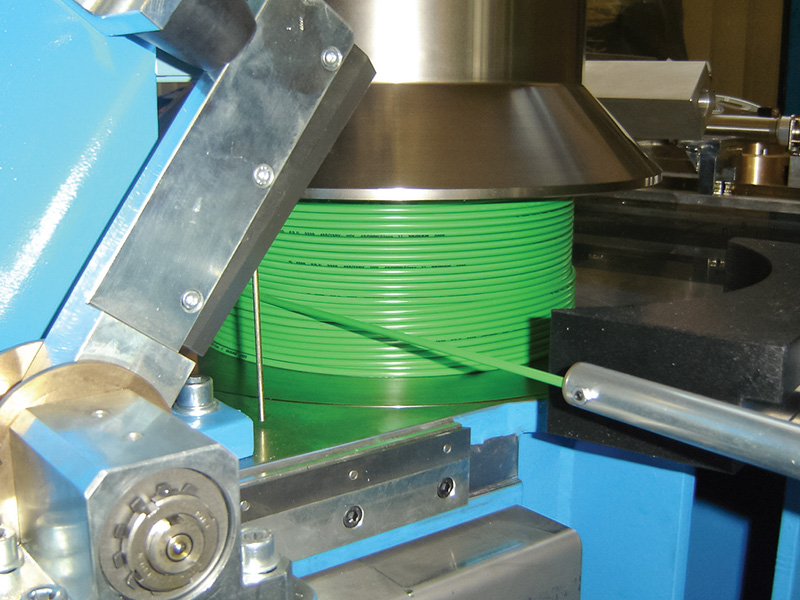 PS Costruzioni Meccaniche is a world leader in the designing and manufacturing of Automatic Coiling / Spooling lines, as well as Rewinding lines, pay off stands and take-ups for the Cable & Wire Industry. Our wide range of machines includes highly versatile products, capable of meeting all Customers' requests, thanks to PS in-house design and production departments, spares Office and Post-Sales Customers Care. PS lines can both work slaved to the extruder and also as independent units. Their modular structure allows you to "build up" your cable packaging line, according to your requirements.
This year, for the second time, PS is participating in Wire & Cable India Exhibition. We consider the Indian market a very challenging one and our goal is that of assisting potential Customers in finding out the best cable packaging solutions.
PS will present information about already tested machines and also about new developments, as for instance, our new Motorised Double Spooler; a versatile machine, suitable to work with both Rewinding lines, as well as Extruders.
Stand No. 1B37
Rosendahl

and

Nextrom

at Wire Mumbai show

Rosendahl And Nextrom are the leading global suppliers of production technologies for cable, wire and optical fiber. Our core competencies include extrusion, SZ-stranding, corrugation, optical glass making, fiber drawing, fiber coating, ribbon making and proof testing. From first contact onwards, we provide customized high quality solutions and personal support to ensure total customer satisfaction.
At the Wire & Cable India 2014 we will present latest advancements and technology highlights, including the latest developments for the production of building wire, automotive wire, technologies for optical fiber UV-coating, fiber proof testing and the manufacture of fiber optic cables.
New Developments
At the Wire & Cable India 2014 particular highlights will be our new technologies for the production of HV power cable jacketing with metal tape forming in tandem process and our high speed dual fiber take-up DFT 2500.
Importance of this show
The Indian market has long been important for us as cable & wire and optical fiber solution providers, and this has never been truer than today, with economic and political change boosting overall growth. This is leading to a positive outlook for our industry, most especially for fiber optic cable, automotive wire, and power cable production. The market will require the very best solutions in those segments where Rosendahl Nextrom has its expertise. For us, it is not enough that we design, manufacture and assemble our solutions; it is our joy and motivation to create professional solutions perfectly suited to our market's particular needs.
Exhibiting Since: This year we are participating in the Wire & Cable India show for the fifth time.
Stand No. 1E33

SAMP:

Understanding customer needs and fulfilling their expectations with customised solutions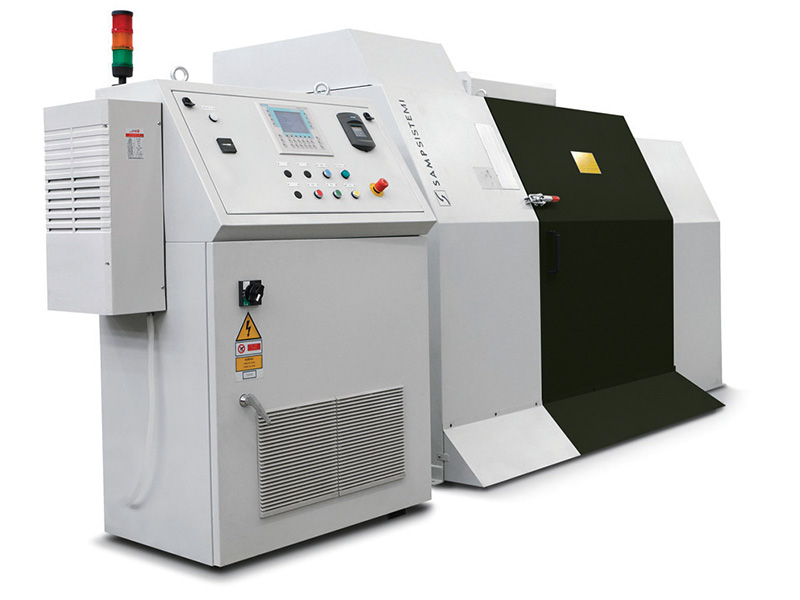 Founded in 1936 in Bologna (Italy), SAMP has gradually grown to become the only company worldwide able to provide customers with the complete wire and cable process chain. The range of machinery produced by SAMP includes rod breakdown lines for copper, aluminium and alloys, single-wire and multi-wire drawing machines, wire annealers, spooling and coiling solutions, double-twist bunching machines, pay-off solutions, as well as insulation and sheathing lines for every cable manufacturing need, from telecom, LAN or coaxial cables to cables for transport, construction, electronics, signalling and power.
At this show SAMP will exhibit one of our best-selling product, the double-twist Bunching Machine BM 630. This is a very easy-to-maintain, high-performance and compact machine with low consumption rates. SAMP bunching machines are completed by a specific range of motorized static and dynamic pay-offs, as well as pre-twisters, equalizers and compacting devices.
Given the current rapid economic growth (GDP is expected to grow by 7% in 2014-15 according to the World Bank), India is surely one of our biggest and most interesting markets. Our main customers for the wire and cable industry are the automotive, telecommunication and construction industries. In the past few years, these three have witnessed a rapid expansion and have led to an annual growth of about 25% in India. Therefore the show represents the perfect venue for SAMP to display its first-class products and turnkey solutions for wire and cable manufacturing.
Exhibiting since: Its first edition.
Stand No. 1B55
SARVASV:

Maintaining A Technological Edge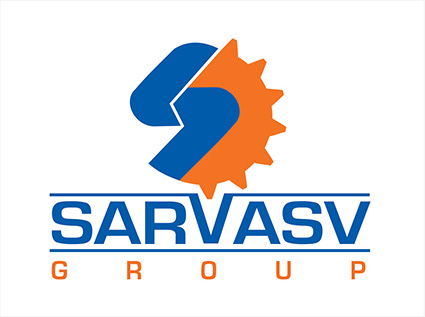 With its existence of over 35 years in the wire and cable machinery sector, the India-based Sarvasv Group has primarily been known to infuse its products with innovations so as to take care of a client's minutest needs. Sarvasv with time has earned the reputation of being the most reliable supplier and partner for cable manufacturing. It has manufacturing units that are equipped with the most sophisticated and modern machinery and equipments, which is complemented by highly qualified team of professionals who are always striving hard to improve on the already attained success. It has also been exporting its machines to various countries across the globe like UAE, Bangladesh, Iran, Africa, Europe and Australia. Product Range for Sarvasv spans across stranding lines, armouring lines, skip / bow stranders, planetary stranders, laying up machines and extrusion lines.
New Developments
High speed dual spooler for wire drawing machines
High speed ABC cables laying up machine
Exhibiting since: This shall be our third time at the Wire and Cable Mumbai exhibition.
Stand No. 1B27
Shakun Polymers:

Driven by Trust & Powered by Quality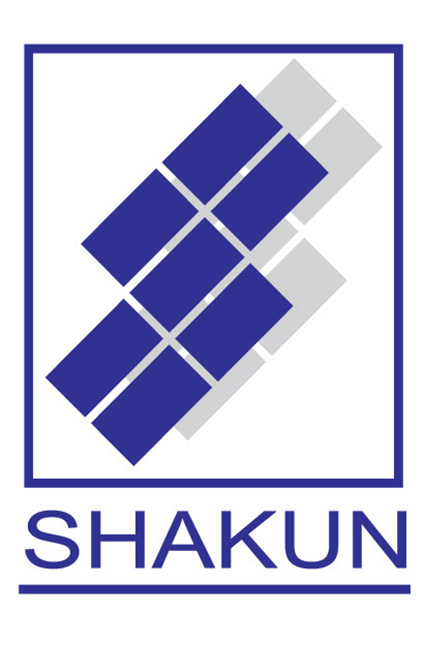 Shakun Polymers Limited is one of the prominent player in the field of compounding for the wire & cable market. Established in 1991 and moving ahead with a sheer motto of "Driven by Trust & Powered by Quality". An R & D based knowledgeable company. Shakun has consistently focused on quality and product innovation, making it a market leader in wire & cable polymers. Shakun supplies its compounds from three manufacturing facilities located in India. An ISO 9001 certified company having Star Export House accreditation from the Ministry of Commerce & Industry for excellence in exports. Shakun offers following products to its domestic as well as international customers:
ECOTEK® – Halogen Free Flame Retardant (HFFR / ZHFR / LSZH) compound for Insulation & Sheathing.
ESCONTEK® – Semiconducting compound for Power Cable
FRTEK® / VINYLTEK® – Specialty PVC Compounds
Exhibiting since: We have participated more than 5 times.
Stand No. 1A23
"Trend to highest quality"
Holger Lieder, Sales Director at SIKORA AG, gives an outlook to SIKORA's participation at the Wire & Cable India and identifies future trends in the cable industry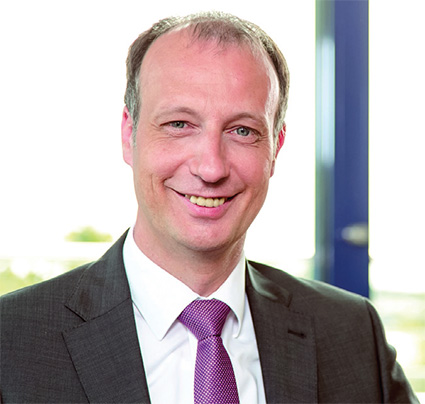 At the Wire & Cable India, we will showcase innovative measuring, control, inspection and sorting technology that support our customers to increase the quality of their products. Among others we will present technologies for the automotive and energy cable as well as the optical fiber market. The PURITY SCANNER will be a highlight in technology for the high voltage and subsea cable area. The system is the outcome of a co-development with the company Maillefer and is used for the inspection and sorting of XLPE pellets. The device detects and sorts contaminated pellets, so that only clean pellets are used for the extrusion process. The PURITY SCANNER is an innovative concept, which acknowledges the trend for highest quality.
Another focus will be our latest conductor preheater, the PREHEATER 6000 TC, which was developed specifically for quality control of automotive and data cables. The system preheats the wire by means of inductive heating to the nominal value. At the same time, a control module controls and regulates the power of the device with high precision, to ensure that the conductor always stays at the preset temperature. The precise preheating of the conductor is the basis for high-quality cable production.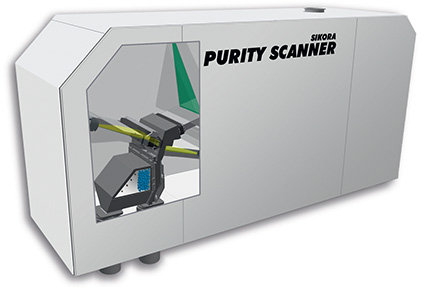 I expect great potential for the optical fiber market especially in India and China. In 2012, SIKORA has successfully launched a series for measuring and control technologies for the use in the drawing tower. The series comprises devices for diameter measurement of the uncoated and coated optical fiber. Depending on the position of the devices in the drawing tower, this series is giving information about the position, vibration frequency, tension and spinning of the optical fiber. Visitors of our booth can already look forward to our new FIBER LASER 6003 AIRLINE that detects airlines in the optical fiber, as well as to our new devices for measuring the temperature of the optical fiber and for lump detection. We always develop new technologies in close cooperation with our customers in order to realize performance standards optimally. We have, for instance, realized successfully our new lump detector FIBER LUMP 6003 MICRO with 6-axis and can now detect non-conformities to 100% on the optical fiber surface from a size of 5μm. Furthermore, we are noticing a positive trend in the optical fiber market in Europe and the USA. Copper cables are being exchanged more and more for optical fibers, in order to meet the increasing demand for data transfer. A long distance data transfer without losses requires optical fiber of the highest quality, which must be ensured already during production. SIKORA, with its innovative technical solutions for various appliances, is a reliable partner for quality control. Additionally, with the always available, worldwide service network, customers are excellently positioned for the future with SIKORA.
Stand No. 1D13
SKM Steels:

Serving the World with Stainless Steel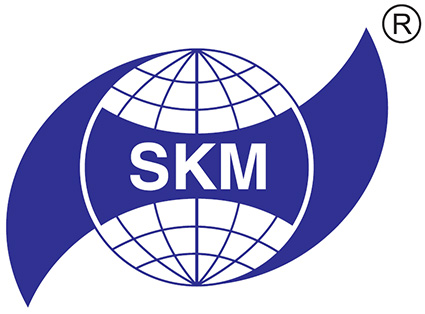 SKM Steels Limited (Export Division) is an export arm of SKM Group, a Government recognized Export House having its own production facility in India, which is producing non-corrosive stainless steel products of the finest quality. With well maintained infrastructure the fully-fledged bright bar unit comprises of annealing, pickling, drawing, peeling, straightening, polishing, and centreless grinding lines. The prevailing product range of stainless steel bright bars in rounds, squares, and hexagonal bars is available in various size range, grade, supply condition, packing and usage according to consumer requirements.
SKM Steels has won a number of prestigious awards for export excellence from EEPC (Engineering Export Promotion Council) India. As a result of continuous growth and commitment towards customers, this ISO 9001-2000 and AD 2000-Merkblatt WO certified company is exporting its products all over the world and also catering the domestic market.
With stringent procedures of quality checks and quality control process alongwith timely delivery schedule the Company has earned a reputation that enjoys the trust and confidence of customers worldwide. Within a short span today SKM has earned a respectable position in the international market and has growing customer base in Germany, Netherlands, Denmark, Italy, Spain, UK, Brazil, Turkey, Korea, Taiwan, Thailand, Iran, Dubai, Israel, etc.
Backed by years of rich experience the Company has become a leading market player in its sphere of operation. A vision that dates back to 1969 is now a perpetual mission.
Solarman Engineering:

Spring, Testing & Grinding Machines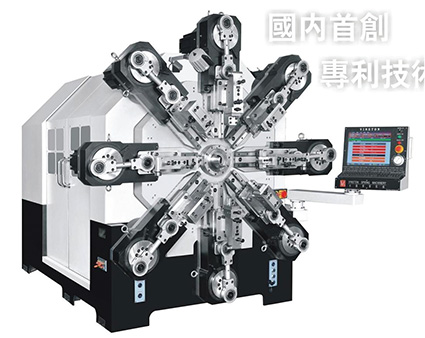 Solarman Engineering Project (P) Ltd. (Haard Master), who are into spring and wire field for last 30 years in India will be displaying various new models of spring and wire forming machines. One particular machine of interest for the spring makers would be the special Camless design equipped with Vinston's Free Arm Technology (made by Vinston) that enables the spring machines to easily produce all kinds of difficult springs that is 30% or more efficient than traditional cam type spring former. The machine attracted amazing attention at the 2014 Wire Dusseldorf held in Germany.
Advance attachments such as rotary wire, spinner can be optionally equipped to the machine. These machines can produce springs at high speed for automobile, electronics, electrical, consumer, entertainment and fitness systems.
Other machines of interest would be cost effective spring forming machines from GAF technology and gold lion. Spring testing machines made by Haard Master, spring grinding machines etc.
Supermac Industries:

Technological leader in manufacturing of extrusion lines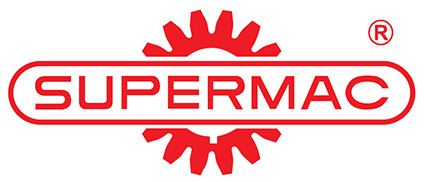 Supermac Industries (India) Limited is a leading Indian manufacturer of extrusion machinery and ancillary equipment for the cable industry, established for more than 40 years, with the capacity to manufacture and supply 3-4 insulation & sheathing line every month. We cater to both Indian domestic and international market and have our network in Middle East, Europe, Africa, Russia, Iran, Malaysia, Singapore, Indonesia.
Product range:
• Insulation & sheathing line for house wires/control cables
• Insulation line and sheathing line for power cables
• Triple extrusion line for insulation of Silane-XLPE cables upto 33 kV
• Dry cure CCV lines for medium voltage cables
• Extruders upto 175mm extruder
• Crosshead
• Caterpillar
• Capstan
• Take-up and pay-off including semi automatic and fully automatic take up systems for speeds upto 700 mpm
Entire product range has got CE Mark, which approves its quality and safety standards as per European standards.
New Developments
• We have developed dual crosshead 160/180 for sheathing of EHV cables for 220 kV
• 132 kV CCV line
• Dual take up 1000 mm
Exhibiting since: We have been participating in every exhibition organized by Messe Dusseldorf all over the world.
Stand No. 1B01
Troester:

Tradition for innovation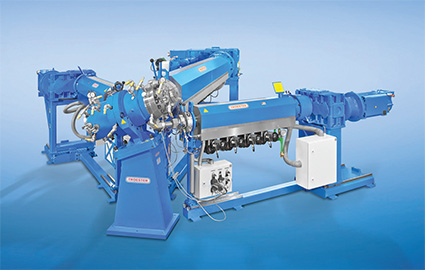 Troester GmbH & Co. KG is a world leading supplier of machines and complete lines for the cable manufacturing and rubber processing industry, comprising CV Lines for XLPE and Rubber Cables, Silane Lines, Sheathing and Insulation Lines.
On the Wire & Cable India 2014 Troester will present information and new developments in the field of:
• CCV and VCV Lines for MV, HV and EHV Cables up to 1000 kV
• Rubber CV and CCV-Lines up to 35 kV
• Silane technology for LV cables
• Insulation and sheathing systems
X-Compound, the new company of the TROESTER Group is specialized in the planning and construction of complete systems for the compounding of plastics with the process steps conveying, melting, dispersing, mixing and degassing. X-Compound will join the booth and present:
• Kneader technology for the continuous compounding of HFFR (LSOH), PVC, XLPE, Semiconductive Materials and EPR/EPDM.
Stand No. 1E17
Viraj Profiles:

Second largest manufacturer of stainless steel long products in the world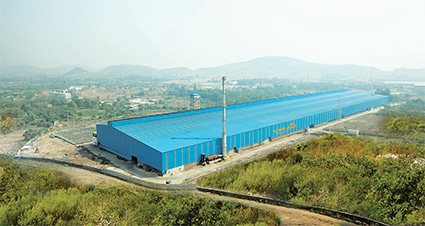 Viraj Profiles Limited is the second largest manufacturer of stainless steel long products in the world and is ranked number one in stainless steel flanges. We have a strong global presence with our products being exported to more than 1,300 customers in over 90 countries worldwide spread across 6 continents. Viraj Profiles Limited, one of the fastest growing business houses in India, is currently a major player in the global stainless steel market. With a capacity of 528,000 tons per annum and a human resource strength of more than 9,000 employees and with an annual turnover of over USD 1.5 billion, the company has integrated production facilities for manufacturing stainless steel wires, wire rods, profiles, bright bars, flanges and fasteners.
New Developments
Viraj has recently commissioned its fully automatic Section Rolling Mill with an annual capacity of 180,000 tons per annum. Equipped with completely automated processes, the plant is first of its kind in the country and is quite unique in terms of Online Pickling facilities, Automatic Labelling inter-alia Packaging line. This new facility would be able to manufacture more than 700 different shapes and designs of Angle, Flats and other Profiles.
Stand No. 1A22
WTL:

Your trustworthy & reliable partner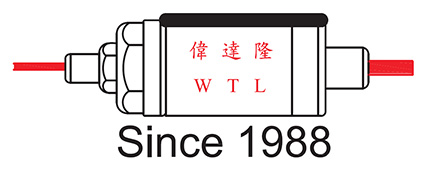 Wai Tak Lung Engineering Factory (WTL), established in 1988 in Hong Kong, is becoming the leading manufacturer in Asia for wire and cable machinery. WTL main products includes:
High-speed double & single twist bunching machine.
Planetary stranding machine & tubular for insulation wire.
Insulation & sheathing extrusion line for house wires, control cables, power cables, auto cables, communication cables etc.
Auxiliary machines for extrusion: various pay off & take up, caterpillar sub-extruders, crossheads & powder applicator.
Machines for rewinding, auto coiling & wrapping, tapping, shielding, reworking, cutting.
WTL have exported a lot of reliable machines and professional technical consultancy to over 20 foreign countries with more than 100 foreign customers since 1989, includes Korea, Japan, India, Indonesia, Malaysia, Thailand, Vietnam, Singapore, Cambodia, Brunei, U.A.E, Brazil, Mexico, U.S, U.K., Russia, Tunisia, Israel, Bangladesh, Sri Lanka.
New Developments
Technical innovation has been playing a key role in the development of WTL. In the recent years, WTL has successfully developed ZDP300 full automation take up machine catering to the high speed automotive wire making; TSD250 Mini Tubular stranding specially used for micro-coaxial cable with alloy conductor size as small as 0.016mm*7pc with ultra- high speed 8000rpm; the technical breakthrough in making the Nylon skin + PVC double layer co-extrusion tandem line for building wire, which can improve the productivity and manufacturing cost by 30%.
Exhibiting since: 2008
Stand No. 1C15
ZUMBACH –

Swiss Prime Measuring since 1957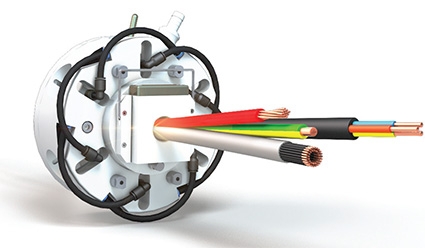 Zumbach's India team will be delighted to provide information about our complete product range, among others:
New DC and high frequency AC Spark Tester generation with local BAE 2 SP control and display unit accurately maintains test voltage under any conditions including highest capacitive loads.
New 1, 2 and 3 axis diameter gauges of the high precision, well known ODAC® series for any wire and cable. New models with special beam geometry, fault detection function and high scan rate.
The advanced ODEX® concentricity and diameter gauge for wire extrusion. Fully non-contact, based on magnetic and laser technology.
New LSV length & speed gauges for down to zero speed measurement.
Advanced KW fault detectors with new local BAE control and display unit.
New economic, modular high performance USYS IPC data acquisition, processing and display units.
New ultrasonic wall thickness and eccentricity scanners of the UMAC® RZ series with quick and easy adaptation to cable diameters and space-saving integration.
RAYEX® D series: ZUMBACH's X-Ray measuring & control system for CV lines, for wall thickness (3 layers), eccentricity and diameter/ovality for CV lines.
PROFILEMASTER® PMM 30/50/80 series: High-end Non-contact Profile and Shape Measurement, Combining Laser and CCD Technology for shaped wire and any other profile.
SCJ Plastics:

Performance and Quality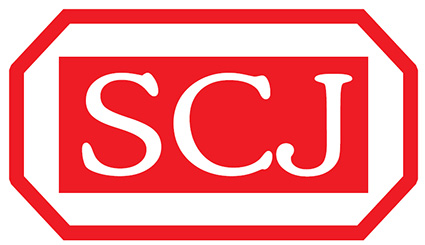 SCJ is a leading manufacturer of premium PVC compounds and masterbatches for wire & cable, automotive & electronics applications etc. We have a comprehensive range of colour and additive masterbatches for all cable applications and are available in standard, RAL, PANTONE,IS and BS color specs. The company has state of the art R&D and production facilities. With a rich experience of over 40 years in the wire & cable and also PVC compound/masterbatches, we can develop any specific tailor-made compound or color and additive masterbatches in line with the industry's requirements.
We have formulated masterbatches suitable for high speed extrusion for household cables using suitable pigments for smooth gravometric auto feeding to give perfect dispersion. In addition we offer compounds for electrical application compounds for power cables, control and instrumentation cables, winding wire for submersible pump motor, three core flat cables, application cords, detonator fuse etc. the company specialize in self curing XLPE masterbatch.
Compounds are available for both insulation and sheathing. Apart from insulation & sheathing application we specialize in hi-tech compounds like heat resistant, low temperature compounds upto 55 degree centigrade as also FRLS, halogen free low smoke and anti-rodent & anti-termite.
We offer PBT & Nylon masterbatches for Fibre Optic Cables.
To serve our customer better we have streamlined our production system in the SCJ group.
At Kund Kund Polymer (Delhi) – We make all critical masterbatches and compounds for the Wire and Cable sector.
At SCJ Colourants (Daman) – Black masterbatch and cable compounds for the Western region.
At SCJ Plastics (Baddi) – Black master batch as also Cable Compound.
We give lot of importance to Wire & Cable Show and have participated last few exhibition in Mumbai as well as Duesseldorf – Germany. We find it as a perfect platrom which attracts the decision makers in marketing, purchase as also R&D sector.
As mentioned this is one big Wire & Cable "Mall" where we have access to top of the line machine manufacturers, raw material suppliers, window to new developments and future projects giving the participants as also visitors a single window access to needs of the present and future of the cable and wire segment. We feel that the show in mumbai, germany as well as China is a big philip to the industry and these shows are a must for the industry.
Sai Extrumech:

Growth with innovation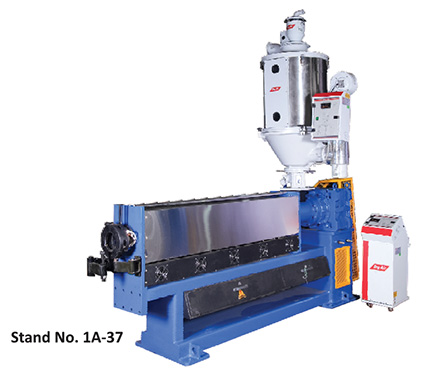 Sai Extrumech was established in the year 1998, are one of the prominent manufacturers, suppliers and exporters of optimum quality extrusion equipment. Offered product range is inclusive of extrusion line, extrusion line system and industrial extruder. Manufactured in compliance with the industry standards, these products are known for their enhanced serving life, hardness, superior surface finish and accurate dimensions coupled with their capability to withstand extreme temperature conditions. Offered products are available with us in user-defined specifications.Sai Extrumech is growing with new developments these are listed below:
• Auto-coiling machine
• Length measurement unit
• Powder applicators
• Extrusion lines
• Newly developed fixed centre crossheads
Stand No. 1A-37