''Rapid industrialization and urbanization, leading to increasing demand for improved infrastructural facilities across India, are the key factors driving the growth of the welding wire market.''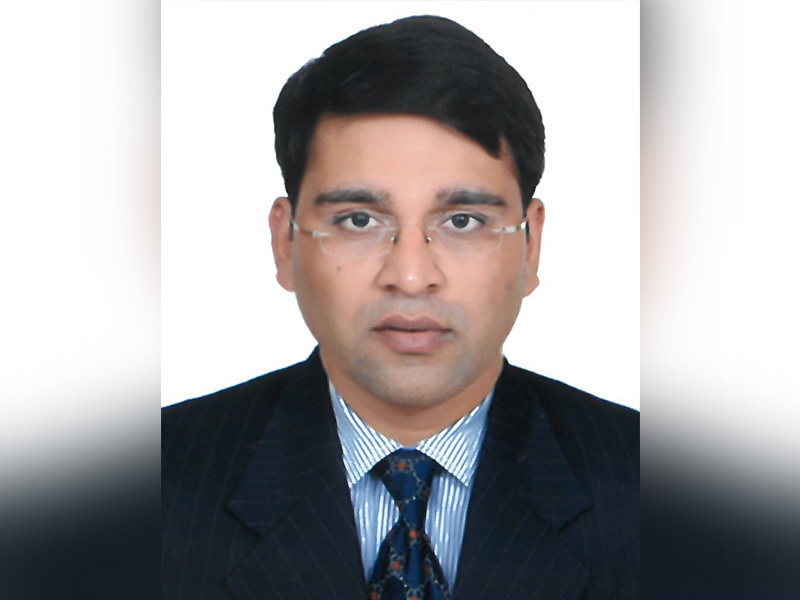 Raajratna Electrodes Pvt. Ltd. is a government-recognized manufacturer and exporter of state-of-the-art welding consumables. Equipped with all necessary machines and facilities to meet production, inspection, testing and storage needs, the company manufactures welding electrodes and wire for various industrial applications mainly aerospace, automotive & engineering industry, construction & infrastructure, manufacturing, railroads, and shipping industries. Wire and Cable India recently interviewed Mr. Ashok T. Sanghvi, Managing Director, Raajratna Electrodes Pvt. Ltd., wherein he dives into various mechanical characteristics and typical applications of the diverse range of welding wires and discusses the recent innovations and developments at the Company.

Wire & Cable India: The year 2021 marks the 30-year anniversary of Raajratna Electrodes Pvt. Ltd. which is certainly an important milestone in the business journey of the company. Kindly present a run-through on the overview of the Company and highlight the major accomplishments so far.

Ashok T. Sanghvi: Raajratna Electrodes Pvt. Ltd., founded in 1991 is ranked today among the largest exporters in the country and devoted to the development of quality welding consumables. It is an ISO 9001:2015 certified company and it also wears the badge of a government accredited One Star Export House, a title conferred on companies that meet international standards of quality and excellence in export sales. A part of 'Raajratna Group' – it is involved in stainless steel wires, bright bars, stainless steel fasteners, tubes, threaded bars, and wire nails having their state-of-the-art manufacturing units on Ahmedabad – Mehsana Highway, Gujarat – India.

Raajratna Electrodes is also registered as part of Dun & Bradstreet Global database and has been assigned the D&B D-U-N-S® number 91-735-0233 and its product range can be therefore accessed across the globe by various consumers. Welding consumables manufactured by the company are meeting international quality standards i.e. AWS, DIN, BS, JIS, etc. We adopt the latest and innovative technology and our products are approved by International and National agencies like ABS, BV, DNV, D&B, LR, BAXCOUNSEL, BHEL, BIS, ESSAR, GWSSB, IBR, IRS, L&T, NPCIL & RDSO.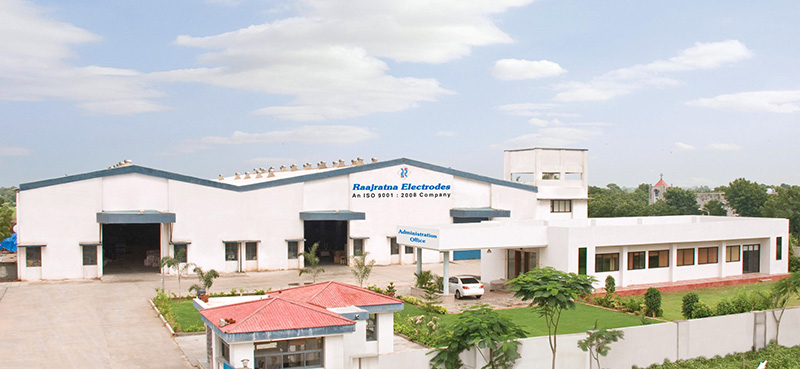 We have established export business in more than 60 countries around the globe from 2007 to 2021 for welding consumables viz. various types of welding electrodes, welding wire & fluxes, and developed various new products according to customers' requirements. We have also achieved and sustained the status of 'One Star Export House' from the Directorate General of Foreign Trade since 2010. Our company has been awarded trophy & certificate by EEPC-INDIA and WELDFAB TECH for excellence in export performance.
WCI: As the Company's business is strongly predicated and structured on a strong focus on producing a range of welding consumables, could you please share details about the product offerings of the Company and describe the major strong points of the welding wires segment?

ATS: Some of the products manufactured by Raajratna include stick welding electrodes (MS/ SS/ Nickel/ repair & maintenance), stainless steel wire (TIG/ MIG/ SAW), copper coated wire (TIG/ MIG/ SAW), flux cored arc welding wire, submerged arc welding flux, dry mixed welding flux, and aluminium wire (TIG/ MIG). The market research analysis categorizes the global welding wires market into three major types of segments, i.e., solid wires, flux cored wires, and saw wires and fluxes.

Solid wires are generally used in metal inert gas welding which requires a shielding gas delivered from a pressurized gas bottle. The shielding gas protects the molten weld pool from atmospheric contaminants. Solid wires are generally made of mild steel and plated with copper in order to prevent oxidation and aid in electrical conductivity. The copper plating helps in enhancing the life of the weld. These wires are ideally suited for outdoor applications. The advantages of solid wires are that they are cost-effective, durable, highly resistant, and simple to make.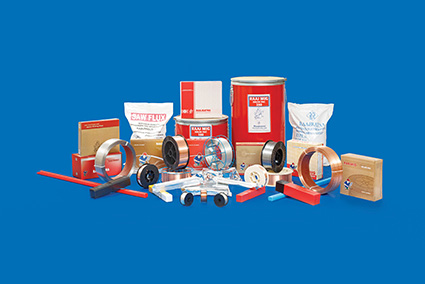 Flux cored wires are generally of two types which are gas-shielded and self-shielded. The gas-shielded flux cored wire requires an external shielding gas. On the other hand, the self-shielded variety does not require an external shielding gas. The flux coating on gas shielded flux cored wires helps in improving the quality of the molten weld material. Gas-shielded flux wires work well when welding thicker metals.

Saw wires and fluxes are most commonly used in submerged arc welding in different compositions. The combined effect of wire and flux on the tensile strength, chemical composition, and toughness of weld metals are noted and interpreted in terms of element transfer between the slag and the weld metal. The advantages of submerged arc welding include deep weld penetration, minimal arc light emissions, and minimal edge preparation. They are suitable for both indoor and outdoor applications and are applicable to thick materials.

"Raajratna Electrodes wears the badge of a government accredited One Star Export House, a title conferred on companies that meet international standards of quality and excellence in export sales."
WCI: Please talk about the various mechanical characteristics and typical applications of the diverse range of welding wires produced by Raajratna Electrodes.

ATS: MIG welding wire is one of the easier types of welding for beginners to learn. MIG welding is actually two different types of welding – the first uses bare wire and the second uses flux core. Bare wire MIG welding can be used to join thin pieces of metal together. Flux core MIG welding can be used outdoors because it does not require a flow meter or gas supply. MIG welding is usually the welding of choice for DIY enthusiasts and hobby welders who don't have the money to spend on expensive equipment.

Stick welding, also known as Arc welding, is doing it the traditional way. Stick welding is a bit harder to master than MIG welding – a stick electrode welding rod is used in this.

TIG welding wire is extremely versatile, but it is also one of the most difficult welding techniques to learn. Raajratna TIG/ MIG welders are skilled individuals. In TIG welding, a person needs to feed the rod with one hand and hold a TIG torch with the other. This torch creates the heat and arc, which are used to weld most conventional metals, including aluminium, steel, nickel alloys, copper alloys, cobalt and titanium. TIG welders can be used to weld steel, stainless steel, chromoly, aluminium, nickel alloys, magnesium, copper, brass, bronze, and even gold. TIG is a useful welding process for bike frames, lawn mowers, door handles, fenders, and more.

Gas welding wire is rarely used and has been largely superseded by TIG welding. Gas welding kits require oxygen and acetylene and are very portable. They are still sometimes used to weld bits of car exhaust back together. There is currently a huge shortage of skilled welders in the US and the rest of the world, so for young people who decide to take up a career as a welding technician, the job prospects are good.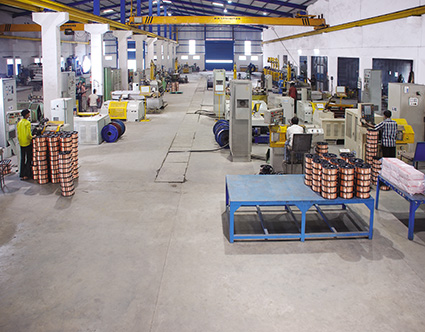 WCI: Could you please touch upon the market reach of the company – both domestically as well as globally? Are there any immediate plans to tap into newer markets that are as of yet unexplored for the Company?

ATS: Global marketing is more than simply selling a product internationally. Rather, it includes the whole process of planning, producing, placing, and promoting a company's products in a worldwide market. Large businesses often have offices in the foreign countries they market to; but with the expansion of the Internet, even small companies can reach customers throughout the world. Even if a company chooses not to expand globally, it may well face domestic competition from foreign companies which do. This competition has made it nearly a necessity for most businesses to establish an international presence.

While marketing products globally, a company must recognize that a marketing mix that works in the domestic market may not have the same success in another market. Differences in local competition may require a different pricing strategy. Local infrastructure may affect how products are produced and/or shipped. In some cases, it may be more profitable to produce things locally; in others, it may be cheaper to ship them in from across the globe.

Currently, Raajratna has PAN-India presence and our products are seen in 60 countries around the globe marketing with Raajratna brand and various OEM brands manufactured by Raajratna. We have already made future plans and projects that can be helpful in spreading our welding consumables business in more than 100 countries.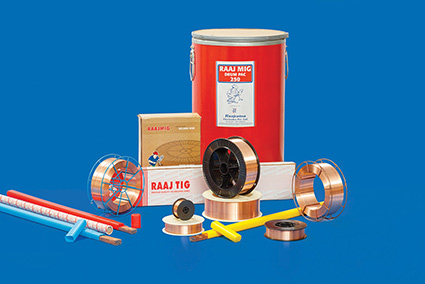 WCI: What are the quality assurance measures followed at the Company to ensure the production and the execution of superior quality finished products? Also, kindly divulge details on the various specifications and standards considered and complied with at the production level which testifies the consistency in quality.

ATS: Quality assurance measures followed at the Company to ensure the production and the execution of superior quality finished products:

We have integrated quality inspection activities in the product development process, stock handling process, be it inbound, in process raw materials or outbound finished stock.

We use inspection plans for quality inspections.

We executed quality tasks to mitigate or resolve defects during production.

We maintain a record of nonconformities at the right point in time to avoid cost-intensive reprocessing or unnecessary waste of raw and packaging materials.

We have assigned a person responsible to each quality action and track action statuses and outcomes.

Classification of testing methods: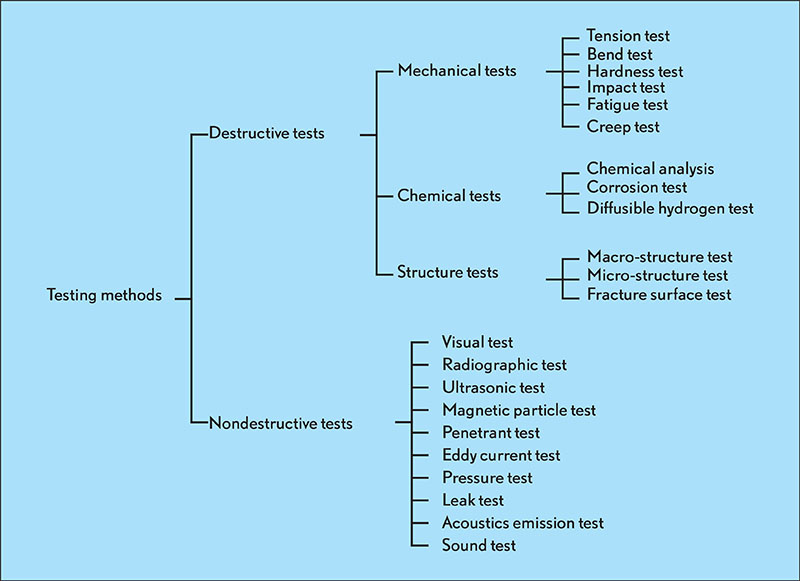 WCI: Since Raajratna Electrodes offer a range of welding wires including arc welding wires; could you please talk about these segments with respect to their level of productivity and applications?

ATS: Gas metal arc welding (GMAW), also known as metal inert gas (MIG) welding, uses a continuous solid wire electrode that travels through the welding gun, which is accompanied by a shielding gas to protect it from contaminants. GMAW is one of the most common welding processes and can be used indoors to weld materials for industries like construction, vehicle production, manufacturing and aerospace. It's not recommended to use GMAW outdoors, since the wind can blow away the gas and damage the process. GMAW welding produces minimal waste and isn't prone to chipping. The process can be semi-automatic or fully automatic, which makes it simpler for welders because they don't have to worry about defects on stops and starts.

Shielded metal arc welding (SMAW) is a welding technique that can be used on all ferrous materials in all welding positions. Another name for SMAW is stick welding. A flux-coated electrode (which is a metal stick in an electrode holder) is connected to a power source and touches the base metal to produce the weld. The flux shields the electric arc to prevent contamination. SMAW can be used to weld low- and high-alloy steels, carbon steel, cast iron, and nickel alloys for industries like construction, shipbuilding, and manufacturing. It can be done indoors and outdoors. SMAW produces slag, which is a layer of by-product welders chip off after they weld for a clean look.

Flux-cored arc welding (FCAW) uses a continuous hollow wire electrode with a flux compound that protects the weld pool by forming a gas. FCAW is ideal for outdoor welding and for welding on dirty or contaminated materials since it doesn't require an external shielding gas to protect the weld from atmospheric elements. Much like the SMAW process, FCAW also produces slag that is chipped off after the weld to give it a clean look. FCAW is often used for thick materials because the flux-core wire can penetrate thick weld joints. FCAW isn't appropriate for materials that are thinner than 20 gauge. FCAW can be used on cast iron, stainless steel, carbon steel, high-nickel alloys, and low-alloy steel. This welding technique is used in industries like construction and shipbuilding.

Gas tungsten arc welding (GTAW) is also known as TIG welding, which stands for tungsten inert gas. Just like in GMAW welding, an inert shielding gas is used. But unlike GMAW, which uses a wire that also acts as filler material, GTAW heats up objects by utilizing a tungsten electrode that delivers current to the welding arc. This welding arc melts the metal and creates a liquid pool. A filler rod can then be added if necessary to enhance the strength of the weld. GTAW requires great precision since the tungsten needs to avoid touching the workpiece and materials cannot be overheated, otherwise, cracks and other issues can occur. The benefits of GTAW include greater weld control and improved strength and quality of welds. GTAW also results in chip-free welds for a clean look. It is most commonly used to weld thin material and can be used for ferrous or non-ferrous metals like stainless steel, aluminum, copper, magnesium and titanium.

WCI: As the manufacturer of copper coated welding wire and stainless steel welding wire, what is your outlook on the growth prospects and potential of these segments in the Indian welding wire industry?

ATS: The Indian welding consumables market is currently witnessing moderate growth. Welding consumables refer to various flux and filler metals used in the process of welding. The flux acts as a deoxidizer that prevents the oxidation of metals, whereas the filler metals assist in fixing the joints in the object. Some of the commonly used welding consumables include stick electrodes, solid wires, flux-cored wires, fluxes, and submerged arc welding (SAW) wires. The raw materials used in the production of these consumables include nickel and low alloy steel, copper, rutile, ilmenite and aluminium. They find extensive applications across the automotive, construction, and manufacturing industries.

Rapid industrialization and urbanization, leading to increasing demand for improved infrastructural facilities across India, are the key factors driving the growth of the market. Furthermore, significant growth in the manufacturing industries is creating a positive outlook for the market. In line with this, the increasing demand for welding consumables in the energy sector is also contributing to market growth. Welding consumables are used in power plants for conducting plant maintenance activities and the manufacturing of on-site storage tanks for storing liquefied gasses. Other factors, including extensive growth in the automotive industry, coupled with various technological advancements, such as the utilization of dissimilar metal welding through fibre lasers in the production of electric cars, are anticipated to drive the market further in the country.

India is expected to grow at a significant CAGR of 7.7 percent during the forecast period due to an increase in construction activities and growth in the automotive and transportation sector. In addition, the rise in demand for semi-automatic and automatic welding production systems increases the demand for welding consumables. South Korea's welding consumables market is estimated to grow at a CAGR of 4.7 percent during the forecast period. Additionally, the remarkable success of welding-intensive industries such as shipbuilding and automotive and transportation has boosted the South Korean welding consumables market. Korean vehicle manufacturers utilize various strategies to increase their share in the global automotive space and the region is projected to witness growth in welding consumables revenue due to the large number of orders placed for the shipbuilding industry in the next couple of years.

The global welding consumables market was valued at USD 12,405 million in 2016 and is expected to reach at USD 18,286 million by 2023, registering a CAGR of 5.7 percent from 2017 to 2023. Welding is a reliable, precise, high-tech, and cost-effective method for joining materials, such as metals and alloys, efficiently in various manufacturing industries. These consumables are flux & filler materials used in the welding industry and are generally used in arc welding processes. These consumables liquify while joining metals and assist in producing a firm joint. They also shield molten weld from atmospheric contaminants. Steel, aluminium, copper, ilmenite, nickel, and rutile are some of the raw materials utilized in the production of welding consumables. The rise in the consumption of steel coupled with the revival of construction industry in the U.S. is expected to boost the demand for welding consumables during the forecast period. The key players have adopted strategies, such as mergers and acquisitions, to meet large demand from emerging economies.

The global welding consumables market is driven by rapid growth in the automotive & transportation and construction sector, an increase in the number of applications across various end-user industries utilizing different types of welding techniques, a rise in global energy infrastructure investment, and a surge in the use of welding consumables for maintenance and repair purposes. Asia-Pacific is expected to show the highest growth rate from 2017 to 2023, owing to rapid urbanization and industrialization, especially in emerging economies such as China and India. In addition, government investments in the energy industry and foreign direct investments (FDI) in thermal and wind sectors are expected to boost market growth. However, sluggish adoption of advanced welding technologies in emerging economies, the environmental impact of welding consumables, slow growth of aerospace & defence and shipbuilding industries, and customer price sensitivity hinder the market growth. Conversely, growth in requirement for welding automation technology in fabrication is anticipated to boost the growth of the welding consumables market in the near future. In the developed countries, the need for welding automation technology utilized in fabrication is increasing due to the dearth of skilled labor and high labor cost. In addition, India, China, and the Middle East are projected to be the key growth regions for the welding consumables market.

The global welding consumables market is segmented based on type, end-user industry, welding technique, and geography. Based on type, it is classified into stick electrodes, solid wires, flux cored wires, and SAW wires & fluxes. On the basis of end-user industry, it is categorized into aerospace & defence, automotive & transportation, construction, energy, heavy machinery, shipbuilding, and process and others. Based on welding technique, it is divided into arc welding, resistance welding, oxy-fuel welding, laser-beam welding, and others. Geographically, it is analyzed across North America, Europe, Asia-Pacific, and LAMEA.

The flux cored wires segment is the most significant by type segment in the global market and is expected to be the first preference for new entrants due to their high deposition rate, efficiency in delivering work, and production of clean and strong welds. In addition, growth in preference for flux cored wires in the construction and shipbuilding industry is anticipated to boost the demand for these wires globally.

WCI: Could you please present an overview of the recent innovations and developments at the Company?

ATS: Raajratna is among India's best producers and exporters of stainless steel and copper coated welding wire. We are the foremost experts in the production of stainless steel and copper coated welding wire and consistently bring innovations to the application engineering side of the business. Our service is unparalleled and we provide the only single source for all of the stainless steel alloys currently registered for welding applications and the only source for the development and introduction of new welding alloys.

State-of-the-art drawing and spooling machinery has been combined with newly developed equipment and processes unique to Raajratna, providing the best dimensional, mechanical, and metallurgical control in the industry. Metal is rigorously cleaned of all manufacturing lubricants to prevent flaws in the welding process.

Our packaging is intended not only to provide an eye-pleasing product to its customers but also to ensure that the superior quality of the material is retained from the time the package leaves the production facility until the product is retrieved from the customer's shelf to be put to use.

We are able to provide complete traceability of our finished products. Each lot of electrode and wire is certified to meet American Welding Society Specifications. Overhead welds are tested in Raajratna's Quality Control Laboratory for tensile strength and ductility and are x-rayed to ensure freedom from interior flaws.

Our metallurgical engineers consult with customers in all areas of welding and proper metal selection. In addition, strategically located field representatives have been technically trained to solve production problems and to personally serve each customer. In order to further fulfill Raajratna's commitment to customer service, spooled and straight length rod products are presently available in over twenty steel alloys and in a variety of diameters and packages. This extensive product line of 'standard items' is maintained in inventory at Raajratna.

WCI: What will be your major goals for the next decade for Raajratna Electrodes?

ATS: We are aiming at increasing our market share, cross-selling to long term customers, maintaining profits, investing in quality management, creating reliable products, calculating and creating the best value of the product for cost, reducing energy, decreasing tools necessary for operation, increasing the sales percentage of new products and customizing product features. Our focus would be on leadership skills for team members, team building/diversity training goals, and best customer service.