The 9th edition of Cable Wire – the International Conference & Exhibition on cables, wires & accessories was held on the 25th and 26th of August 2022 in New Delhi.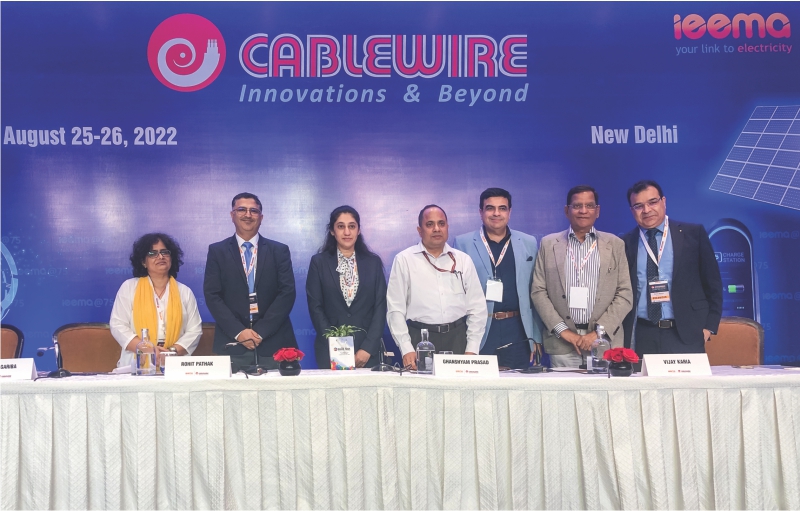 Indian Electrical & Electronics Manufacturers' Association (IEEMA) organised Cable Wire 2022, the 9th international conference and exhibition on cables, wires, and accessories from 25th to 26th August 2022 at Hotel Taj Palace, New Delhi. Inaugurated by Chief Guest Mr. Ghanshyam Prasad, Chairperson of the Central Electricity Authority (CEA), Mr. Vijay Karia, Chairman & MD, Ravin Group, Mr. Shreegopal Kabra, MD & Group President, RR Global, Ms. Sonal Gariba, Chairman, IEEMA Cable Division, Mr. Reshu Madan, Vice Chairman IEEMA Cable Division and Head, Infrastructure Business, and Ms. Charu Mathur, Director General, IEEMA, the conference was attended by more than 400 delegates from around 160 organisations including many influential people in the industry. A few of the themes discussed at the event were safety issues and cabling infrastructure for electric vehicles.
Ms. Sonal Gariba, Chairman, IEEMA Cable Division, set the tone for the proceedings and said, "The world today is moving towards infrastructure in a manner where the fulcrum is electricity. The mantra of electricity, being T AAA, means technology, which is available, accessible, and affordable. Today, we are at the crux of these technological changes, where now it not only entails new products but also about reorganising the product portfolio, making applications-specific products. So from one cable, for all applications to specialised cables for each application, the trend is moving towards customisation of cables. At the same time, we have neither forgotten the concern for the environment, nor the safety of the lives of our people. Our innovations in safety will build the confidence that our loved ones can be safe in high-rise buildings, as well as public places."
Watch: Cable & Wire Fair Show Reel
Talking about India being at the forefront of renewable energy at Cable Wire, she added, "With the development of infra projects and the government investment driving the growth, Indian wire & cable industry has the potential to grow by USD 1.65 billion in the next five years. And this can only happen if we technologically upgrade ourselves. We need to keep in mind that whether it is a fossil fuel, solar, green hydrogen, or whatever form of electricity it is generated, there is only one way to deliver it, i.e. wires & cables. At such a time, the wire & cable industry in India recognizes its commitments not just to the country, but to the world at large. Keeping this in mind, and to ensure that the industry keeps pace with the fast-changing, exciting developments, the conference has been curated from the theme 'Innovations and Beyond' focusing on transitioning from energy into electricity."
Ms. Charu Mathur, Director General, IEEMA, said, "The industry has got great potential in being able to count over three to 5 percent of the country's GDP by 2047 and the electrical consumption increasing to 10,000 units, there is a possibility for India to be one of the leaders in green, hydrogen, and storage. One of the things that the industry would probably have to focus on is quality & safety."
She also informed that ELECRAMA 2023, one of the world's largest electrical equipment trade fairs, is scheduled for February next year. Talking about the theme and dates of the upcoming event, she said, "The theme for ELECRAMA 2023 is 'Reimagined Energy for Sustainable Future'. You will see the difference from electricity to energy because that's the future the world is moving toward and that's where India's journey is. The dates are 18th to 22nd February 2023. We've already got a fantastic response as 28,000 square meters of space has already been booked within 10 days of opening"
Meanwhile, Mr. Shreegopal Kabra, MD & Group President, RR Global, emphasised the quality of wires that should be used. He mentioned that of all the fire accidents, about 75 percent are electrical, and out of these electrical fire accidents, about 70 percent are due to faulty wires and cables.
Talking about the industry at Cable Wire 2022, Mr. Vijay Karia, Chairman & Managing Director, Ravin Group of Companies, said, "A few days ago, the prime minister talked about the losses of the DISCOMs. And one of the things which we need to understand is that DISCOMs can pay only if they are making money. However, for the first time, we have the focus on the power sector, not just, in the central government, but also across various state governments which augurs very well for the industry."
Mr. Rohit Pathak, CEO, Birla Copper Hindalco Industries Ltd. added, "The cable & wire industry has a huge potential to grow in the coming years. I think the three megatrends that are driving this growth are acceleration, urbanisation, and digitalisation. Everything that we do today is digital and hence, the move towards green energy and electricity as a primary source of energy will put more and more emphasis on this industry and this sector for us including mobility, where a huge new market is getting created with products, which require to be specially catered to them. And finally, geopolitics has created a very interesting opportunity window for us where we can grow globally. The government, over the last few years, has taken a lot of steps, which are in the right direction. Of late, 'Make in India' is a very nicely targeted scheme for entering Indian manufacturing. I think these are very strong steps to help create an ecosystem where we can scale up manufacturing."
Addressing the players of the industry, Mr. Ghanshyam Prasad, Chairperson of the Central Electricity Authority (CEA), said, "I think we need to work together to realign the standards. You can't be a global leader unless your standards are at the top level and you have one of the best distinct labs in India," adding, "We need to now ensure quality 24×7 electricity for consumers. While we have been able to provide electricity to each and every household, quality still remains the key concern." Talking about the growth of the wire & cable industry at Cable Wire, Mr. Prasad said that renewable energy is a major growth driver. He further discussed the challenges and ways to mitigate them.
Also Read: Cable & Wire Fair 2022 Concludes with Resounding Success
Mr. Reshu Madan, Vice Chairman IEEMA Cable Division and Head, Infrastructure Business presented the vote of thanks to the guests. "We would like to thank all known and unknown hands that contributed to the success of this program," he concluded.
Conducted by IEEMA once every four years, Cable Wire offers an international platform for the presentation of new ideas and developments, technical discussions with peers, a showcase of new products & solutions and first-hand access to knowledge and trends of technology developments in the cables & wires industry around the globe. The quadrennial event – Cable Wire – has gained wide acceptance globally since its inception in 1983 and has established itself as an influential and recognized international event.