In an interaction with Wire & Cable India magazine, Mr. Varun Kapoor, Director, Sarvasv Machinery & Equipments Pvt. Ltd., shares the journey and recent developments at the Company.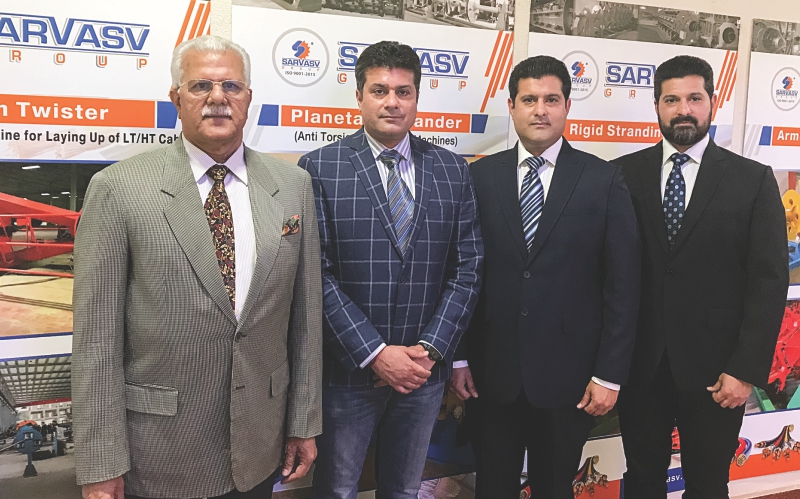 Wire & Cable India: Tell us about your company.
Varun Kapoor: With its presence of over 40 years in the wire and cable industry, Sarvasv Machinery And Equipments Pvt. Ltd. is a well-established brand for manufacturing high-quality, robust rotating machines for the wire and cable industry. It has primarily been known to infuse its products with innovations so as to take care of a client's minutest needs.
With time, Sarvasv Group has earned the reputation of being one of the most reliable suppliers and partners for wires & cables manufacturing. They are the technological leader in rotating machinery manufacturing and have been working towards the goal of complete customer satisfaction ever since the day it started. It has manufacturing units that are equipped with the most sophisticated and modern machinery and equipment, which are complemented by a highly qualified team of professionals who are always striving hard to improve on the already attained success. A dedicated quality assurance team ensures strict guideline adherence from the raw material stage to the final commissioning of machines; this has made Sarvasv reach heights. The Company has also been exporting its machines to about 20 countries across the globe.
Watch: RR Global: Shreegopal Kabra on Fire Safety
WCI: Brief us on the product offerings for the wire & cable industry.
VK: Sarvasv specialises in a complete basket of rotating machines. All the products are designed and manufactured to cater to high output and productivity. Our product range consists of the following:
Double Twist Bunchers
Single Twist Bunchers
Skip Stranders
Skip Laying Machines
Rigid Stranders with Batch Loading
Armouring Machine with Batch Loading
Drum Twisters for LV/MV/HV Cables
Planetary Stranders
WCI: Throw some light on the USP of your products and services.
VK: The following are the USPs of our solutions:
High Productivity,
Low Maintenance, and
Prompt and Efficient After-Sales Support.
WCI: Please share new developments at your company and any future plans.
VK: Sarvasv has always aimed, for being the best and most reliable partner and supplier for all rotating machine requirements of the Wire and Cable Industry. Each machine in our basket undergoes regular upgradation both mechanically and electrically with the goal of improving the efficiencies and productivity of the machines. We have recently developed and installed a very high-speed production line for 19-wire stranding for copper/aluminium wires with a speed of up to 100 meters per minute line.
We have a robust order book, from our valued, Indian and international clients. We have started expansion at our Bhiwadi factory for increased capacity and continued innovation. The total covered area, after expansion, shall be about 100,000 sq ft.
Also Read: Sarvasv: Achieving Success in All Business Areas
WCI: What opportunities do you look forward to in the wire & cable industry?
VK: The cable and conductor industry is in a healthy growth trajectory. There is huge power sector and infrastructure-related plans in most part of India and other developing and under-developed countries. The present and future of the wire and cable industry look very bright.
Visit Stand M-91 at wire India 2022, Mumbai.